This Caprese Wrap is one of my all time favorite summer wraps. Flavor-packed roasted tomatoes, basil pesto, and mozzarella cheese all packed into a healthy Lavash wrap. I add Balsamic-marinated grilled chicken for protein, but cannellini beans and tempeh are good as well. This is a great meal for busy weeknights or for meal prepping lunch (just keep the bread/wrap separate until you're ready to eat so it doesn't get soggy!).
How to Make a Caprese Wrap
This Caprese Wrap recipe uses the classic ingredients of a Caprese salad (tomatoes, mozzarella, and basil) with the addition of marinated grilled chicken, arugula, and a Balsamic vinaigrette. Layered into a piece of healthy Lavash bread and served with small side salad, or in our case, Pesto Potatoes and Beans (recipe coming soon!).
Here are the steps:
Pound the chicken with a tenderizer until about a 1/4 inch thick. Season with salt, pepper, and Italian seasoning; marinate with Balsamic vinaigrette if you have an extra 30 minutes! Cook the chicken on a grill or in a pan on medium to medium-high for 2-3 minutes on each side. Check for doneness.
Layer on the ingredients: arugula, tomatoes, mozzarella, basil, and chicken and season with Balsamic vinaigrette. Done!
Use some of the tips below to make this a gourmet wrap masterpiece!
Tips to kick it up a notch:
Roasting the tomatoes–this will give them a more concentrated and caramelized flavor
Melting the mozzarella–place your mozzarella slices on a non-stick pan over medium-low heat for a minute or so until it's halfway melted (still a legible slice, not melted into a thin puddle).
Use Basil Pesto in place of or in combination with basil leaves.
Toss the arugula in a Balsamic vinaigrette
Marinate the chicken in Balsamic vinaigrette and freshly minced garlic
Use roasted garlic or garlic confit to rub on the bread before assembling
Use any or all of these tips and you won't be disappointed!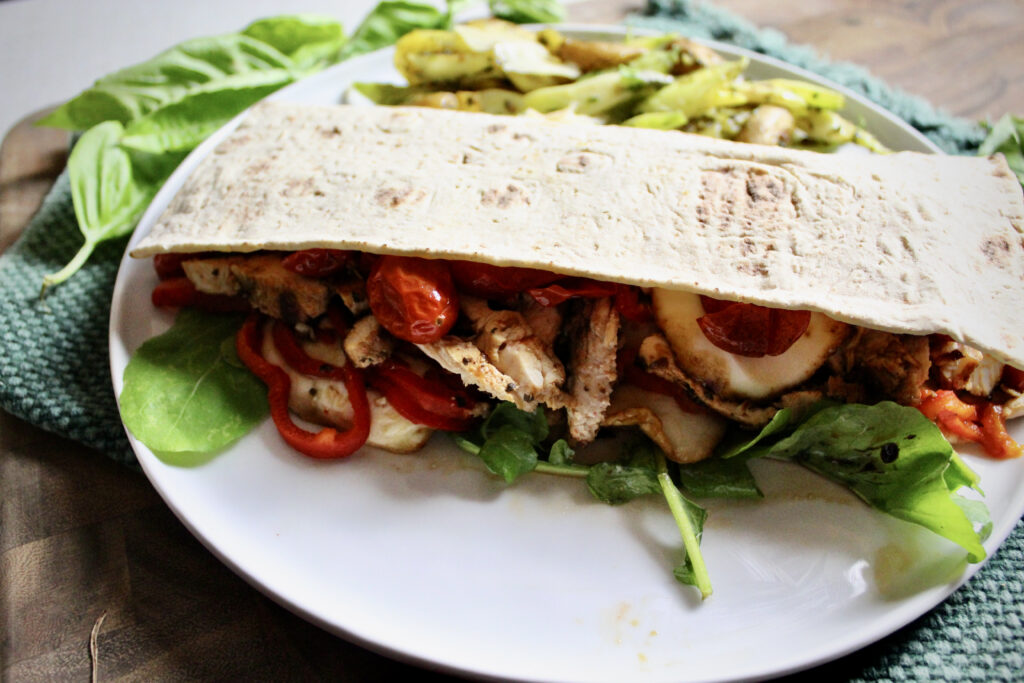 Try these other Italian recipes: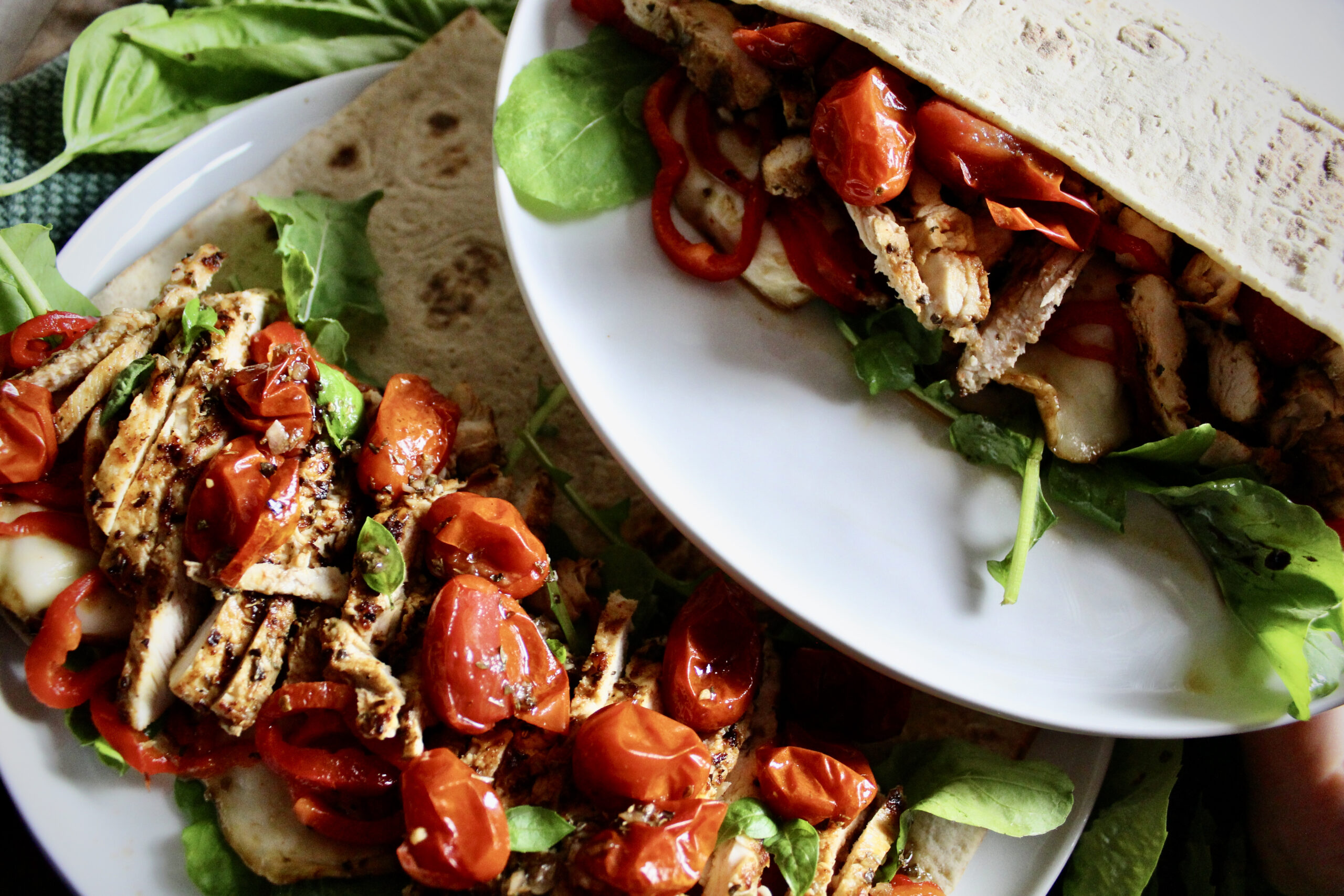 Print Recipe
Caprese Wrap
A healthy and tasty Lavash wrap with tomatoes, mozzarella, basil, arugula, and marinated grilled chicken. You just can't go wrong with classic Italian caprese. You can make this wrap as simple or complex as you choose--see the tips above for ways to kick it up a notch!
Ingredients
1 chicken breast (I find that one is good for two people when sliced; use two if you prefer, just double the marinade)
1/4 cup Balsamic vinaigrette (recipe link above)
2 cloves of garlic, minced
1 pint of tomatoes
2 tablespoons basil pesto (or 10 large leaves of basil)
1 8oz ball of mozzarella
2-3 oz of arugula (1 handful ~1 oz)
2 pieces of Lavash bread
Instructions
1

Start by tenderizing the chicken breast until ~1/4 inch thick. Season with a little salt and pepper and place into a container with 2 tablespoons of Balsamic vinaigrette and the minced garlic. Mix and let this marinate for 30 minutes. *You can opt out for the marinade if you're in a hurry

2

Place the tomatoes in a oven dish with a little salt and olive oil and roast for 20 minutes at 400°F (this step is also optional)

3

While the tomatoes are roasting, bring a large pan to medium-high heat. Cook the chicken for 2-3 minutes on both sides, or until fully cooked. Set aside.

4

In the same pan over medium-low heat, place in 4 slices of fresh mozzarella for about 1 minute until starting to melt.

5

Then, slice the chicken into thin pieces.

6

Assemble your wrap by layering on the arugula, tomatoes, mozzarella, dots of basil pesto or basil leaves, and the chicken. Drizzle each wrap with 1 tablespoon of Balsamic vinaigrette and enjoy!
Nutrition
890 Calories

73g Carbohydrates

131mg Cholesterol

38.1g Fat

4.7g Fiber

60.5g Protein

14.4g Saturated fat

657mg Sodium

8.3g Sugar
Notes
The extra steps really bring this wrap from tasty to exceptional. We often make these wraps for dinner so we normally have time. However, if you're making this for meal prep, you can keep it quick, tasty, and simple by storing your toppings in one container and your wrap in the other. Just toss the ingredients into the wrap when you're ready to eat.