This Balsamic Vinaigrette recipe is balanced, flavorful and quick to make with less than 5 minutes of prep time. Perfect for salads, wraps, marinades, sandwiches, garnishing, etc. You can find most, if not all ingredients in your pantry or refrigerator: olive oil, Balsamic vinegar, Dijon mustard, honey, garlic/garlic powder, thyme, oregano, basil, salt, and pepper. You can emulsify with a bowl and whisk or use the jar hack and save yourself time and dirty dishes! Simply add all the ingredients to your jar and shake until emulsified.
What is an Emulsion?
"Emulsion" is just a word for a mixture of liquids that are naturally separated if nothing is done to combine them. More specifically, it's a homogenous ("homos" meaning same and "genus" meaning kind) mixture of:
a hydrophilic liquid–"hydro" meaning water, "philic" meaning loving" (the vinegar) and
a hydrophobic liquid–"hydro" meaning water, "phobic" meaning hating (the oil).
Oil naturally dissociates from water, or in this case, vinegar. However, with careful incorporation you end up with a mixture called an emulsion. This can be done by slowly dripping the oil (hydrophobic element) into the vinegar (hydrophilic element) and whisking vigorously. Luckily, with a vinaigrette you can achieve the same result by adding all the ingredients into a jar or container at the same time and shaking until everything is combined, or emulsified.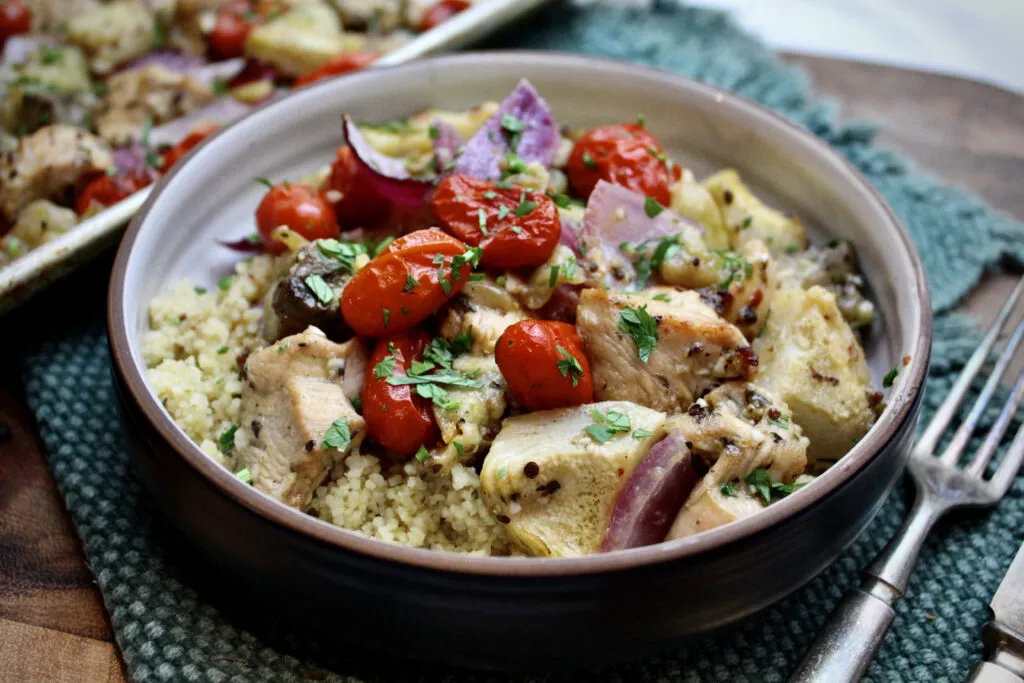 What to Do With Balsamic Vinegar
Of course you can use it for a nice lofty salad with a beautiful butterhead lettuce, but there are countless ways to use this dressing. One of my favorites is as a marinade for chicken for roasted sheet pan dinners (recipe coming soon!). Just cut the chicken into small pieces and roast with lots of veggies. I normally serve this with with couscous or quinoa tossed in some extra vinaigrette and herbs. Here are a few more ideas:
Use as a dressing for a healthy pasta salad or veggie salad
Top with roasted proteins
On a sandwich for some extra zing (especially good with alfalfa sprouts or other varieties)
Drizzled on top of bruschetta or toast toppers
In wraps (our favorite is a marinated chicken Lavash bread wrap with arugula, roasted tomatoes and peppers, mozzarella, and basil)
I'd love to hear your ways of using a vinaigrette as well!
What is the best Balsamic Vinegar?
Colavita and Lucini are great mid-grade options for Balsamic vinegar. These are my favorite brands thus far; however, you can find some really interesting brands at niche spice shops. They'll carry different brands as well as vinegar infusions like fig, pomegranate, cherry, etc. On the higher end, you can expect to pay upwards of $25 per ounce with brands like Alma Gourmet compared to $0.38 per ounce for Lucini.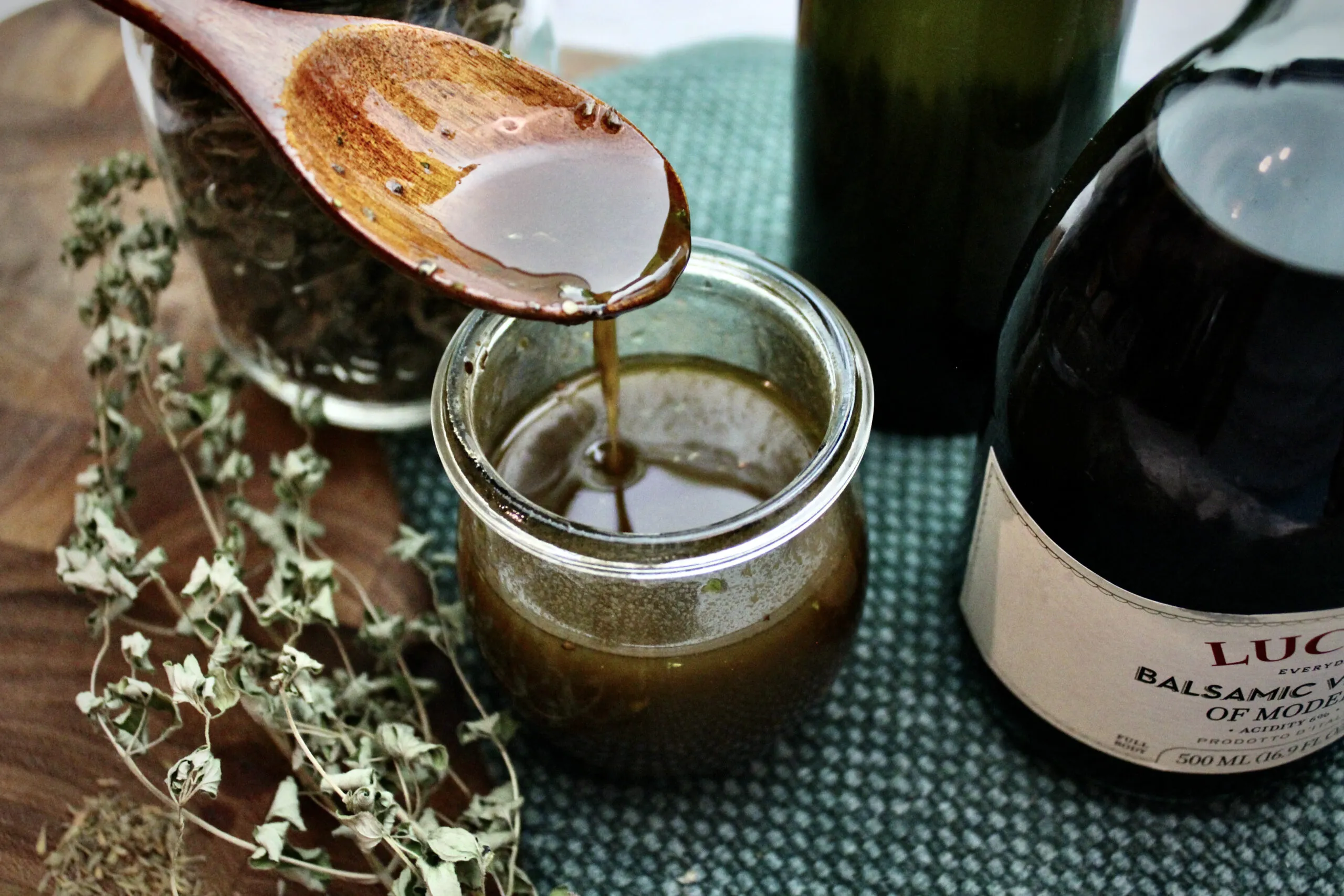 Print Recipe
Balsamic Vinaigrette Recipe
The perfect Balsamic Vinaigrette recipe for salads, wraps, sandwiches, marinades, meal prep, etc. Balanced, flavorful, and super quick to make. Using a jar makes emulsifying a breeze!
Ingredients
4 tablespoons olive oil
3 tablespoons Balsamic vinegar
2 teaspoons Dijon mustard
2 teaspoons honey
1 clove of garlic minced OR 1/4 teaspoon garlic powder
1/4 teaspoon dried thyme
1/4 teaspoon dried oregano
1/4 teaspoon dried basil
1/4 teaspoon marjoram *optional
1/8 teaspoon chili flakes *optional
Salt and pepper to taste (at least 1/4 teaspoon salt)
Instructions
1

Place everything except for the vinegar into a bowl and slowly whisk in the olive oil to create an emulsion. **If you a have a jar, you can simply add all the ingredients and shake to emulsify.
Nutrition
91 Calories

2.3g Carbohydrates

9.4g Fat

.1g Fiber

.1g Protein

1.3g Saturated fat

116mg Sodium

2g Sugar
Notes
Jars make preparing and storing vinaigrettes a breeze.