Ah the taste of summer! This Tromboncino squash recipe uses Mediterranean spices and cooling, garlicky yogurt for an easy and delicious summertime meal or side dish. This squash variety originated in Liguria, Italy and is traditionally used as a filling for ravioli–recipe coming soon for this! Tromboncino squash is a rather large and curved with a slightly nuttier flavor much like a butternut. In fact, you can leave this squash on the vine to ripen as a winter squash to extend the shelf-life.
How to Cook Tromboncino Squash
Tromboncino squash stands up well to various cooking methods like roasting, sautéing, grilling, or cooking into a soup; yet, when eaten has a silky, soft texture that is out of this world! Many people opt to peel before cooking, but if you harvest it before the skin begins to thicken, it's much more like a yellow/crookneck squash. We never peel ours unless it's to be harvested later as a winter squash or used as a pasta filling.
This Tromboncino squash recipe uses roasting as the cooking method; however grilling is another great option that compliments the coolness of the yogurt sauce. Either way, this recipe is super simple:
Wash and clean your squash.
Cut in half lengthwise. I found the easiest way to do this is to make three consecutive cuts starting at the blossom end (larger end). Use a spoon to scrape out the seeds.
Lather with salt, spices, and good olive oil. Note: I like to cut a crosshatch pattern on the flesh to allow more space for spices and caramelization, but this is optional.
Roast skin-side down in the oven at 400°F for 45 minutes-1 hour, or until fork tender.
Cut into 3-4 inch pieces and place on top of the yogurt sauce. Garnish with herbs, fried onion, breadcrumbs, feta cheese, chili oil, pesto or any garnish of your choosing! Note: I like to use homemade or probiotic yogurt here since we aren't cooking it.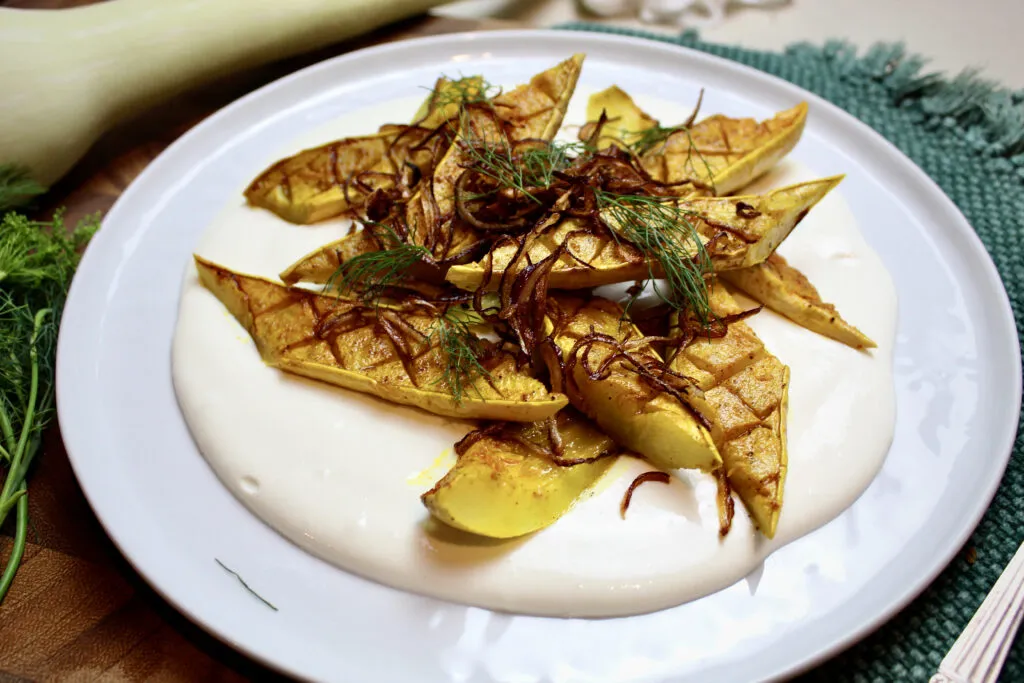 How to Store Tromboncino Squash
How to store Tromboncino squash all depends on when you harvest, or what stage you buy it. If it is harvested as summer squash with thinner skin and a whiter appearance, then you can store it in the refrigerator for 4-7 days. It will keep even longer if you cut it into pieces and store in a container or bag before placing in the fridge.
You can certainly leave it on your counter, but plan on eating it in 1-2 days if so for best quality. If you are using it as a winter squash, you can simply leave it in a cool, dry place for up to 3 months. It will have a much harder feel and thicker skin at this point, much like an acorn squash.
What to Eat with This Recipe
Any type of pasta or gnocchi
Roasted meat or protein of your choice (cut into pieces and roast with the protein; yum!)
Fava beans
Grilled protein and other veggies (I served mine with a grilled skirt steak and gremolata)
Substitute the zucchini in this Tortino recipe for the Tromboncino squash (heavenly on a piece of toasted baguette!)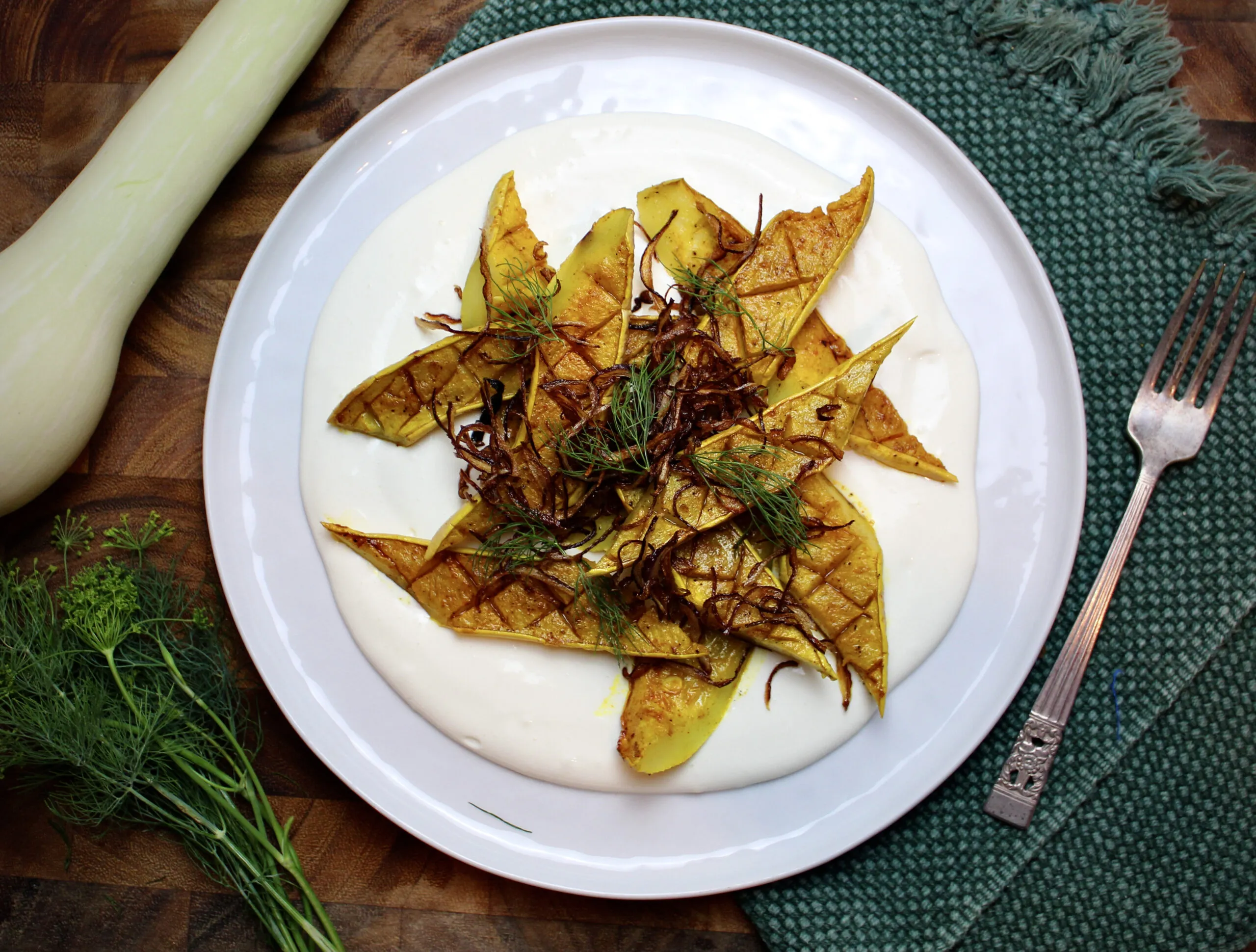 Print Recipe
Roasted Tromboncino Squash with Garlic Yogurt Sauce
Revel in the flavors of summer with this spiced squash and garlicky yogurt dish--super easy and oh so delicious!
Ingredients
1 Tromboncino squash
1/2 teaspoon paprika
1/4 teaspoon turmeric
1/8 teaspoon cumin
1/8 teaspoon coriander
1/4-1/2 teaspoon salt
1/8 teaspoon pepper (I put this on at the end because of the specks; you could also use ground white pepper)
3 tablespoons olive oil
2-3 sprigs of dill of garnishing
1/4 cup of fried onions for garnishing (onion slices lightly fried until golden) *optional
Garlic Yogurt Sauce
1 1/2 cup of full-fat Greek yogurt (I like to use probiotic or homemade yogurt since we are eating it uncooked)
1-2 cloves of minced garlic (these will be raw, so if you're not a fan of hot garlic flavor, only use 1)
1 tablespoon olive oil
1/2 tablespoon lemon juice
Salt to taste
Instructions
2

Prepare your squash by washing and cutting in half lengthwise. I think it's easiest if you start from the large blossom end and make three big cuts.

3

Cut a cross hatch pattern into the flesh of the squash and lather on the spices and olive oil.

4

Place skin side down on a large backing sheet and into the oven to roast for 45 minutes- 1 hour, or until fork tender.

5

While that roasts, make the yogurt sauce by combining the yogurt, minced garlic, olive oil, lemon juice, and salt in a bowl and mix until combined. Set aside in the fridge.

6

Once the squash is done, you can plate. Cut the squash into 3-4 inch pieces at a diagonal. Smooth the yogurt sauce onto a large plate, and place the squash slices on top with fried onions and dill as a garnish.
Nutrition
199 Calories

8.4g Carbohydrates

16mg Cholesterol

15.1g Fat

1.3g Fiber

8.8g Protein

4.4g Saturated fat

187mg Sodium

4g Sugar
Notes
If you have chili oil or Aleppo chili flakes lying around, this would make a great garnish!