Stewed Apples with Cinnamon & Brandy is a quincuncial fall treat and takes only 15-20 minutes to make. With a little Brandy and some extra spice, they're the perfect topper for a bowl of vanilla ice cream or side dish for a cozy fall meal. Stewed apples always satisfy that fall fever I get going into October, especially when I take the time to visit the farmer's market and look through all the fresh apple varieties.
Fall at the Farmer's Market
You know it's fall when the farmer's markets start filling up with crisp, fresh apples and pears. All the colors, flavors and varieties are ripe for your choosing! This is also the time of year to start prepping for canned apple sauce and apple butter. It may take a full day to process, but it's so worth it when you open a can of your own apple butter without all the preservatives.
Plus, all the fall vegetables make me so excited for soup season! Take a weekend to visit your local farmers market to see all the apple, pear, pumpkin, and winter squash varieties that are available. One of my favorite pumpkins to cook with are the Jaradale–and they're just as pretty as they are tasty. If you look for varieties that are good for cooking, you can get double use out of your decorative vegetables.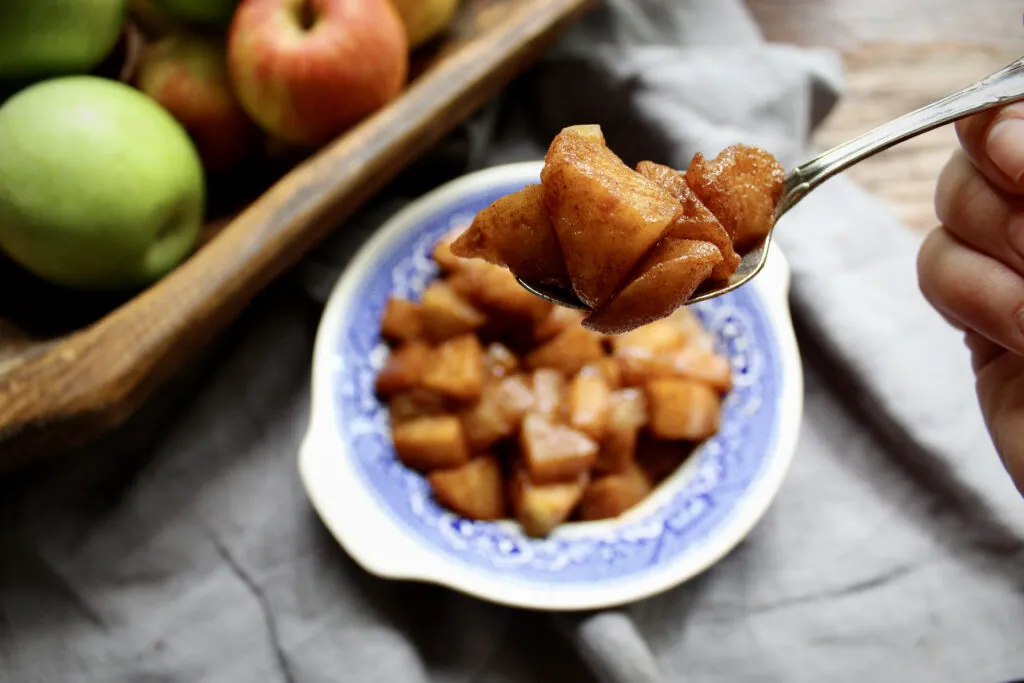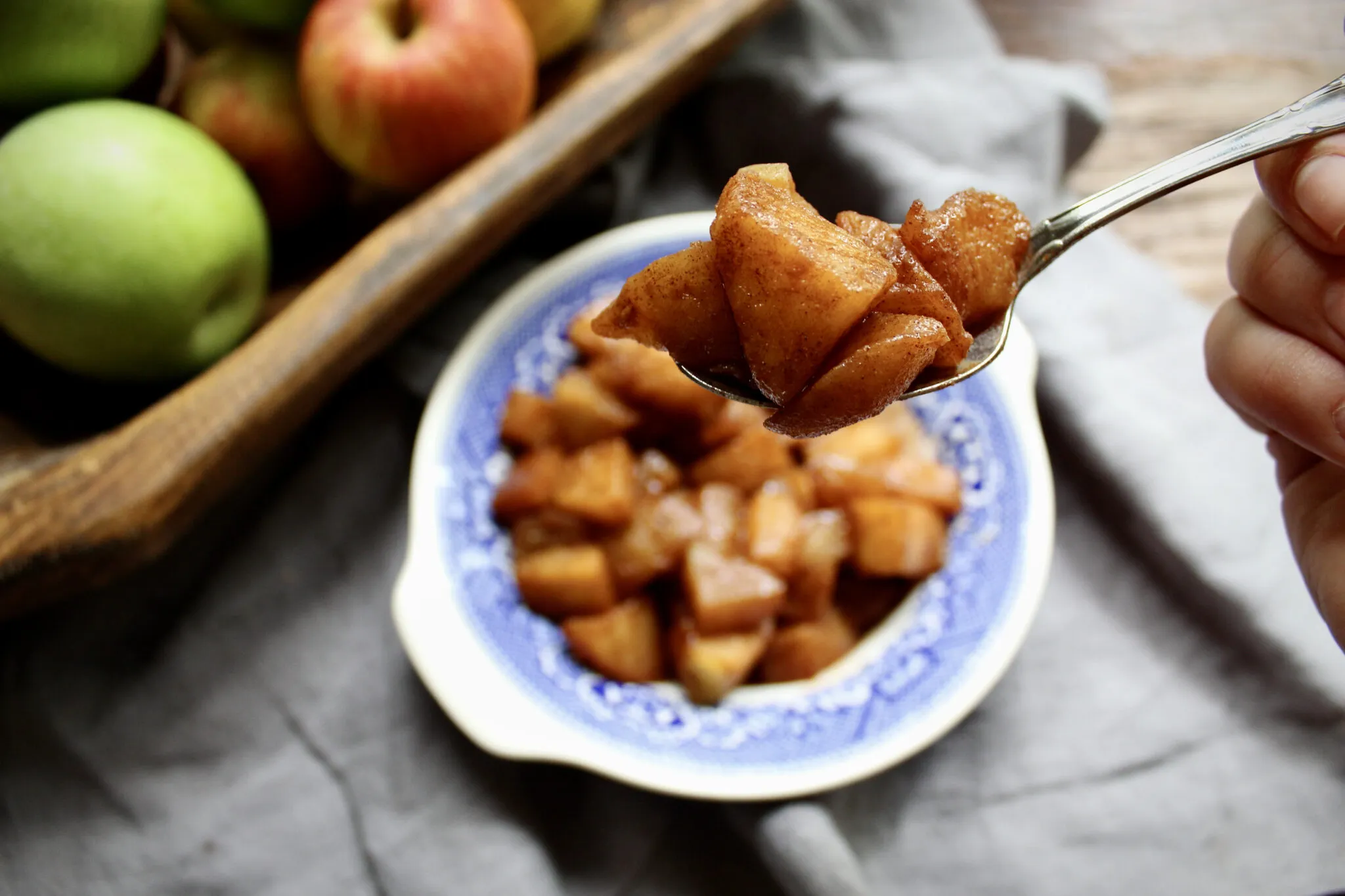 Choosing the Best Varieties for Stewed Apples
There are so many ways to make stewed apples depending on your taste and texture preference. I normally use a combination of Granny Smith and Honey Crisp for a good sour:sweet ratio. Any apple will do but if you want one that tends to hold its shape while cooking, then varieties like Pink Lady, Honey Crisp, Cortland, Jonathan/Jonagold, etc. that perform well in pies tend to be the best. Red Delicious and Golden Delicious tend to break down and become mushier when cooked.
What to Eat with Stewed Apples
Roasted proteins and vegetables
Cabbage (stewed, stir-fried, or roasted)
Ice Cream!
Pancakes
Print Recipe
Stewed Apples with Cinnamon & Brandy
Fresh apples turned into a delicious fall treat! The apples are stewed in a sweet combination of Brandy, brown sugar, cinnamon, nutmeg, and butter. Takes less than 20 minutes to make and is the perfect ice cream topper or side dish for a fall meal.
Ingredients
2 cups 1-inch cubed apples, about 2 medium apples
2 tablespoons butter
3 tablespoons of brown sugar, or less if you prefer
2 tablespoons Brandy
2 tablespoons water, or apple juice
1 1/2 teaspoon cinnamon
1/8 teaspoon nutmeg
Pinch of salt to taste
Instructions
1

Wash, peel, and cube the apples into 1/2-1 inch pieces.

2

In a medium pan over low heat toss in the butter, brown sugar, Brandy, cinnamon, nutmeg, water, and a pinch of salt. Stir until melted and combined.

3

Place in the apples and cook for 10-15 minutes over medium-low heat, or until softened to desired consistency. I still like a little bite in the apples, so that normally takes 11-12 minutes.

4

Serve as a side dish or on a bowl of vanilla ice cream and enjoy!
Nutrition
165 Calories

22.7g Carbohydrates

15mg Cholesterol

6g Fat

3.2g Fiber

.4g Protein

3.7g Saturated fat

44mg Sodium

18.2g Sugar
Notes
Serve as a side dish or on top of a bowl of vanilla ice cream.