This Garlic Scape Pasta with Creamy Parmesan Sauce is the only garlic scape recipe you will need for the springtime season! Hands down my favorite way to use garlic scapes. It's creamy, garlicky, and delicious–plus, it takes less than 30 minutes start to finish. You can use any of your favorite pastas, but I used Calamarata for this recipe. The pasta is a little thicker and the shape helps hold more sauce for the perfect bite every time. If you have ever seen garlic scapes at your local farmers market, I recommend you try this garlic scape pasta to win you over!
What are Garlic Scapes?
Most people are familiar with garlic, and some green garlic, but what are scapes? Garlic scapes are the stem of the garlic flower. Here in NC, we plant garlic in November so by the time June rolls around, the garlic has had enough time for the bulbs to bulk up and then naturally the plant sees the time is ready to send up a flower and reproduce. Since the bulb is what we desire, we want to make sure the plant doesn't send all that stored energy up to the flower. Often times, we just dead-head, or pluck the flowers off of crops that we don't want to "go-to-seed" but in this case, we pull the blossoms before they even open.
There is a delicate way of harvesting garlic scapes as opposed to just dead-heading. If you pull the stems as gently as possible, you can get a long scape with the tender part at the bottom. You'll know when they are ready when you see the little hooks coming out of the center of the garlic plant. You can let them get a little larger, but remember all the energy is coming from the bulb. That said, you'll definitely want to harvest them before the scapes straighten out and begin to get tough.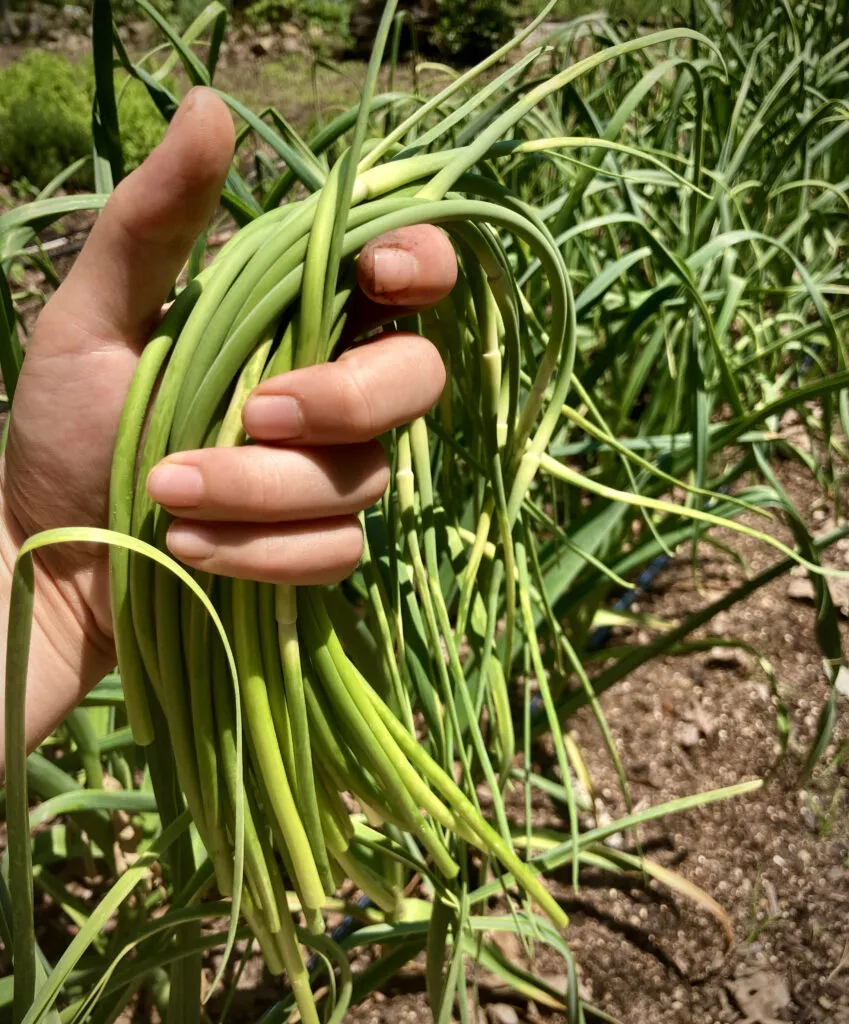 How to Use Garlic Scapes
Working on small farms and now tending my own garden, I've gotten to enjoy the incredible seasonality of vegetables and ingredients. Garlic scapes have quickly become one of my favorite springtime treasures, especially once I learned the best ways to use them:
Stir-fried with other vegetables or meat
Tempura garlic scapes
On pizza (especially white pizza with ricotta, mozzarella, and broccoli)
Roasted and used as a bread topping
Chopped and tossed into a salad
Made into pesto with other herbs
Pickled
Garlic Scape Pasta!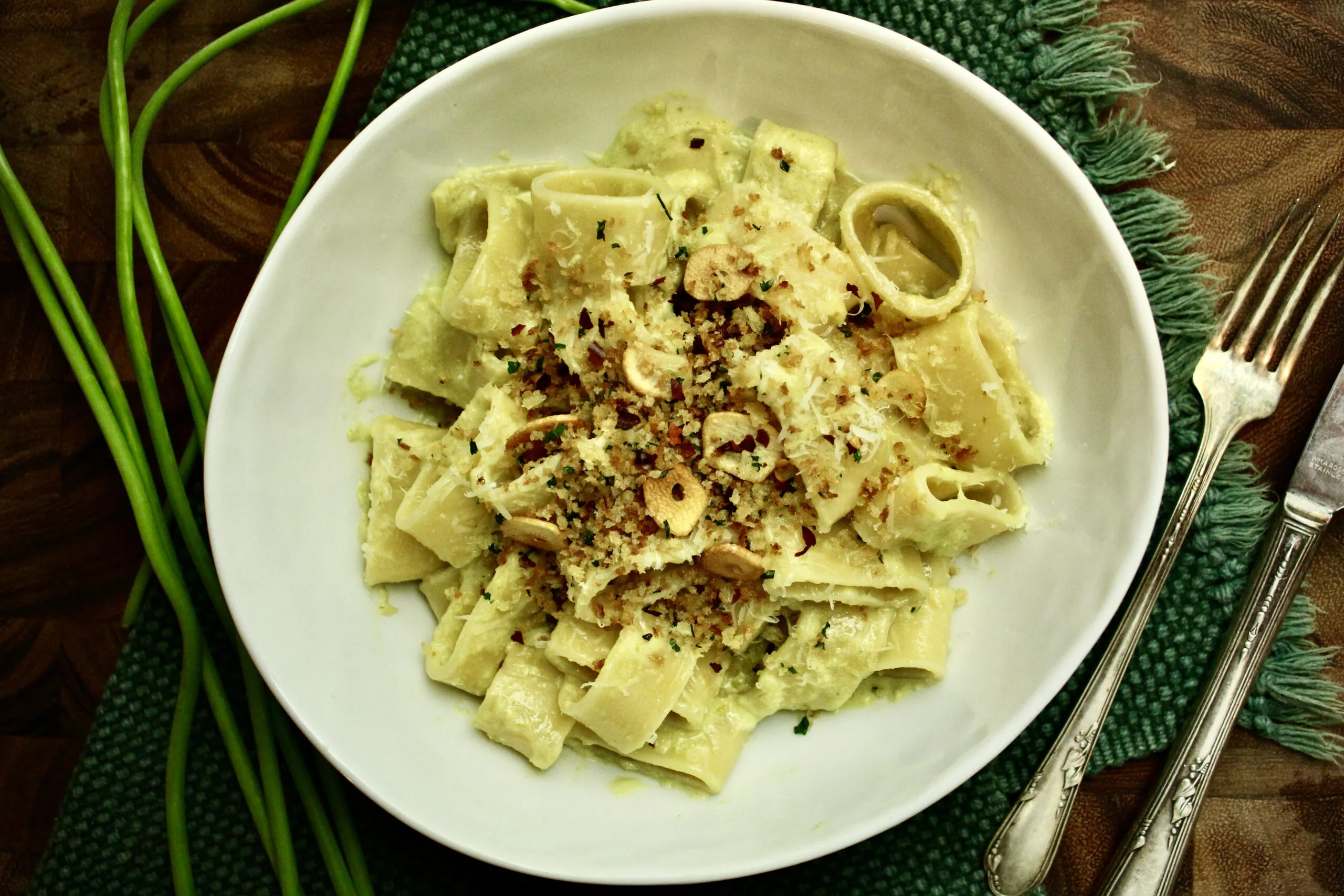 Print Recipe
Garlic Scape Pasta with Parmesan Cream Sauce
A delightful springtime pasta made with fresh, seasonal garlic scapes. Be most delicious way I've found how to use garlic scapes!
Ingredients
1/2 lb dry pasta (I used Calamarata)
15-20 garlic scapes, washed and blossoms trimmed off
2 cloves garlic
Dash of chili flakes
1/2 tablespoon lemon juice
1/3 cup white wine
3/4 cup heavy cream
3/4 cup parmesan cheese
Salt and pepper to taste
Olive oil for drizzling
Instructions
1

Bring a large pot of water to a boil and salt generously.

2

While the water heats up, put the garlic scapes, garlic cloves, chili flakes, lemon juice, white wine, and a drizzle of olive oil in a food processor or blender. Blend until very smooth.

3

Bring a large pan up to medium heat and drizzle in a little olive oil.

4

Pour in the garlic scape mixture and cook for 2-3 minutes stirring often.

5

Pour in the cream and cook for 5-7 minutes on medium low until thickened. Add salt and pepper to your liking.

6

While the sauce thickens, put the pasta into the boiling water and cook per package instructions. Strain and reserve 2 tablespoons of the pasta water.

7

Stir the parmesan into the sauce and let it melt for 1-2 minutes.

8

Toss in the pasta and reserved 2 tablespoons of pasta water until the pasta is evenly coated.

9

Stir everything until it comes together.
Nutrition
1013 Calories

71.9g Carbohydrates

189mg Cholesterol

60.9g Fat

.5g Fiber

33.2g Protein

23.8g Saturated fat

772mg Sodium

.6g Sugar
Notes
Garnish with fried garlic, toasted breadcrumbs, crispy pancetta, and a grating of parmesan on top.