Garlic Confit is perhaps one of the BEST things you can make with garlic. Covered in olive oil and slow cooked until soft and mellow. There's a predominant garlic flavor, but none of the spiciness that you get from raw garlic. There's a slightly caramelized richness that results from the process of a) cooking it in good quality olive oil and b) slow cooking to allow the flavors to transform slowly for a more mellow taste. You can add other ingredients to infuse as well like dried chilies or chili flakes and all kinds of herbs. Rosemary, thyme, bay leaves, dried chilis, and parmesan rind are my favorite.
How to Make Garlic Confit
The process is as simple as it gets. Just place your peeled garlic into a pan or oven-safe dish with a little salt and cover with olive oil. Cook your garlic low and slow at 225°F for at least 2 hours, or until the color has changed a light tan color and the garlic is mashable. You can play around with the temperature and timing. For instance, if you're in a rush, you can crank the oven up to 350°F and cook for 30-45 minutes.
As stated above, feel free to add other aromatics to your confit. Chilies, whole spices, herbs, cheese rinds, etc. are all great additions. If you're planning on making dishes with a certain cuisine, use the common spice mix of that cuisine. For example, with Chinese food you could use the whole spices from Chinese Five Spice which includes: star anise, cinnamon, fennel seed, cloves, ginger, and some variations use peppercorns (Sichuan or white peppercorns). Then you could use this Five Spice-flavored confit in bao fillings, spring rolls, soup or stir frying with the infused oil. You can change up the oil too to suite the cuisine as well.
Here are some aromatic options:
Herbs: Rosemary, thyme, oregano, dill, marjoram, tarragon, basil, chervil, bay leaves, curry leaves, etc.
Dried chilis or chili flakes
Cheese rinds: Parmesan, Pecorino, Gruyere, Swiss, etc.
Whole spices: peppercorns, coriander, cumin, allspice, star anise, clove, cardamom, etc.
Other: dried turmeric or ginger, dried lime, lemon zest, etc.
My favorite combination thus far is rosemary, thyme, bay leaves, dried chilis, and parmesan rind. It's fragrant and has some extra umami from the parmesan rind; plus, it goes well with most of the dishes I like to cook. Sometimes I'll even throw in some sun-dried tomatoes for even more umami.
As you can see, garlic confit can be as simple or complex as you make it. It gets more and more fun to make as you begin testing with different infusions. Ah, and my favorite part when all the garlic is gone: using the oil as a Balsamic-Oil bread dip. So heavenly!
How to Use Garlic Confit
It's perfect for spreading onto a crispy baguette, mashing into a sauce with herbs and spices, incorporating into a soup, or adding to just about anything you can think of! Plus you get garlic infused olive oil which is great for salad dressings and tossing into roasted veggies. The applications for this ingredient can go on an on. In the coming months, I'm going to make notes in the recipes that you can add this slow cooked creation to.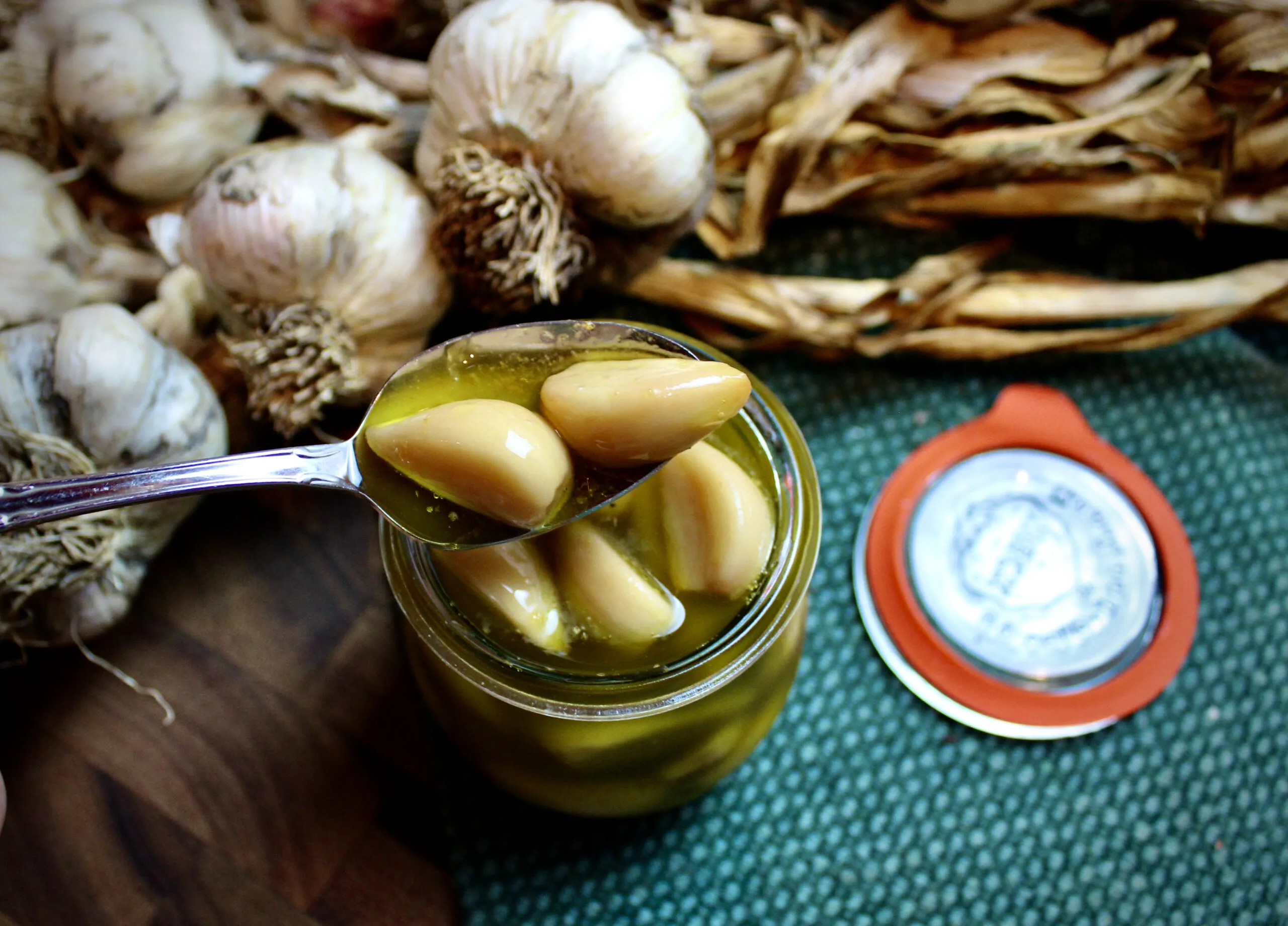 Print Recipe
Garlic Confit
One of the easiest and best flavor enhancing ingredients you can make! Keeps for no more than two weeks in the fridge and three months in the freezer.
Ingredients
3 bulbs of garlic
1 1/2 cups good olive oil
Spices, herbs, aromatics, cheese rind, etc. (see above) *optional
Instructions
1

Preheat your oven to 225°F

2

Peel the garlic and place into a pan or oven-safe dish. Sprinkle with a little salt and add any aromatics you're using.

3

Cover with olive oil (you may need more or less than directed above, but just make sure they're covered).

4

Cover the dish with a lid or layer of aluminum foil and bake for 2 hours, or until slightly golden and mashable.

5

Serve your favorite way (lots of ideas above)!
Nutrition
218 Calories

.4g Carbohydrates

25.2g Fat

3.6g Saturated fat

23mg Sodium
Notes
Keeps for no more than two weeks in the fridge and three months in the freezer.