Pork Marsala is one of those dishes that looks extravagant and time-consuming, but is actually super simple to make. This recipe takes less than 30 minutes from start to finish. Once you get the hang of making the sauce, you can shorten the cook time and start substituting ingredients. For instance, if you sub out the Marsala wine for red wine, you'll have the perfect sauce for a beef tenderloin with red wine sauce. Sounds like something you would get at a restaurant, but is so easy to make at home!
This Pork Marsala recipe is super versatile with the protein choice as well. You can substitute the pork for beef, chicken, turkey, vegetarian or vegan sausage, jackfruit–the list goes on. Or you could simply make the sauce and serve it on top of a bowl of pasta. I always have to make Marsala sauce when we cook steaks–the meat absorbs the flavors and creates the perfect bite every time. This dish provides so much flavor for the amount of effort it takes.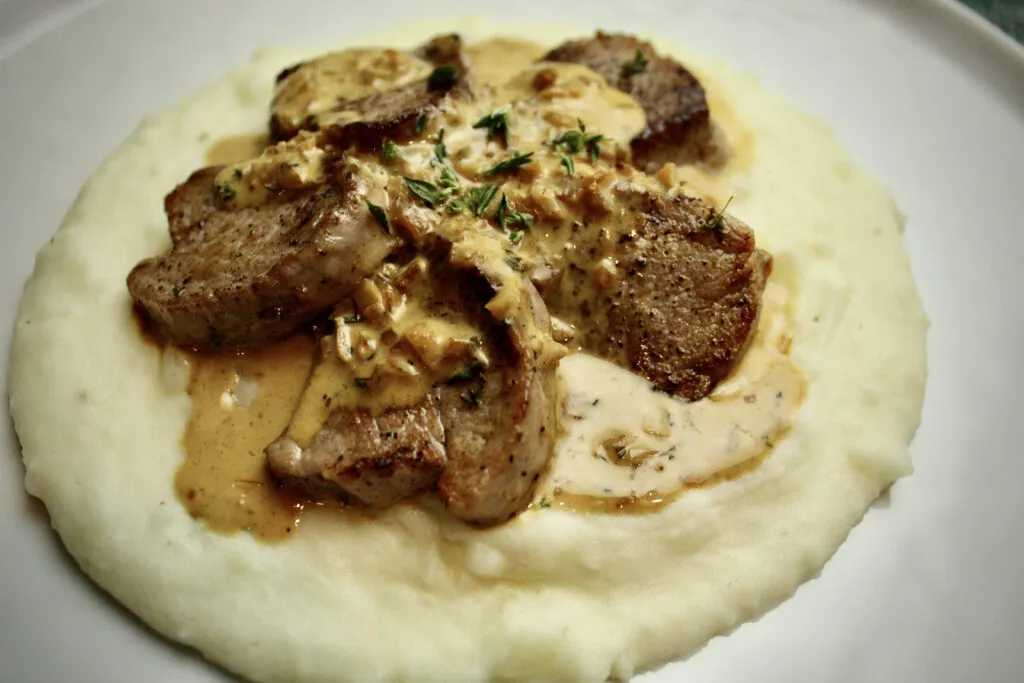 How to Make Marsala Sauce
Sear your protein of choice in a hot cast iron pan with butter and a little olive oil. This will flavor the pan with yummy drippings for the sauce and the sear will help keep the meat moist by creating a crust that seals the surface.
Remove the protein and set aside.
Lower the heat to medium and add in the onions. Allow them to soften slightly, about 2 minutes.
Add in the sliced mushrooms and let them cook down to release moisture and concentrate a caramelized flavor. The good thing about this step is you can never really overcook mushrooms!
Once the mushrooms are cooked, toss in the garlic and herbs for about 1 minute.
Pour in the wine. This will deglaze the pan of all the delicious bits stick to the bottom of the pan. Let the alcohol evaporate for 1-2 minutes.
At this point you can add in the cream. Alternatively for an even richer taste, you can add some beef stock. If you do this step, just add a little flour to the mixture beforehand so the sauce will thicken quicker. Then add the cream.
Let the cream reduce until the sauce reaches your preferred consistency. I usually let it become a thin gravy.
Add the protein back in to warm up and soak in some of the flavors, about 2 minutes.
Check for salt and pepper and serve on top of a bowl of pasta, mashed potatoes, polenta, etc.
What to Make with Pork Marsala
Pasta, mashed potatoes, roasted veggies, polenta, etc. are all excellent options. I'm a sucker for garlicky mashed potatoes so that's normally what we have. However, if you want an even quicker preparation, Pork Marsala is amazing mixed into a pasta. Just add a little pasta water to the sauce and some gratings of parmesan cheese.
However, I think the perfect bed for Marsala sauce is Gnocchi! You get the best of both worlds–potato and pasta all in one.
If you like this recipe, check out these dishes: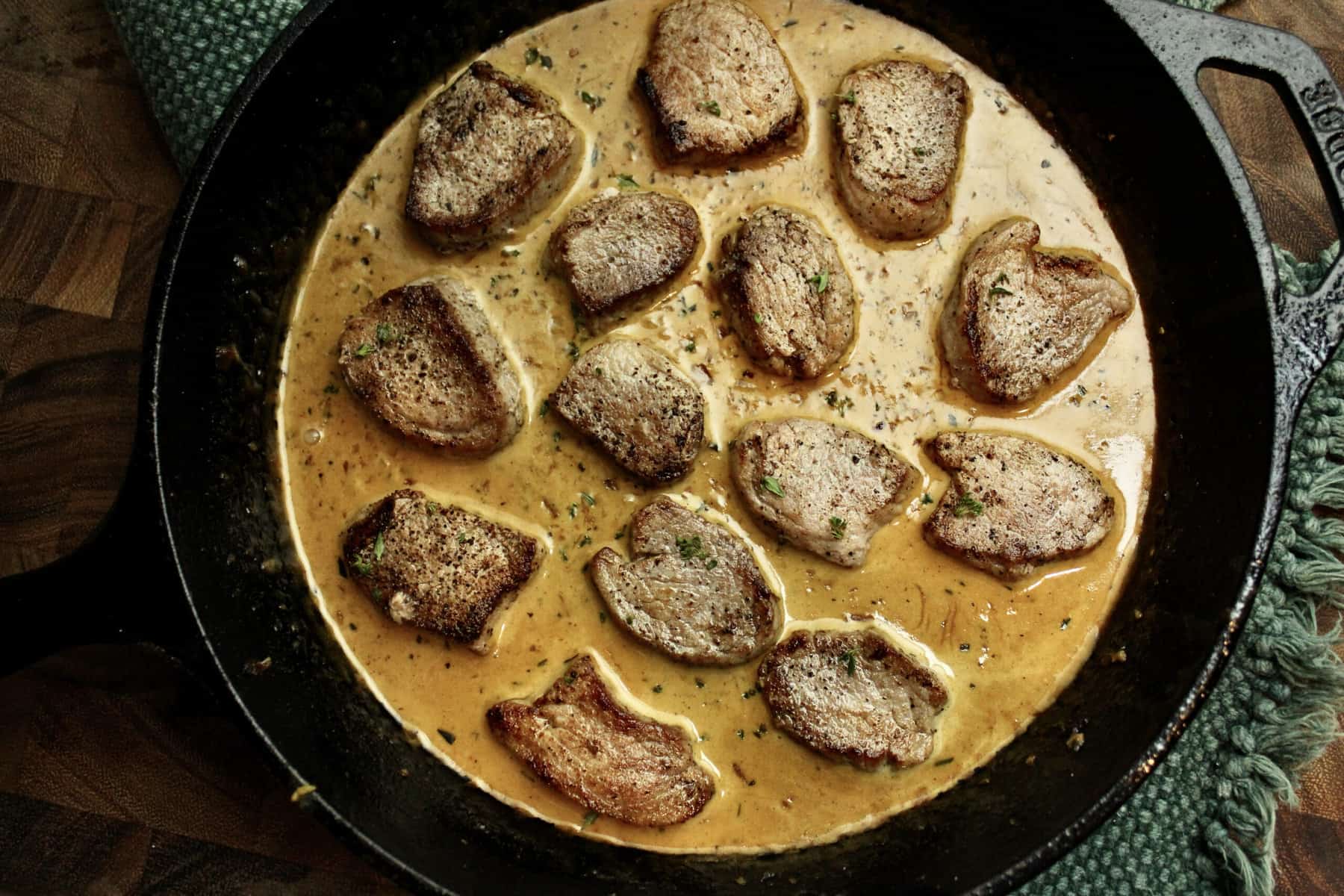 Print Recipe
Pork Marsala: Tenderloin Medallions with a Mustard-Cream Sauce
Creamy, savory, and filling. The perfect meal for a quick, but satisfying weeknight dinner date or family meal.
Ingredients
1 lb pork tenderloin
2 tablespoons butter
1 shallot, minced (or onion)
1 package of portobello mushrooms, thinly sliced
3 cloves garlic, minced
1/8 teaspoon black pepper
1/4 cup Marsala wine
1 teaspoon fresh thyme, minced
2 teaspoons fresh rosemary, minced
2 teaspoons mustard
3/4 cup heavy cream
Instructions
1

Clean the tenderloin and slice into 1 inch thick medallions. Salt and pepper to taste and set aside.

2

Heat up a large pan over high heat and add a drizzle of olive oil.

3

Once hot, add the medallions and brown for 2-3 minutes on each side. Toss in 2 tablespoons of butter when you flip and baste as the other side cooks. Move to a plate once browned.

4

Lower the heat to medium and add the shallot/onion to the same pan . Cook for about 1 minute until translucent.

5

Add in the mushrooms and cook for 5 minutes until soft and caramelized.

6

Toss in the garlic, thyme, rosemary, pepper, and mustard and cook until fragrant, about 1 minute.

7

Pour in the sherry wine to deglaze the pan and stir until evaporated. (No more alcohol smell from the steam).

8

Add in the heavy cream and stir frequently until the sauce thickens, about 4-5 minutes.

9

Place the medallions back in to warm up and soak up some of that yummy sauce.

10

Taste for salt and pepper and enjoy!
Nutrition
675 Calories

11.4g Carbohydrates

258mg Cholesterol

37.3g Fat

1.3g Fiber

65g Protein

20.5g Saturated fat

233mg Sodium

.6g Sugar
Notes
Serve with mashed potatoes, polenta, pasta, or roasted veggies. This Marsala sauce goes great with all sorts of protein like steak, chicken, turkey, jackfruit, vegetarian or vegan sausage, etc.