Hands down one of the best summer meals you can make with fresh tomatoes! Chicken Capricciosa is a crispy chicken cutlet topped with a fresh tomato, mozzarella, red onion, and basil salad tossed in olive oil. When you're ready to serve, you can layer it onto a bed of fresh greens (Arugula goes really well with this) or pasta, and a drizzle of Balsamic vinegar. The vinegar really brings the flavors together for a perfect salt, fat, and acid ratio. It's super simple and very quick to prepare. We make this dish weekly during tomato season!
Feel free to substitute the chicken for any protein of your choice. Baked portobello mushrooms would be great, or better yet fried cutlet style Loin's Mane mushrooms–now that would be incredible. I would stray from using beef as the flavors don't meld as well as with lighter proteins.
How to Make Chicken Capricciosa
There are only 3 simple steps to this recipe:
Make the salad by chopping your tomatoes, mozzarella, and red onions into 1/2-1 inch bite sized pieces. Chiffonade the basil and finely mince some garlic. Preferably, make the garlic into a paste by mincing and mashing with the side your knife. Then, toss everything together and drizzle with good quality olive oil. Season with salt and let this set in the fridge covered while you fry your cutlets.

Prepare the cutlets and fry.

First, slice your chicken breasts in half lengthwise and tenderize on both sides until they are about a 1/3 of an inch thick. Season with salt and pepper, then bread them using the flour-egg-breadcrumb method. In a large pan over medium heat (or medium low for hotter gas stoves), pour in a shallow layer of olive oil or neutral oil. (Olive oil's smoking point is somewhere between 375-405°F so it is perfectly fine for frying). Once hot, gently place in your cutlets and fry on both sides until golden. They should be done at this point, but you can place them in the oven at 350°F until they reach an internal temperature of 165°F, or until you no longer see the uncooked pink color. Place them on a paper towel to absorb any extra oil.

Assemble!

Fresh greens go great with this meal. I normally use arugula or spinach, but I had some Lamb's Quarters and kale in the garden when I made the image for the recipe. Dress the greens in a little olive oil or a vinaigrette, pile on the plate, place a cutlet on top, and layer on the tomato-mozzarella salad. Lastly, drizzle on some Balsamic vinegar.
Check out these Italian-inspired recipes: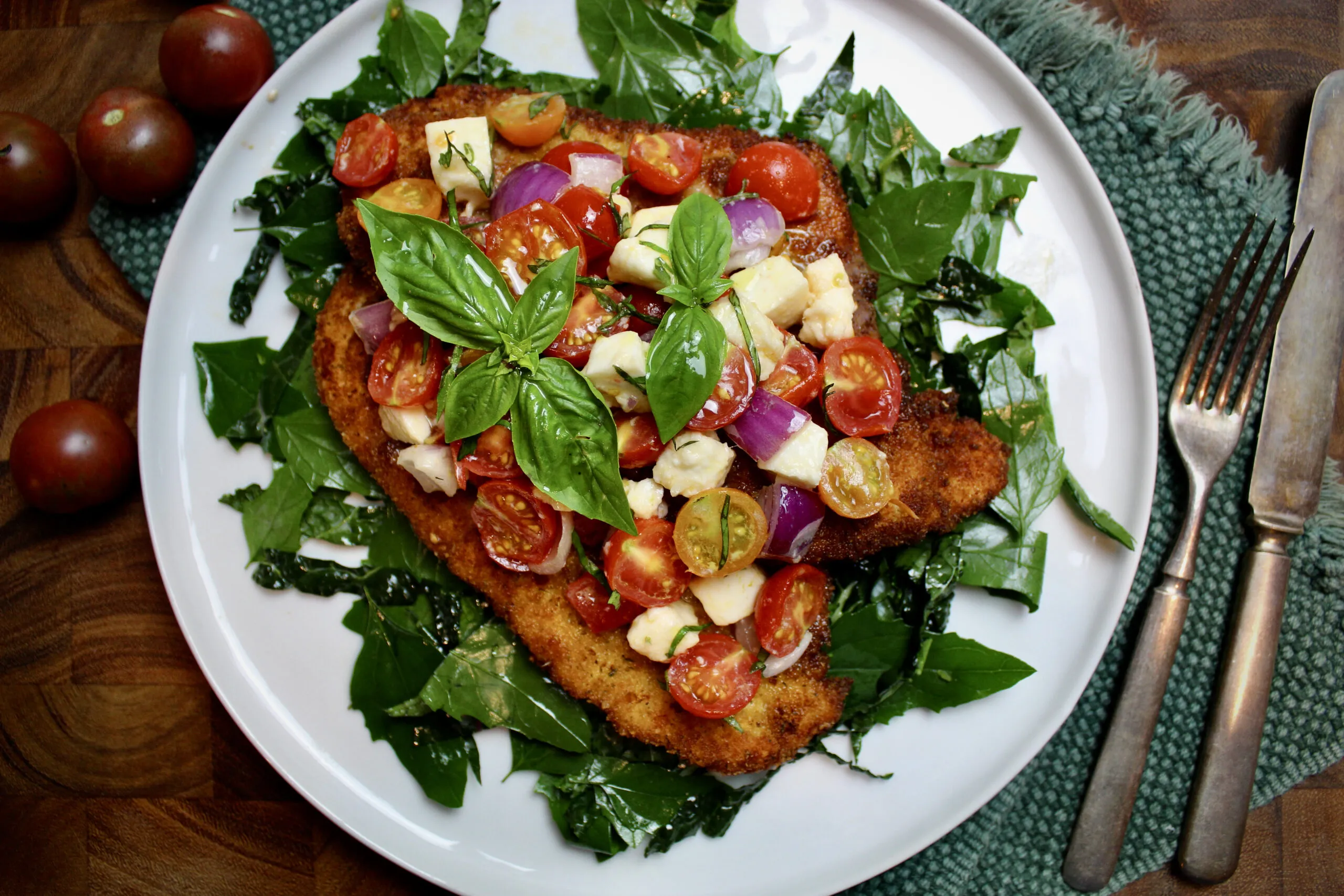 Print Recipe
Ingredients
2 chicken breasts
1/2 cup flour
1/2 cup of breadcrumbs, or more for dredging
2 eggs
1 ball of fresh mozzarella
1 1/2 cup chopped tomatoes (any kind of tomato will work slicer or cherry)
4 leaves of fresh basil, cut in chiffonade
1 garlic clove, minced *optional
2 tablespoons olive oil
16 oz salad greens (salad mix, spinach, arugula, etc.)
Salt and pepper to taste
Instructions
1

Start by making the salad so that it can sit and marinate in the fridge while you prepare the chicken. First, cut the mozzarella, tomatoes, and red onion into 1/2-1 inch pieces and place into a bowl.

2

Chiffonade the basil and toss that in. (Easiest way to do this is stack the leaves, roll them up, and slice thinly with a sharp knife.)

3

Mince the garlic (or make it into a paste by mincing and mashing with the side of your knife) and toss into the bowl along with olive oil and salt to taste. Mix, cover, and place in the fridge until the chicken is ready.

4

Start preparing the chicken breasts by slicing them in half lengthwise and tenderizing until each piece is about 1/3 inch thick. (You can skip this part if you don't have tenderizer, just adjust the cooking time when you fry them). Season with salt and pepper.

5

Make your dredging station by placing the flour, eggs, and breadcrumbs each in their own bowl/plate.

6

Then begin the assembly line by dredging the chicken in the first the flour, then the egg, and lastly the breadcrumbs. Make sure each piece gets evenly coated at each step. You may need more breadcrumbs. (Note: you can also add parmesan and herbs to your breadcrumbs for some extra flavor!).

7

Next, pour enough olive oil or neutral oil to cover the bottom of a large pan and bring to medium heat. Once hot, gently place in the chicken cutlets 2 at a time. Brown on both sides for 3-5 minutes, until golden. They should be done at this point. You can keep them in an oven at 225°F until you're ready to eat.

8

Lastly, toss your greens in a little olive oil or a vinaigrette and layer onto a plate. Place a cutlet on top and spoon on some of that delicious mozzarella-tomato salad. Drizzle with some balsamic vinegar or glaze, and enjoy!
Nutrition
679 Calories

27g Carbohydrates

268mg Cholesterol

32.1g Fat

4.8g Fiber

71.5g Protein

10.4g Saturated fat

517mg Sodium

3.7g Sugar
Notes
Use any sort of tomatoes you have on hand and substitute for a protein of your choice. I would suggest using lighter proteins and not beef or lamb. Lion's Mane mushrooms are on the top of my list to try with this recipe!