This Summer Squash Pasta is perfect for a delicious, 30-minute weeknight meal! It's one of my favorite summertime meals when I'm in a rush, but still want something satisfying and delicious. This pasta recipe is super simple with just a few key ingredients: onion, squash, garlic, basil, a can of crushed tomatoes, parmesan cheese, pasta, and salt to taste. It reminds me of the many rustic Italian dishes that take advantage of the quality of seasonal ingredients and simple preparations.
How to Make Summer Squash Pasta
There are just two steps to this recipe:
Make the Sauce

by sautéing some onion and squash until softened. Then, toss in the garlic and pour in a 14 oz can of crushed tomatoes (I like to use Mutti or home canned). You can use tomato sauce if you prefer, but the small pieces in crushed tomatoes goes well with the squash when cooked down together. Toss in a few leaves of basil and cook everything down for about 5 minutes on medium low. Then, you can toss in some parmesan cheese. Season with salt to taste and toss in the pasta when ready. (You can add a little pasta water to thin the sauce down as needed.)

Cook the pasta

. Toss the pasta in to cook when you add in the garlic. This way your pasta and sauce will be done at about the same time. After mixing the pasta into the sauce, you can garnish with parmesan cheese, breadcrumbs, and/or more herbs.
Tips to for Making Simple Pasta Dishes
The real key to simple recipes is to use good ingredients and thoughtful preparation. For this recipe in particular, use good quality olive oil and crushed tomatoes. Mutti and Pomi are the best canned/boxed crushed tomatoes I've found–they're sweet, robust, and aren't watered down like other brands. It's pure tomato goodness! If you happen to have canned tomatoes from your garden, even better.
Don't over cook the pasta. Nothing is worse than spending your time cooking a beautiful pasta dinner only to find you've overcooked the noodles. (Trust me I've been there more times than I'd like to admit!). It's easy to get distracted and leave the pasta on for a few minutes too long; this is why I force myself to use a timer and always set it 1-2 minutes before the recommended cook time. That way you can taste for the texture you prefer. And remember, the pasta will continue to cook slightly even after being strained. In Italian "al dente" translates to "to the tooth", meaning firm to the tooth or bite. To achieve this texture, I normally cook the pasta right at the minimum cook time or even a minute before, as it will continue to cook while being mixed into the sauce.
More Summer Pasta Dishes: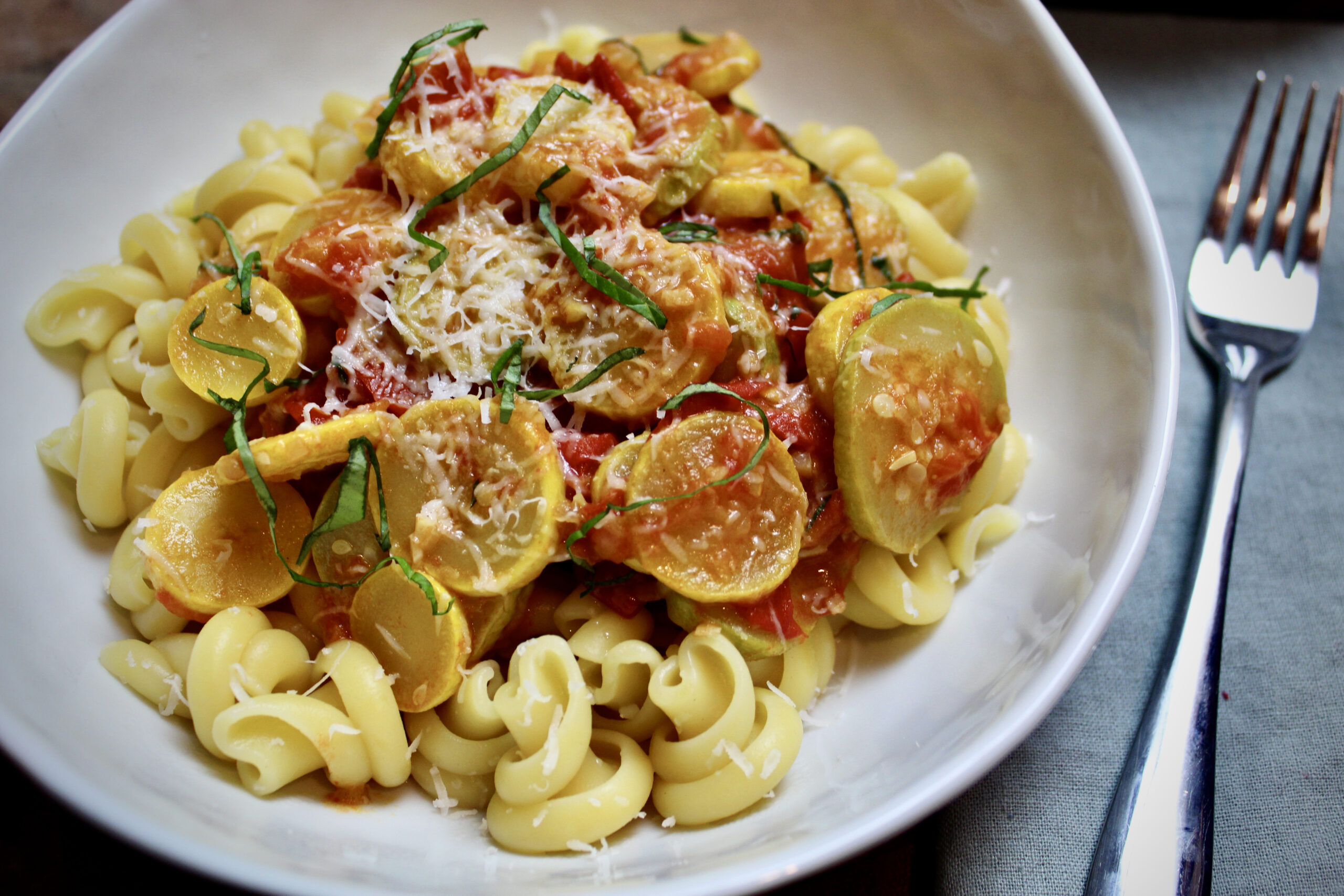 Print Recipe
Summer Squash Pasta
This pasta recipe is great for busy days when you want something satisfying but just don't have the energy to cook a meal with a bunch of steps. Takes less then 30 minutes to prepare and is simply delicious!
Ingredients
2 cups summer squash, chopped into 1/2-inch pieces (Yellow Crookneck, Zucchini, Pattypan, Zepher, Tromboncino, etc. will all work)
1 small onion, chopped
2 tablespoons olive oil
1 14-15 oz can of crushed tomatoes
2 cloves of garlic, minced
3 basil leaves, chiffonade cut
1/3 cup of grated parmesan cheese
1/2 box of pasta (you can double all the ingredients if you wish to make a full box.)
Salt and pepper to taste
Instructions
1

Start a large pot of water to boil; heavily salt once boiling.

2

In a large pan over medium heat, drizzle in about 2 tablespoons of olive oil and toss in the onion. Cook this down for 2-3 minutes and toss in the squash for another 3-5 minutes.

3

Once the vegetables are soft, toss in the garlic and cook for 1 minute (you can add some chili flakes here if you like a little heat). At this time, you can also toss the pasta in the boiling water to begin cooking.

4

Pour in the crusted tomatoes and basil and cook for another 5-10, until the pasta is done.

5

Mix in the parmesan cheese before tossing in the pasta. Thin down with a little pasta water if needed.

6

Season with salt and pepper to taste.
Nutrition
683 Calories

108.8g Carbohydrates

10mg Cholesterol

19.3g Fat

12.5g Fiber

25.4g Protein

4.1g Saturated fat

816mg Sodium

18.8g Sugar
Notes
Use any sort of summer squash you have on hand.