Ah the fragrant, herby taste of basil pesto never fails to elevate a dish! This basil pesto recipe is a conglomeration of recipes and tips I've accumulated over the years in search of the perfect pesto. It takes less than a few minutes to make with a blender or food processor and is freezable for convenient weeknight meals. With simple recipes, often times it's the balance of flavors or preparation that set them apart. My main focus with this rabbit hole was finding the best ratio of ingredients and in what sequence to add them to achieve the perfect consistency. Below I compare different tools of preparation and how you can store pesto for ultimate convenience!
How to Make Basil Pesto
Mortar and pestle, food processor, or blender. Which is best?
Mortar & Pestle
The most traditional way to make pesto is using a mortar and pestle. I find this makes the best pesto as it results in a more homogeneous, emulsified texture from the mashing and blending. I know most people don't have the time to do it this way, but if you plan it out and make a large amount, one batch could last you the entire year. Plus, I think it's rather relaxing to toil over lost practices like baking your own sourdough or grinding pesto–it gives you time to think and appreciate life.
How to Make Pesto in a Mortar and Pestle
The sequence of ingredients is what matters here:
Start with the garlic (add a little salt to the mortar to make it into a paste). Begin by smashing the garlic, then use a circular motion to grind it into a paste on the sides of the mortar.
Then toss in the pine nuts and mash/stir until it's relatively fine paste
Toss in the basil with a little more salt and grind until you have a fine paste once again.
At this point, you can add in the cheese (I use a 1:1 ratio of parmesan:pecorino romano, or just parmesan if that's all I have in stock.)
Lastly, stir in the olive oil until fully incorporated.
Since you used salt to break down the garlic and basil you may not need any, but taste just in case.
Blender
The blender is always my second choice when making pesto. It creates a smooth, creamy texture and there's no doubt about how quick the process is! You can add all the ingredients at once except for the olive oil. Just start pulsing the ingredients as you drizzle in the olive oil. It should come together in 1-2 minutes.
Food Processor
Also a great time saver, but a little more involved than with the blender. And honestly, the texture doesn't end up that wonderful. Some ingredients end up a little more processed than others. With that said, you'll want to use minced garlic–no one wants a mouth full of raw garlic in their pasta! Well, maybe some.
How to Make Pesto in a Food Processor:
Place all ingredients except for the basil and olive oil into the food processor. Pulse until it's as fine as possible.
Add in the basil and begin pulsing. With the processor on, slowly drizzle in the olive oil until completely combined.
Season with salt to taste.
Can you freeze pesto?
Yes, you can freeze pesto! I can't tell you how many times I've been in a rush for dinner and remembered I had some pesto cubes in the fridge. Literally boiling pasta and tossing a cube of pesto in for sauce is all you need to do for a cheap and satisfying meal. Freezing pesto it an absolute must for me during the summer. You can find basil in stores practically all year, but I highly recommend browsing your local farmers market in the summer–the smell, appearance, and taste are always so much better. You'll probably be able to get a lot more bang for your buck as well.
How to freeze pesto:
The easiest way to freeze pesto is using an ice cube tray. Simply fill the tray and place into the freezer for at least two hours, or until the cubes have completely frozen. Working quickly, pop out the cubs and put them into a freezer bag or container. Frozen pesto cubes should last at least 6 months (not advocating this but, I usually use the frozen pesto from my summer harvest until my harvest the next year).
Tips for making basil pesto:
It may not be traditional, but I'll sometimes use walnuts if I don't have any pine nuts on hand.
Feel free to make it your own! Try out other herb, hard cheese, and nut combinations. My next experiment is going to be with parsley, mint, dill, pistachios, and Kefalotyri cheese.
Grana Padano is a wonderful Italian cheese similar to parmesan–I've made pesto with it several times and am always surprised at the slight differences in flavor. It's a little less salty than parmesan and tastes more milky if that makes any sense.
Try out this Arugula Pesto recipe – I put this on EVERYTHING in the wintertime. So good on roasted veggies, grain bowls, and eaten as a dip with some multigrain chips.
What to Make with Basil Pesto
Caprese Wrap with grilled chicken, tomatoes, arugula, and mozzarella cheese
Dot some pesto on top of Chicken Capricciosa
Homemade Gnocchi tossed in pesto
Pizza (I'm working on a cauliflower Margherita pizza that has seriously blown my mind–recipe for that coming asap!)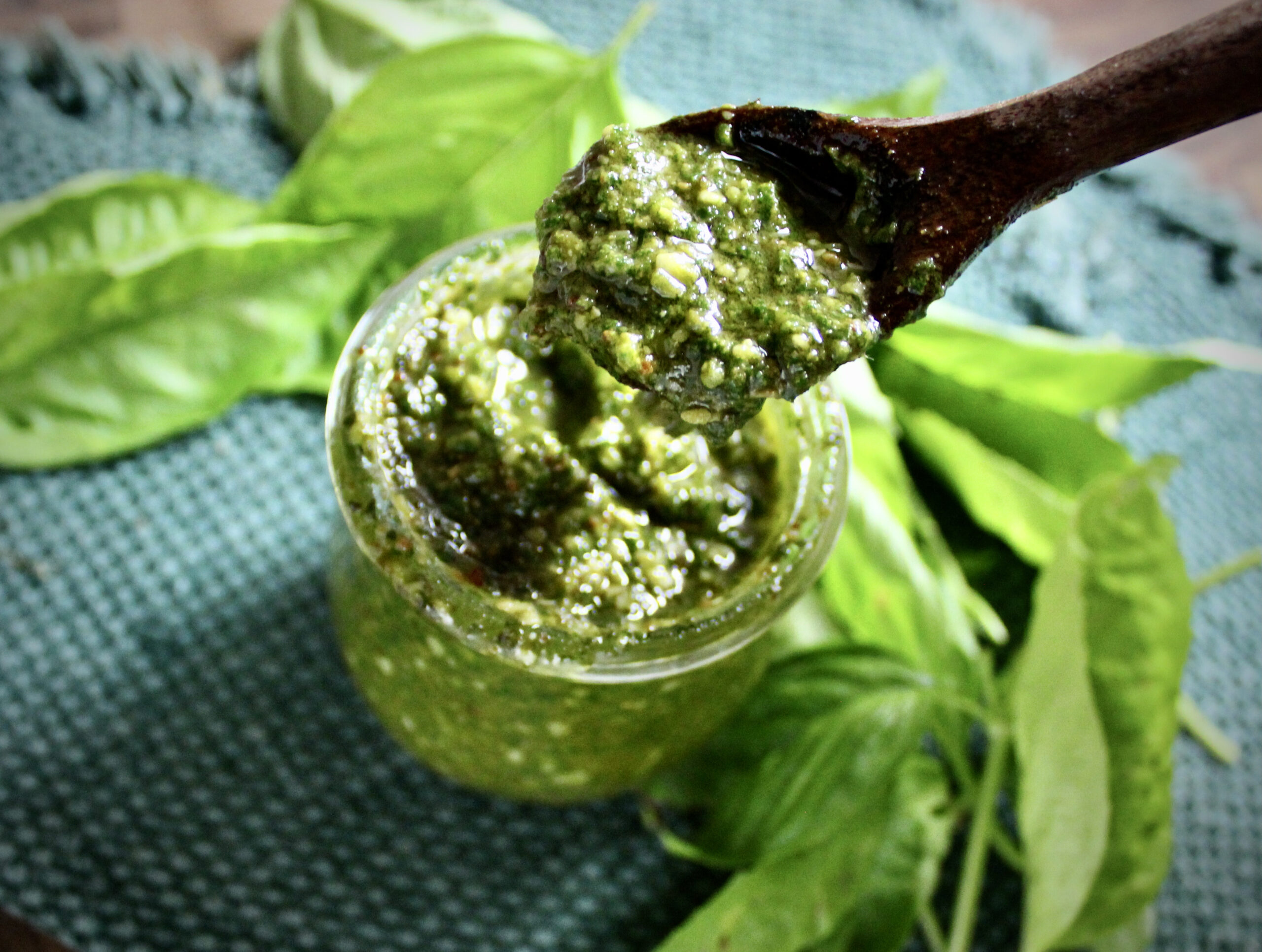 Print Recipe
Basil Pesto
Perfectly balanced, smooth basil pesto. Great for tossing into a bowl of pasta for a quick and delicious weeknight dinner--plus you can freeze it in ice cube trays for quick servings! **These instructions are for a blender, but if you wish to make pesto traditionally with a mortar and pestle, see the instructions above.
Ingredients
4 packed cups of basil (pack them into the cup just enough that there isn't a lot of air space)
1/4 cup toasted pine nuts
2 small cloves of garlic, or 1 large clove roughly chopped
1/4 cup of grated parmesan cheese
1/4 cup of grated pecorino cheese *substitute with parmesan if you prefer
1/2 cup of olive oil
Salt to taste
Instructions
1

First put all ingredients except for the olive oil into the blender.

2

Start pulsing and begin drizzling in the olive oil until fully incorporated.

3

If you are looking for a smoother texture, simply blend until it meets your desired consistency.

4

Season with salt and enjoy on a beautiful bowl of pasta!
Nutrition
430 Calories

4.4g Carbohydrates

75mg Cholesterol

32.8g Fat

.1g Fiber

34.2g Protein

16.3g Saturated fat

987mg Sodium

.1g Sugar
Notes
There are intricacies and rabbit holes you can go down when it comes to making pesto, especially when it comes to the sequence of ingredients. The one rule of thumb I've seen across my research is that you should never just dump the olive oil in with everything else. It needs something to emulsify with rather than absorb into the ingredients. It may sound weird, like why not if it's all going to be blended up anyway but you actually do end up with a slightly different texture or mouth feel.