This Barley Mushroom Soup recipe is rich, hearty and full of textures. The main ingredients are barley, mushrooms, sausage, peppers, spinach, and canned navy beans. The mirepoix (chopped celery, onion, and carrots) sets a delicious base while the tomato paste and paprika bring hints of umami and smokey warming spice. Let all of these ingredients simmer for about 45 minutes-1 hour as the barley softens and soaks up all that flavor!
This recipe calls for making small sausage meatballs; however, if you want to shorten the preparation time, you can simply cook the sausage as is. You can leave it in small pieces or mash it into ground meat as it cooks. The flavor doesn't change with this alteration, it's just a matter of whether you prefer meatballs or not. There is also protein present in the navy beans, so if you're vegan or vegetarian you could very well leave the sausage/sausage substitute out altogether.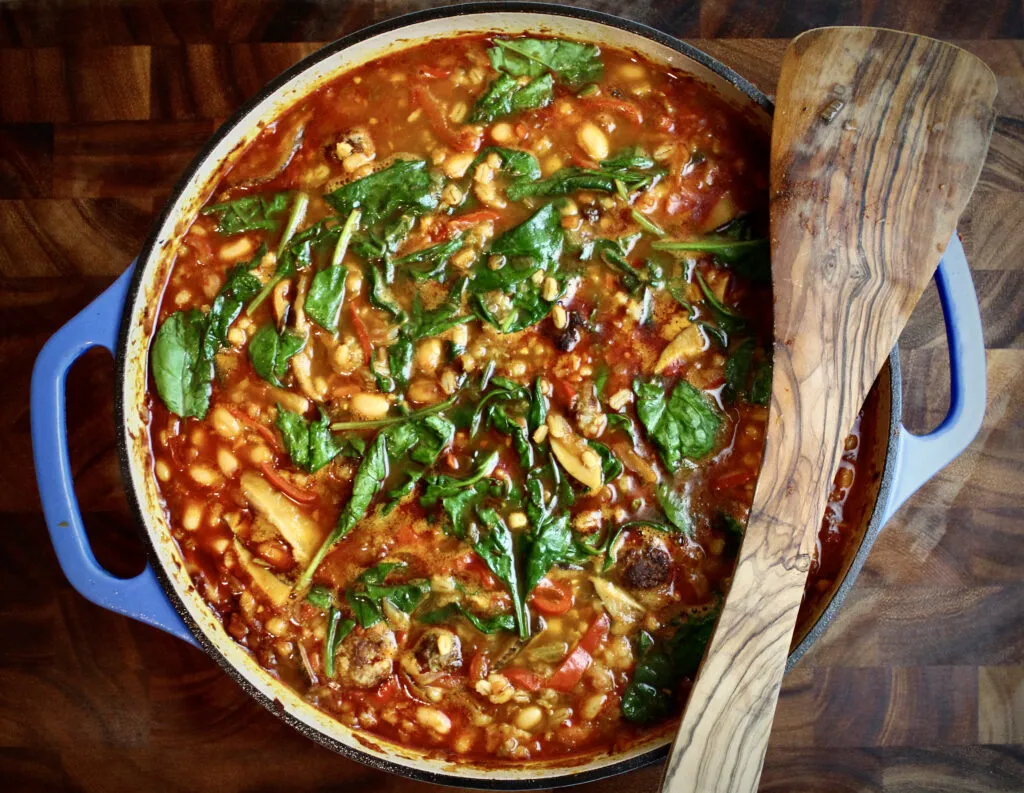 Barley: The Perfect Nutrition-Packed Flavor Absorber
My favorite part of this soup is the barley. Not only do you feel great eating it because of the many health benefits, but the taste and texture are incredible! When cooked into a soup, especially one with strong flavors, the barley absorbs and takes on whatever taste it is present and ends up with such a soft, but not disintegrated texture.
I love mixing it into a multigrain rice bowl as well–this is the recipe that taught me how to start making my own versions of multi-grain rice (a Maangchi recipe). If you remotely like Korean food and haven't checked out Maangchi on Youtube or her website, I highly recommend it! She does an amazing job of disseminating her Korean cooking traditions to the masses with recipes that are easy to make and fun to try.
You can also use barley in any type salad whether you steam to dress with a vinaigrette or "puff" it for some added crunch. Since it's currently still summer as I write this, I've been using barley in tabbouli-type salads with lots of herbs, tomatoes, cucumbers, and a tahini-lemon dressing. I think it'd be interesting to make stuffed peppers with barley and Mediterranean flavors like tomatoes, mint, nuts, etc. What do you do with barley?!
More Soups to Delight in this Fall Season: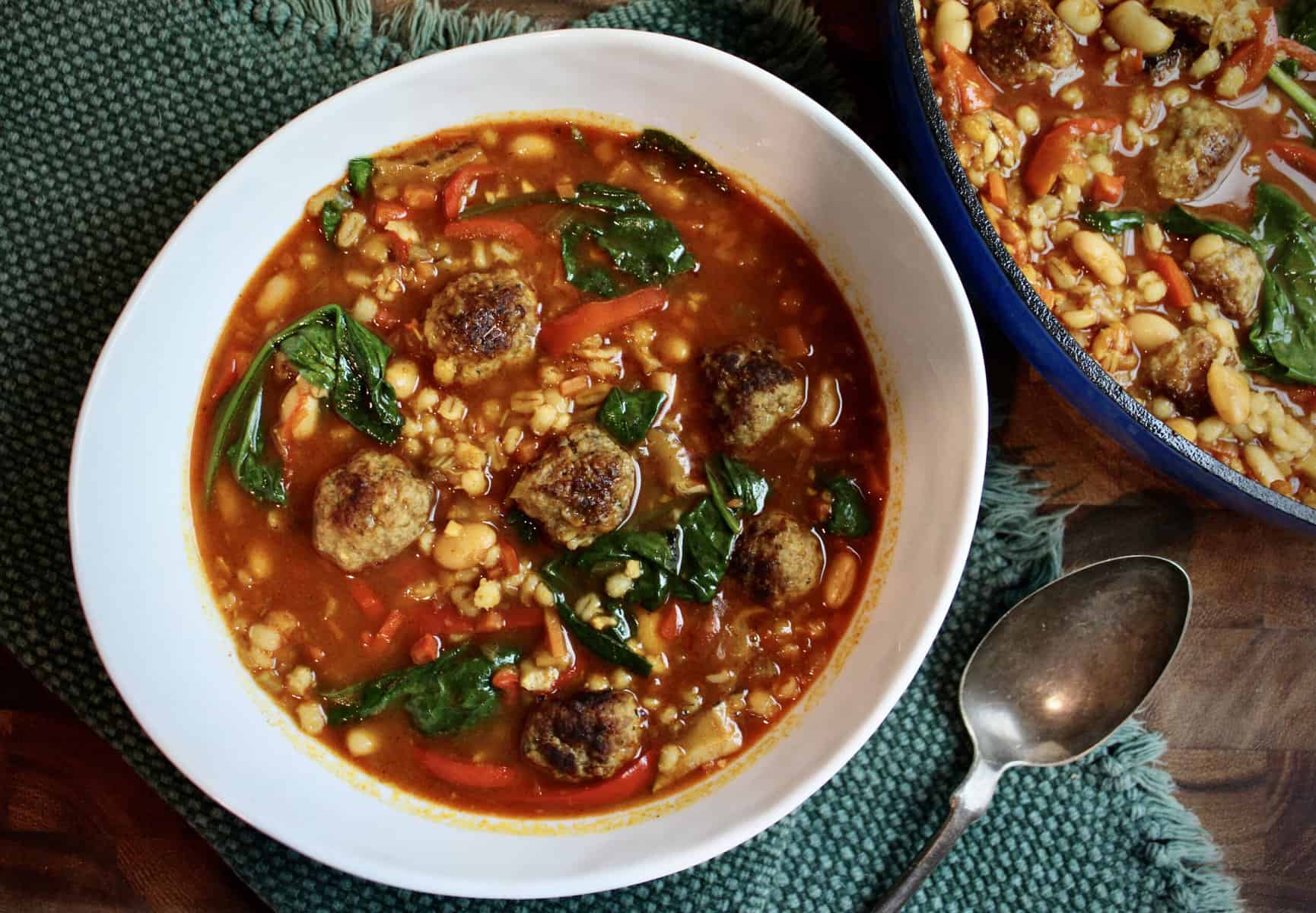 Print Recipe
Barley Mushroom Soup
A perfect fall or winter soup--lots of warming spices and a rich, hearty flavor. Paprika and tomato paste create a striking red color while the mushrooms and sausage balls bring even more umami. The barley is simmered in the soup for about 45 minutes until it absorbs all that yummy flavor!
Ingredients
For the Sausage Meatballs (you can also just cook ground sausage by itself if you want to save some time!):
1/2 lb sausage
2 tablespoons breadcrumbs
2 tablespoons milk
1 egg yolk
1 clove garlic, minced
1 tablespoon parmesan or pecorino cheese, grated
Salt to taste
For the Soup:
1/2 cup chopped onion
1/2 cup chopped celery
1/2 cup chopped carrots
1 cup of sliced mushrooms
1 bell pepper, thinly sliced (or any sort of mild red pepper)
3 tablespoons tomato paste
1 can of navy beans, or similar white beans (rinsed)
1/2 cup of barley
3 cloves of garlic, minced
1 tablespoon paprika
A dash of smoked paprika
6 cups of chicken broth
2 large handfuls of spinach, or more if you like
Salt and pepper to taste
Instructions
Making the Sausage Meatballs *optional:

1

Make the sausage balls; that is, if you choose to do this step. This soup is really good with the sausage cooked ground up as well.

2

To make the balls, mix the breadcrumbs and milk together and let it sit for a minute or two.

3

Next, toss in the egg yolk, sausage, garlic, cheese, and salt.

4

Mix this together until thoroughly combined.

5

Roll into small, 1/2 inch balls and place on a plate.

6

Brown the sausage meatballs in a little olive oil or simply cooking the ground sausage as is. This should take around 5-7 minutes over medium heat for the meatballs or 4-5 minutes for ground sausage.

7

Once browned, remove the sausage balls to a plate, lower the heat to medium-low, and toss in the mirepoix (onion, celery, and carrots). Let this cook down until softened, about 4-5 minutes stirring often.

8

Next, toss in the mushrooms and pepper until slightly soften, another 3-5 minutes.

9

Toss in the garlic and paprikas and cook for a minute.

10

Mix in the tomato paste and then pour in the beans, barley, and chicken stock.

11

Simmer on medium-low or low (definitely low for a gas stove) for 45 minutes until the barley is cooked. You may need to add more water or broth as it reduces.

12

Lastly, add the spinach and sausage back in for another 5 minutes .

13

Adjust for seasoning and serve in your favorite soup bowls. Hope you enjoy!
Nutrition
464 Calories

39.5g Carbohydrates

103mg Cholesterol

21.4g Fat

9.7g Fiber

28.9g Protein

7g Saturated fat

1978mg Sodium

6.8g Sugar
Notes
Once cooled, this soup will store in the refrigerator for 3-4 days.