Just decided to combine two of my favorite appetizers in this recipe for Crab Dip Jalapeño Poppers..and it did not disappoint! It's the same idea as any jalapeño popper–jalapeño halves stuffed with cream cheese, shredded cheese, and seasonings (minus the bacon). The only additions to this recipe are Old Bay and crab meat. Pop those babies in the oven (or air frier) at 400°F for 15-20 minutes and try to wait another 5-10 before attempting your first bite (the hot cream cheese can seriously burn if you eat them right out of the oven!). This appetizer takes less than 10 minutes to prepare and is perfect for a Friday movie night or any gathering for that matter.
Not a big fan of spicy heat?
If you or your family aren't big fans of spicy food, be sure to scrape out all the seeds. Once those are removed, the spice level is pretty mild. The cream cheese mellows it out as well. Another option would be using milder peppers, like the small sweet variety called "lunch box peppers". Almost all grocers carry this variety and you can find them at most farmers markets mid-summer through early fall.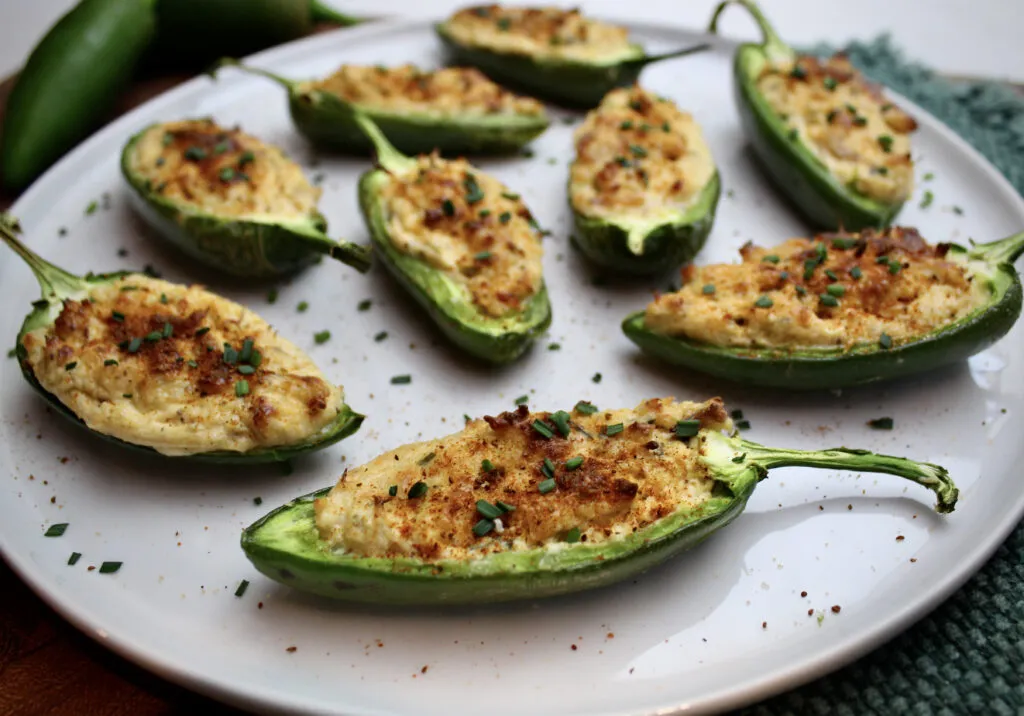 Handling Spicy Peppers
When using spicy peppers (jalapeños or hotter), always try to wear gloves. It may seem trivial, but your hands will thank you! I've made that mistake many a times when making hot sauce or pepper pickles. If you handle the seeds for a prolonged amount of time, you'll actually burn them and it can last for DAYS. If you don't have gloves, try to work quickly and wash your hands really well afterwards.
What to do if you burn your hands with peppers:
Make a paste with baking soda and water at a 1:1 ratio (eye balling this is totally fine). Coat your hands in the paste and let that sit for at least 2 minutes. This should relieve some of the pain for a short time. Do this as often as you see fit, but the pain should subside within a day. Avoid hot water if you can. When this happened to me, I just kept a box of baking soda in the bathroom and would periodically do this until it subsided.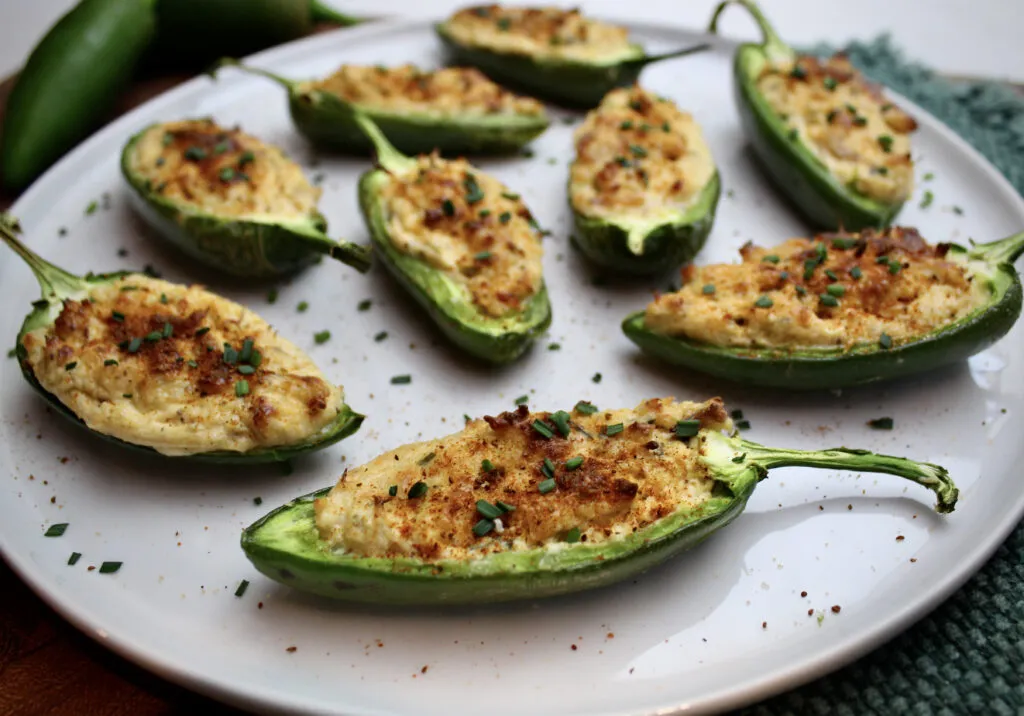 How to Make Jalapeño Poppers
There are 3 basic steps to making Jalapeño Poppers:
Prepare the pepper for stuffing. First rinse and dry your peppers. Then, wearing a pair of gloves cut the jalapeños in half lengthwise and discard the seeds if you choose. I normally leave just a few for some heat. As stated above, if you or your family aren't big on heat, wash and dry the pepper halves to remove all the seeds. (Note: If you don't have gloves, just be sure to wash your hands really well after handling the seeds.)
Make the filling & stuff the peppers. Make the filling by combining the cream cheese, shredded cheese, garlic, chives, crab, Old Bay and salt. Mix until thoroughly combined and fill each pepper half with at least 1 tablespoon of the filling.
Bake and serve. Bake the poppers in a 400°F for 15-20 minutes and wait another 5-10 minutes to devour! Garnish with an extra sprinkling of Old Bay and chopped chives.
More Appetizer Recipes to Try Out This Weekend: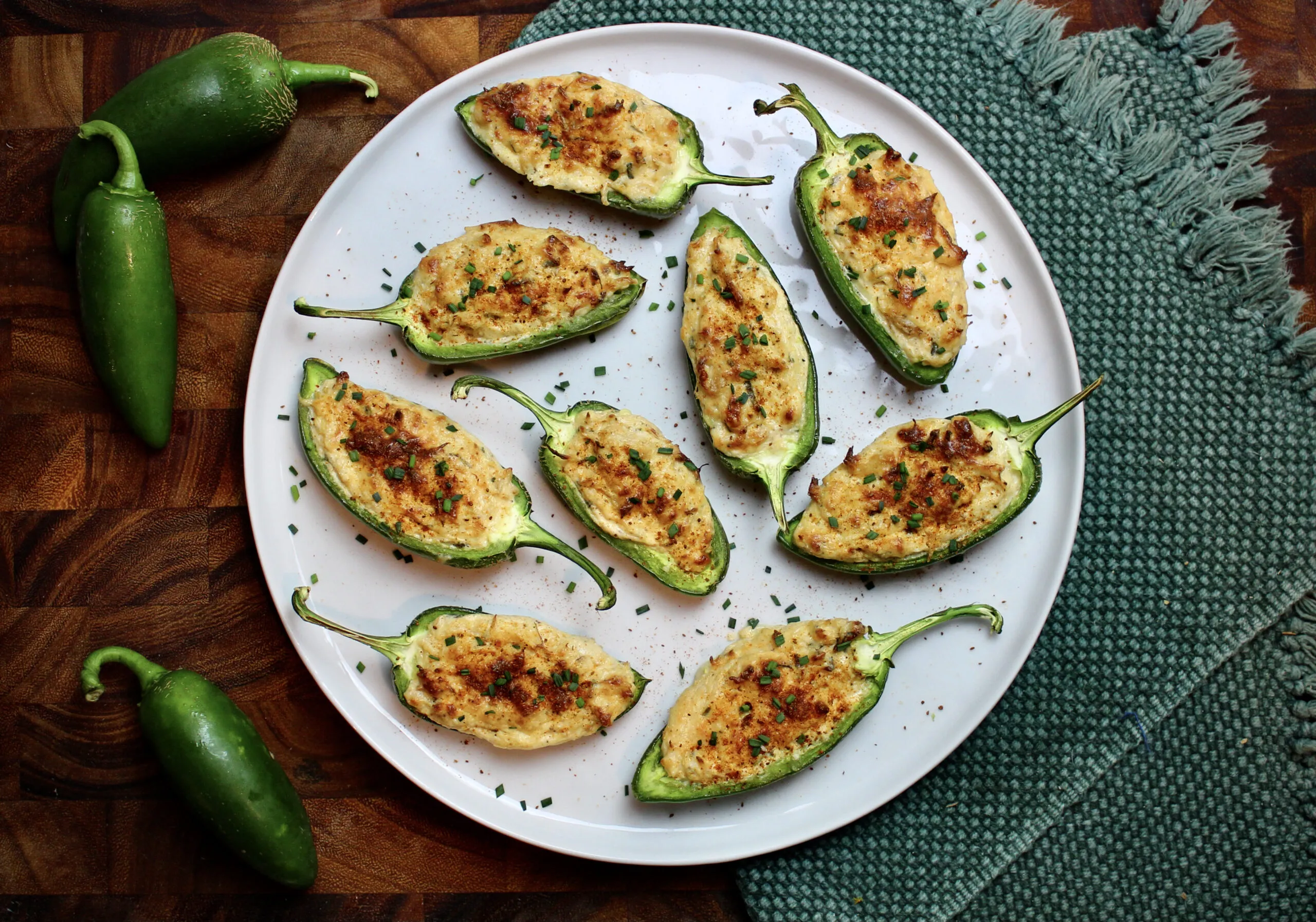 Print Recipe
Crab Dip Jalapeño Poppers
An out-of-this-world take on the classic Jalapeño Popper. If you enjoy crab dip, this recipe is definitely for you! Reminiscent of a crab-stuffed mushroom, but all the texture and heat of a roasted jalapeño.
Ingredients
8-10 jalapeño peppers, cut in half lengthwise and seeds removed
1 block of cream cheese
1/3 cup crab (I used Phillip's Premium Crab Lump)
2 tablespoons chopped chives
1 teaspoon Old Bay seasoning, more for garnishing
1/2 teaspoon lemon juice
1/8 teaspoon garlic powder
Salt to taste
Instructions
1

Preheat your oven or air frier to 400°F. (If you use an air frier, they may cook faster so be sure to check at 12 minutes or so)

2

Start by prepping the jalapeños. Rinse, dry and slice them in half lengthwise. Scrape out the seeds and set aside. (Note: If you don't like a lot of heat, be sure to remove all the seeds. The easiest way to do this is to rinse them once more and let them dry completely on a towel.)

3

Make the filling by combining the cream cheese, crab, 1 tablespoon of chives, 1 teaspoon of Old Bay, lemon juice, garlic powder, and salt in a bowl and mixing until thoroughly combined.

4

Fill the pepper halves with at least 1 tablespoon of filling each and lay on a baking sheet.

5

Place in the oven for 15-20 minutes until the cheese is melted and peppers are soft. Let sit for at least 5 minutes to cool. Garnish with some extra Old Bay and chives and enjoy!
Nutrition
250 Calories

6.8g Carbohydrates

81mg Cholesterol

24.3g Fat

.8g Fiber

5.8g Protein

16g Saturated fat

910mg Sodium

6g Sugar
Notes
You can store these in the fridge for 2-3 days and pop back in the oven for 5-10 minutes to reheat.