Mmm, what better way to enjoy a cool fall evening than with a warm bowl of Creamy Leek and Potato Soup? Sometimes you just can't resist curling up on the couch with a warm blanket and a hot bowl of soup. Growing up my favorite was my Mom's baked potato soup–we loved having it just as much the second night! It's like the extra night gives all the flavors time to completely meld into one amazing masterpiece. Hence, another reason I love this soup–it's incredibly meal prep and freezer friendly.
We really love alliums–there aren't many meals in our house that don't have at least a little onion and garlic. But for this soup, I love the wilder, more mild flavor of the leek. They are such beautiful vegetables and take quite a long time to reach their multi-layered maturity–usually around four or five months. They're also really delicious when braised or roasted.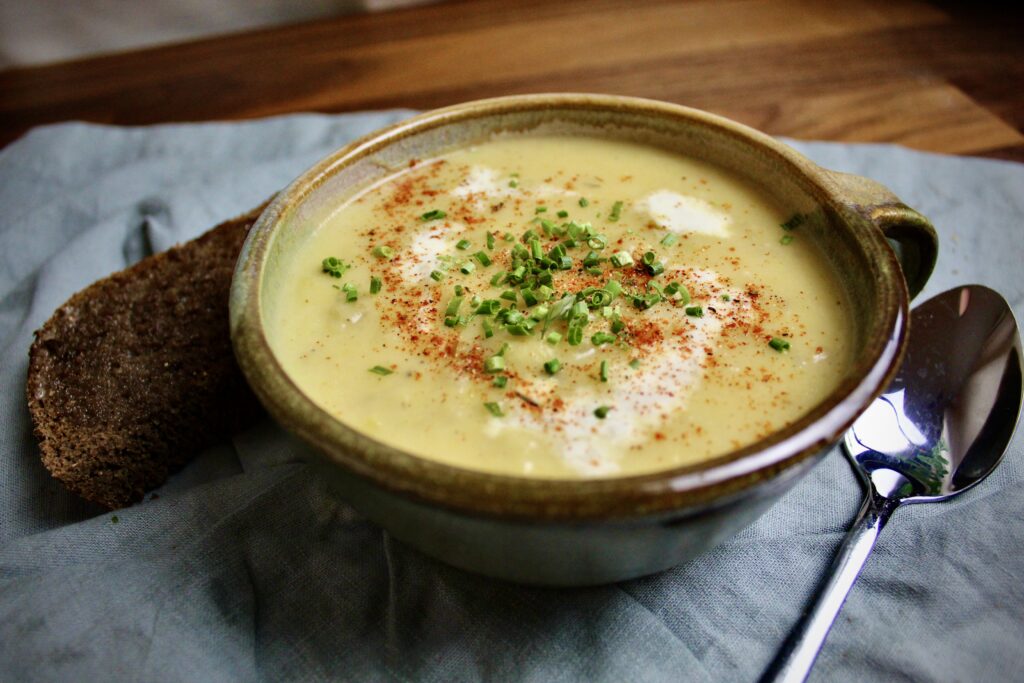 Tips & Substitutes for this Creamy Leek and Potato Soup
Go crazy with the garnishes! I use creole or mace seasoning and smoked paprika to spice up hearty soups. Over time I've become a little particular about the smoked paprika I use. Since I've tried the Pimenton de la Vera, I've never been able to buy anything else! This year I tested growing several types of paprika peppers for drying–some for sweet paprika powder, others for a spicy kick. I will post the results when the harvest and drying are complete!
Pre-made spices are wonderful and convenient, but test out your own spice mix–you may find you like your version even better! Not to mention, spices last for months, so make a pint jar's worth and keep it for those rainy day soups, or any meal for that matter. Sour cream, or creme fraiche, homemade croutons, herbs, scallions, etc. are all very tasty additions.
Try these Garlicky Croutons for a little crunch.
For a richer, silkier flavor, find the best quality butter. I like to use Kerrygold butter or local butter if you're lucky enough to find it.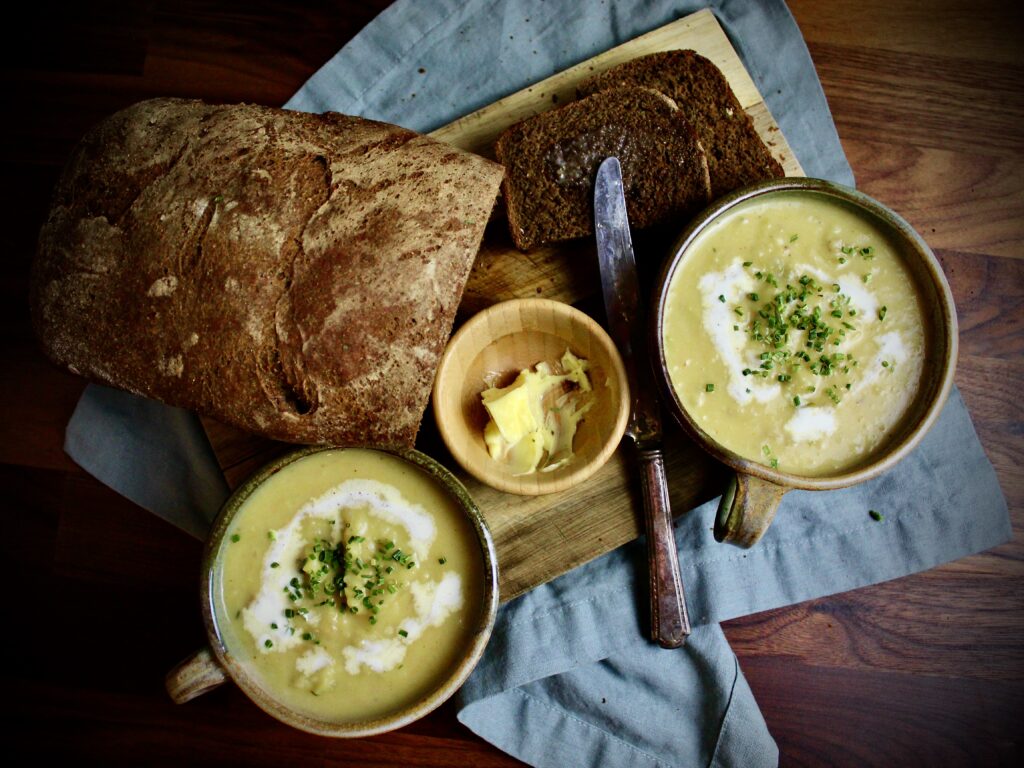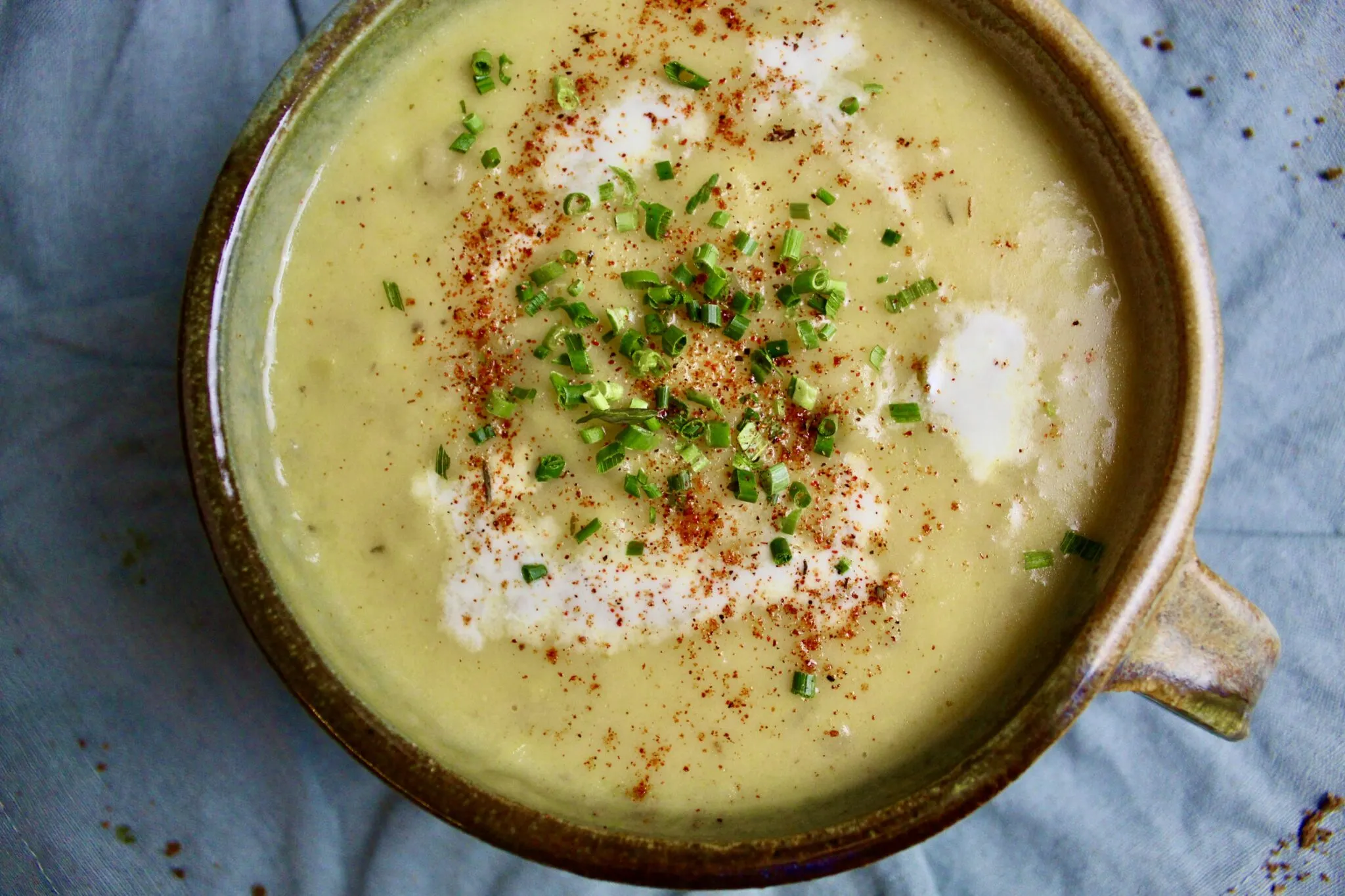 Print Recipe
Creamy Leek and Potato Soup
Ingredients
4 potatoes, I used Yukon Gold, 1/2" cubes
1 large leek, chopped
1 onion, chopped
2 garlic cloves, minced
1 knob of butter, ~2 tablespoons
A few sprigs of fresh herbs (thyme, rosemary, summer savory, etc.)
1 bay leaf
4 cups of vegetable or chicken stock
Salt and pepper to taste
Paprika and chives to garnish
Instructions
1

Melt knob of butter in a large pot over med-high heat. Add the onion and leek and saute for 5-7 minutes, stirring occasionally, until soft and translucent.

2

Next toss in the garlic, potatoes, and fresh herbs and saute for 1-2 minutes, until the garlic and herbs are aromatic.

3

Add the bay leaf and broth, enough to cover, and cook until simmering. Salt and pepper to taste. Simmer for 45 minutes, stirring occasionally, or until potatoes are tender.

4

Fish out the bay leaf and herb stems, and add more seasoning if needed.

5

Serve as is, or use an immersion blender to achieve a smooth pureed consistency.