This Cannellini Beans and Rosemary Pesto recipe is super easy and quick to make. I love making a big pot of slow-cooked white beans and letting them simmer over the stove for eight hours, but this recipe is for those times when we don't have all day to cook a meal. I used canned cannellini beans, but any white bean will do. What really kicks up the flavor of these beans is the olive oil and what you decide to infuse it with. For this recipe, I used a combination of shallots, celery, yellow bell pepper, garlic, thyme, and a little salt and pepper. Once these ingredients cook down, you can add in the cannellini beans and let them soak up some of the flavors. Then stir in a little cream, let that reduce, and voila! Super quick but does not compromise on flavor. Garnish with some rosemary pesto, toasted pine nuts, and breadcrumbs.
Cannellini Bean Recipe | A Toast Topper
If you are serving this as an appetizer or snack, you can ladle the cannellini beans on top of some toasted bread for an out-of-this-world toast topper. Garnish with the same ingredients; toasted pine nuts and rosemary pesto. Also great with a side of crudités to lighten up the palate.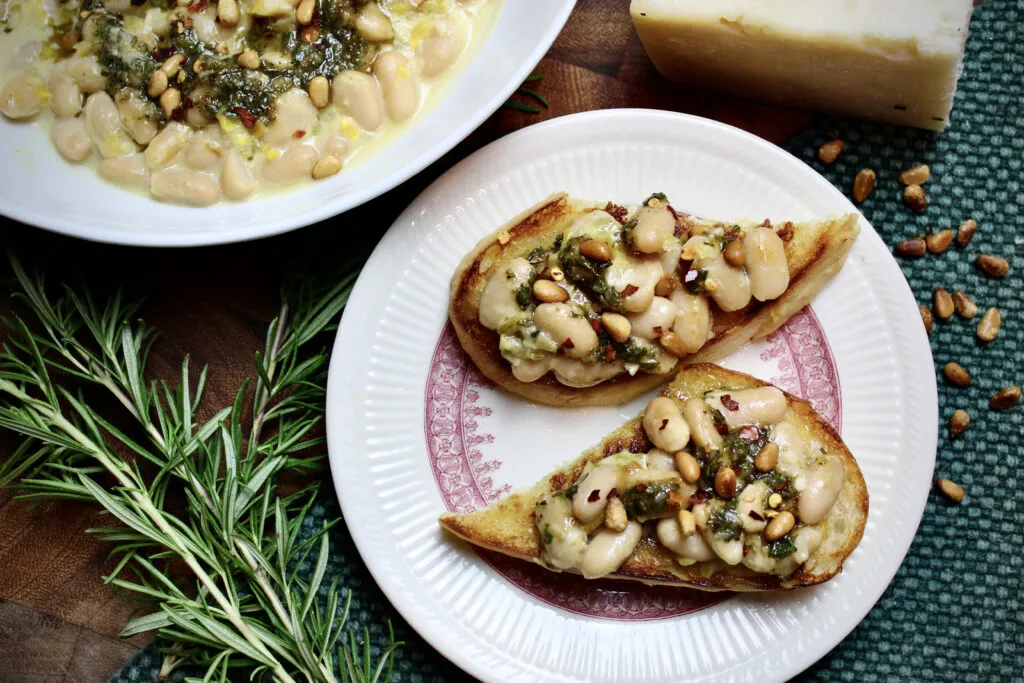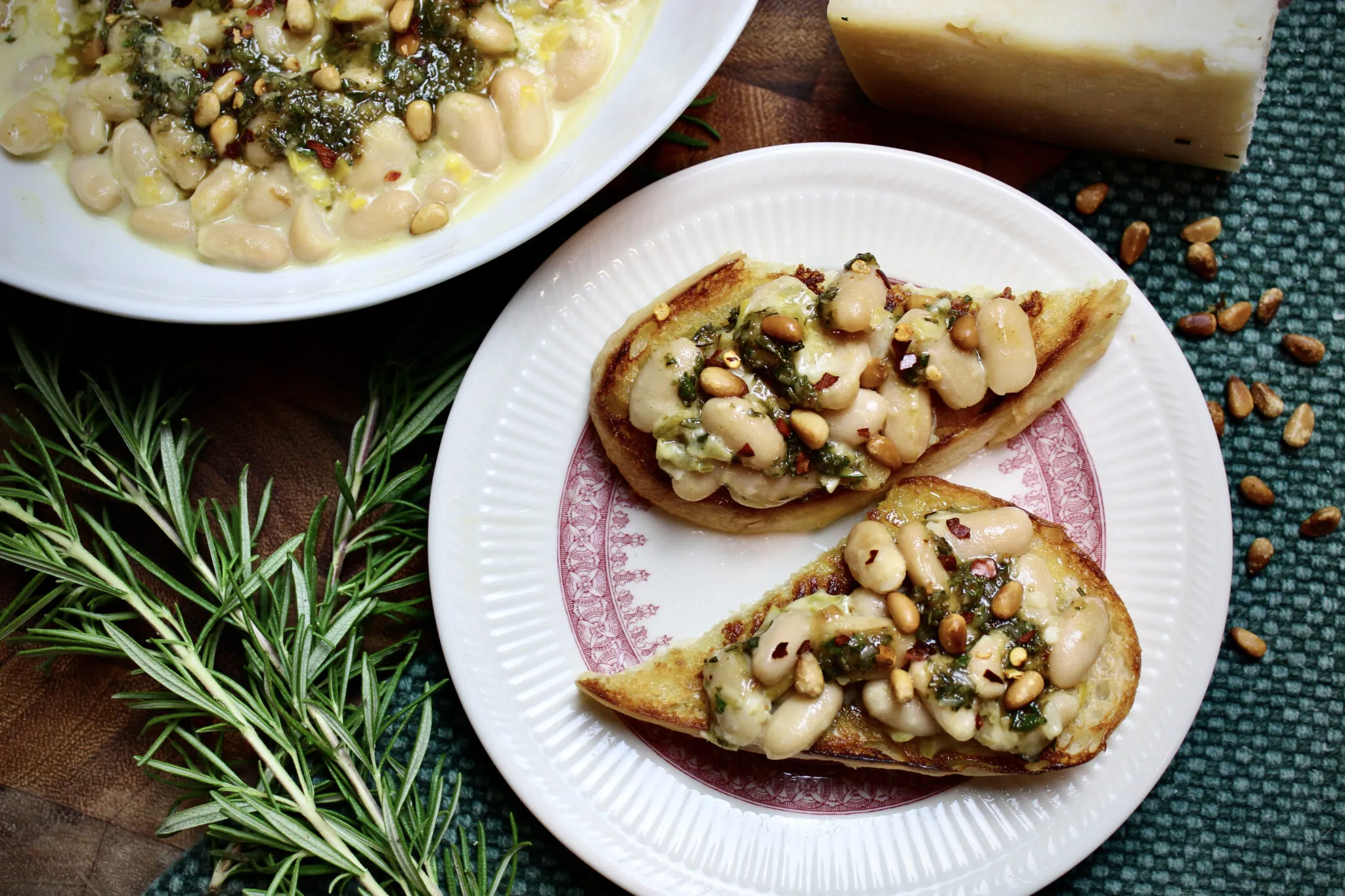 Tips & Substitutions
I used a basic mirepoix for this recipe with shallots, celery, and yellow bell pepper; however, feel free to mix and match with other veggies you may have in store. Always include an allium though (onion, shallot, green onion, garlic, scapes, etc.)
You can certainly use other beans as well; I tend to think white beans taste the best with rosemary pesto, but that doesn't mean you can't try it out! Or try this recipe with black beans and cilantro pesto, for example.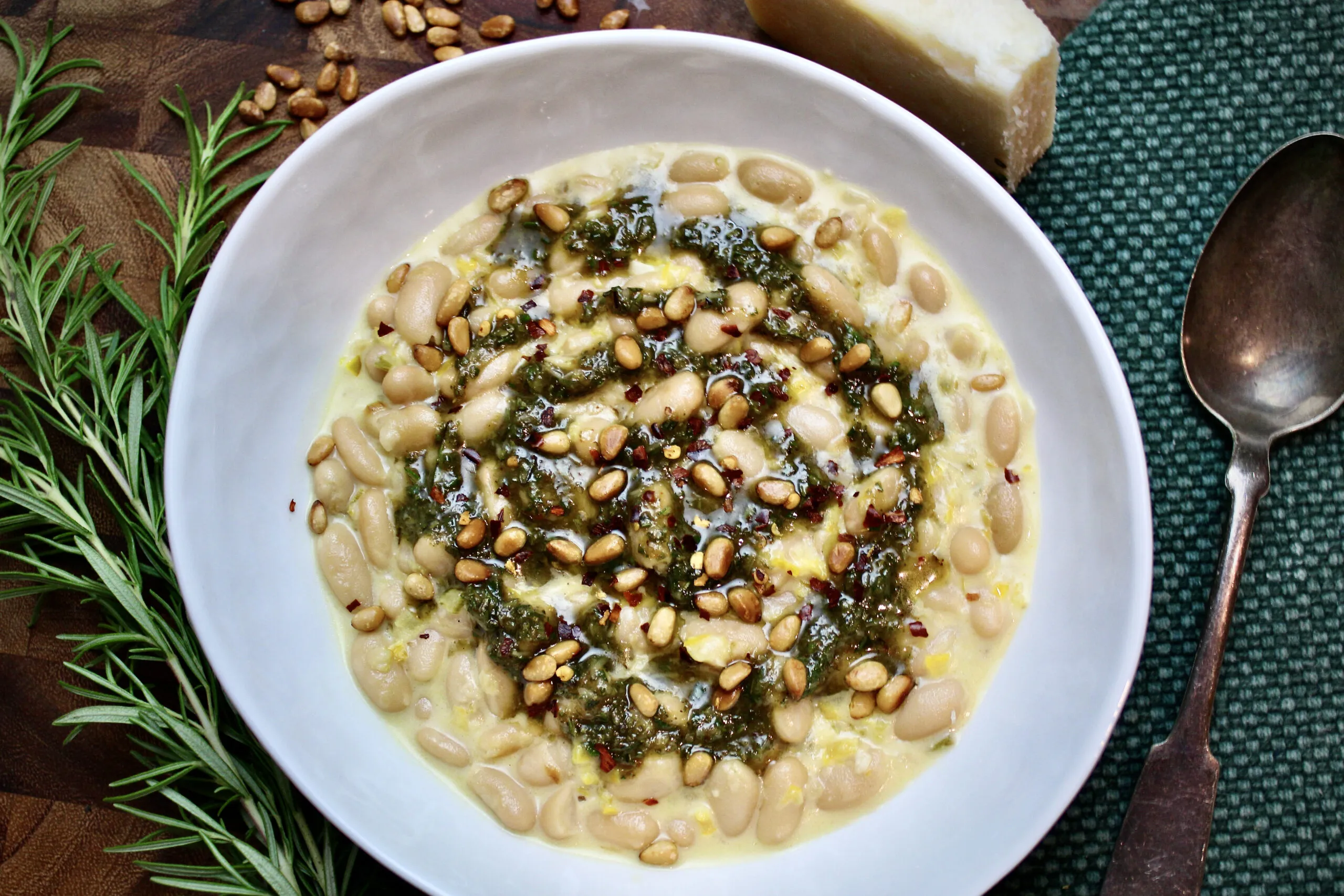 Print Recipe
Cannellini Beans with Rosemary Pesto
Cannellini beans and rosemary pesto have to be one of the best flavor combinations on this earth--unexpected, I know, but just give it a try and you'll see! Sometimes it's the simplest ingredients and preparations that make the best meals.
Ingredients
1 can of Cannellini beans
2 tablespoons olive oil
1/3 cup minced shallots or onion
1/3 cup minced celery
1/3 cup minced bell pepper
2 cloves garlic, minced
2 sprigs of fresh thyme
1/3 cup cream
Salt and pepper to taste
Rosemary Pesto (recipe link found above)
Instructions
1

Drain and rinse the cannellini beans and set aside.

2

In a medium pan over medium-low heat, drizzle in 2 tablespoons of olive oil. Then add the shallot/onion, celery, and bell pepper.

3

Saute until soft and translucent, about 3-5 minutes.

4

Add in the garlic and thyme. Toss around for 1 minute.

5

Add in the rinsed cannellini beans and cook for another 2 minutes.

6

Pour in the cream, stir and let this finish cooking for 2-3 minutes.

7

Season with salt and pepper.

8

Serve with a drizzle of rosemary pesto (recipe link found above) and toasted pine nuts.
Nutrition
676 Calories

92.1g Carbohydrates

11mg Cholesterol

21.1g Fat

35.2g Fiber

34.9g Protein

4.8g Saturated fat

398mg Sodium

4.5g Sugar
Notes
If you aren't using this recipe as a toast topper, try sprinkling some garlicky toasted breadcrumbs on top for some crunch.