This shallot vinaigrette recipe is all you need to satisfy a big bowl of leafy greens–it's tangy, full of flavor, and much healthier than the majority of store-bought dressings. I like using it for lighter, more delicate lettuces like butterhead varieties; however, this is one of my absolute favorite for a hearty kale salad. Toss in some roasted butternut squash and mushrooms, and you've got a delicious, healthy meal. But salad isn't the only way to use a vinaigrette–see below for some tasty ideas!
How to Make Shallot Vinaigrette
This shallot vinaigrette recipe takes less than 5 minutes to make, probably less than 2 if you have a blender! If you are using a whisk, you will need to mince the garlic and shallots, or turn them into a paste. Next, mix in all the other ingredients apart from the olive oil. Side note: this is the kind of recipe that benefits greatly from using your best oil. Once everything is combined, slowly drizzle in the olive oil while continuing to whisk. Whisk until the mixture is emulsified, so that you can't see any vinegar bubbles or separated oil.
Alternatively, if I am making a lot of dressing, I like to use my Vitamix to make vinaigrettes. With a blender you can simply combine everything and blend until emulsified. Easy peasy.
Ways to Use Shallot Vinaigrette:
Using vinaigrette as a marinade for roasted vegetables and meats is one of my favorite applications. Plus, you can save a few tablespoons for a side salad!
Great on a sandwich. For example, try this shallot vinaigrette recipe on a ciabatta sandwich with arugula, prosciutto, and freshly sliced mozzarella.
I love dropping a few spoonfuls onto a nearly finished fried egg and wilty greens. It turns everyday breakfast ingredients up a notch with little effort–especially when you already have it made.
Try it out on this Kale Salad!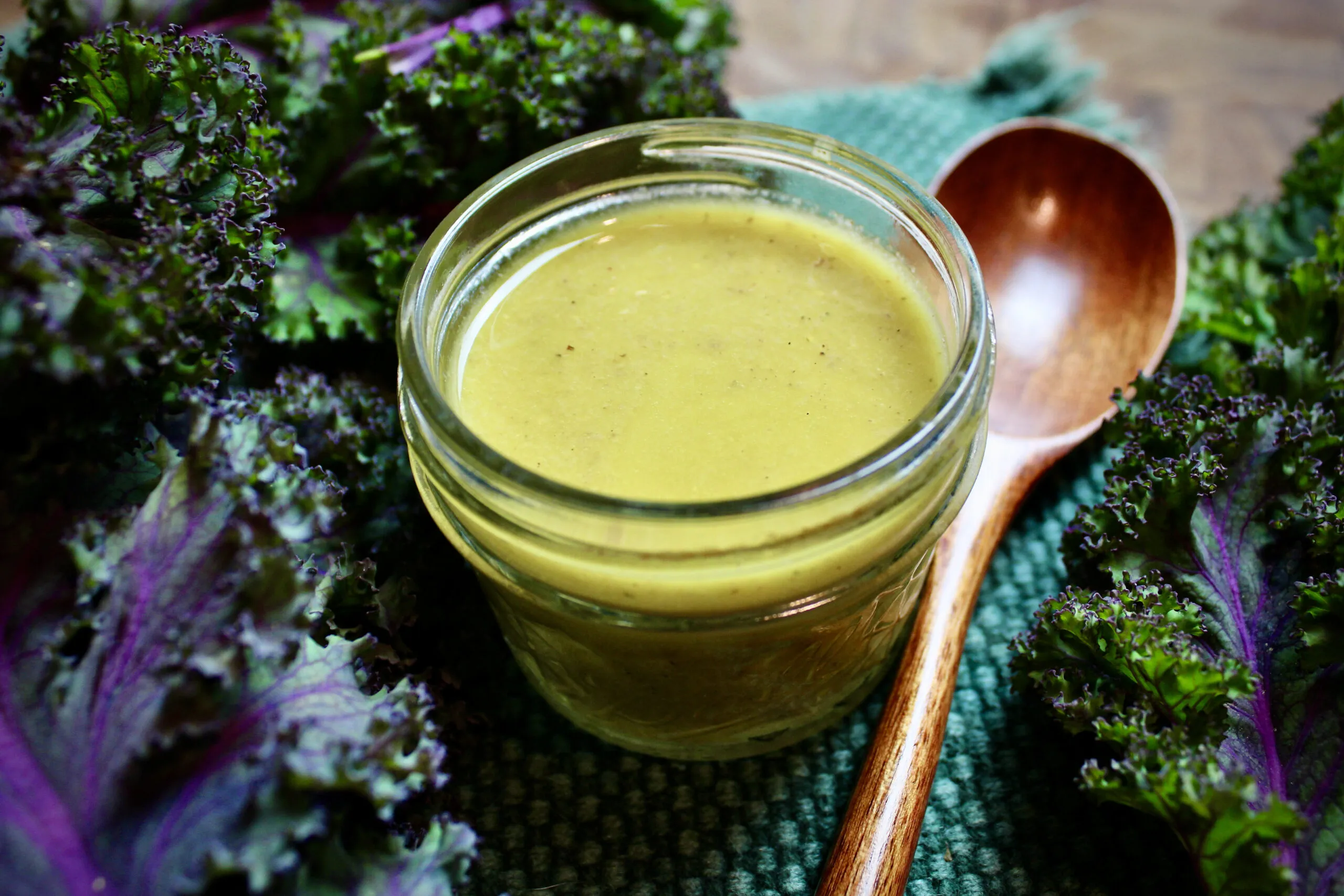 Print Recipe
Shallot Vinaigrette
Simply, tangy and delicious. Takes less than 5 minutes and lasts over a week!
Ingredients
1/4 cup chopped shallot
2 garlic cloves, chopped
2 teaspoon dijon mustard
2 tablespoons red wine vinegar
1/2 teaspoon salt
1/4 teaspoon dried thyme
1/4 teaspoon pepper
1/2 cup olive oil
Instructions
1

In a blender, combine the shallots, garlic, mustard, red wine vinegar, salt, pepper, and thyme and blend for a few seconds until well mixed. (If you don't want to use a blender, you can simply mince and whisk everything.)

2

Drizzle in the olive oil and blend until emulsified and smooth. I sometimes leave small pieces of shallots for a slight texture.

3

Serve on a fresh bed of greens and enjoy!
Notes
Vinaigrettes can be stored in the refrigerator for 7-12 days for best flavor. If the oil has solidified, this is completely normal, just leave the vinaigrette out at room temperature for 5-10 minutes and it should re-emulsify with a few shakes or a whisk.