This Pozole Verde de Pollo recipe uses the intense, smoky flavors of charred Poblano, Anaheim, and Jalapeño peppers to create a deliciously balanced pozole. It's savory, slightly spicy, and hearty. Pozole means "a stew made of maize" and is usually slow cooked with meat, dry or fresh chiles, and hominy. In this pozole recipe, we shorten the cook time by using chicken as our protein with charred onion, garlic, Poblano, Anaheim, Jalapeno peppers making up the main ingredients in the sauce.
The chipotle pepper in adobo sauce (smoked Jalapeno) adds a welcomed punch of smokiness that you don't get from fresh or dried peppers–I highly recommend not leaving this ingredient out if possible! If you're afraid you won't be able to use the rest of the chipotle peppers, have no fear, there are tons of ways to use them. If you have any tortillas laying around, you can make some amazing cheese quesadillas by simply adding chopped chipotles in the cheese filling. Or, add them to any type of protein marinade or soup for a boost of smoky spice. If you're not big on spice, you can remove the seeds just as you would fresh pepper.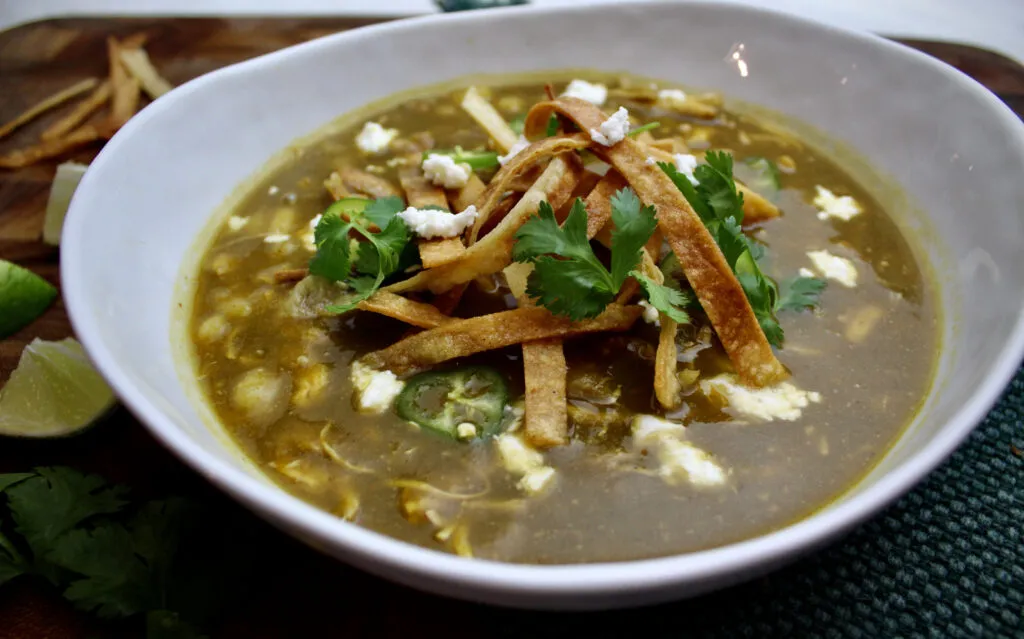 How to Make Pozole Verde
There are basically 5 steps to this recipe:
Marinate the chicken with lime juice, garlic, and spices.
Char the peppers and onion. Depending on the oven, this can be anywhere from 3 to 7 minutes on broil. If you have a gas stove, you can use the direct flame of the burners. In either case, you'll want to see charred bubbles and the skin separating form the meat of the peppers. Once charred, put them into a container or plastic bag to sweat–this step seems weird but makes peeling them 100x easier!
Blend the sauce. Place the peppers, onion, and all other "sauce" ingredients into a blender or food processor and blend until smooth. 

Note:

If you don't like a lot of spice, you can remove the seeds before blending.
Brown the chicken in a little oil and optional butter for 3-5 minutes until browned on each side. 
Cook the stew. Pour the sauce, chicken broth, and hominy in the same pot and cook on low for 30 minutes. Then add the chicken back in and serve with cilantro, Cotija cheese, sliced serrano peppers, and crispy tortilla strips. (Serrano peppers are pretty spicy; 10,000-25,000 Scoville units as opposed to Jalapenos at 2,000 to 8,000).
How to Make Crispy Tortilla Strips
You can find tortilla strips in most grocery stores, usually in the salad section with the croutons. However, you can very easily make tortilla strips on your own! Just buy a bag of corn tortillas and cut them into 1/4 inch strips. Then place them in a small pot of hot canola oil (about an inch of oil deep ) over medium-low heat until slightly browned and crispy (about 30 seconds to 1 minute).
Making Tortillas From Scratch:
If you really want to do it from scratch, you can even make your own tortillas! It's a lot more simple than you would think. Just combine 1/4 cup of Masa flour, a sprinkle of salt, and 2 1/2-4 tablespoons of hot water in a bowl and knead until combined, about 3 minutes. Let the dough ball sit for 10 minutes and then roll into 3-4 balls. Flatten with a tortilla press or a rolling pin until it reaches about 1/8 inch in thickness. Done! Now, cut them into strips and fry for about 1 minute as directed above.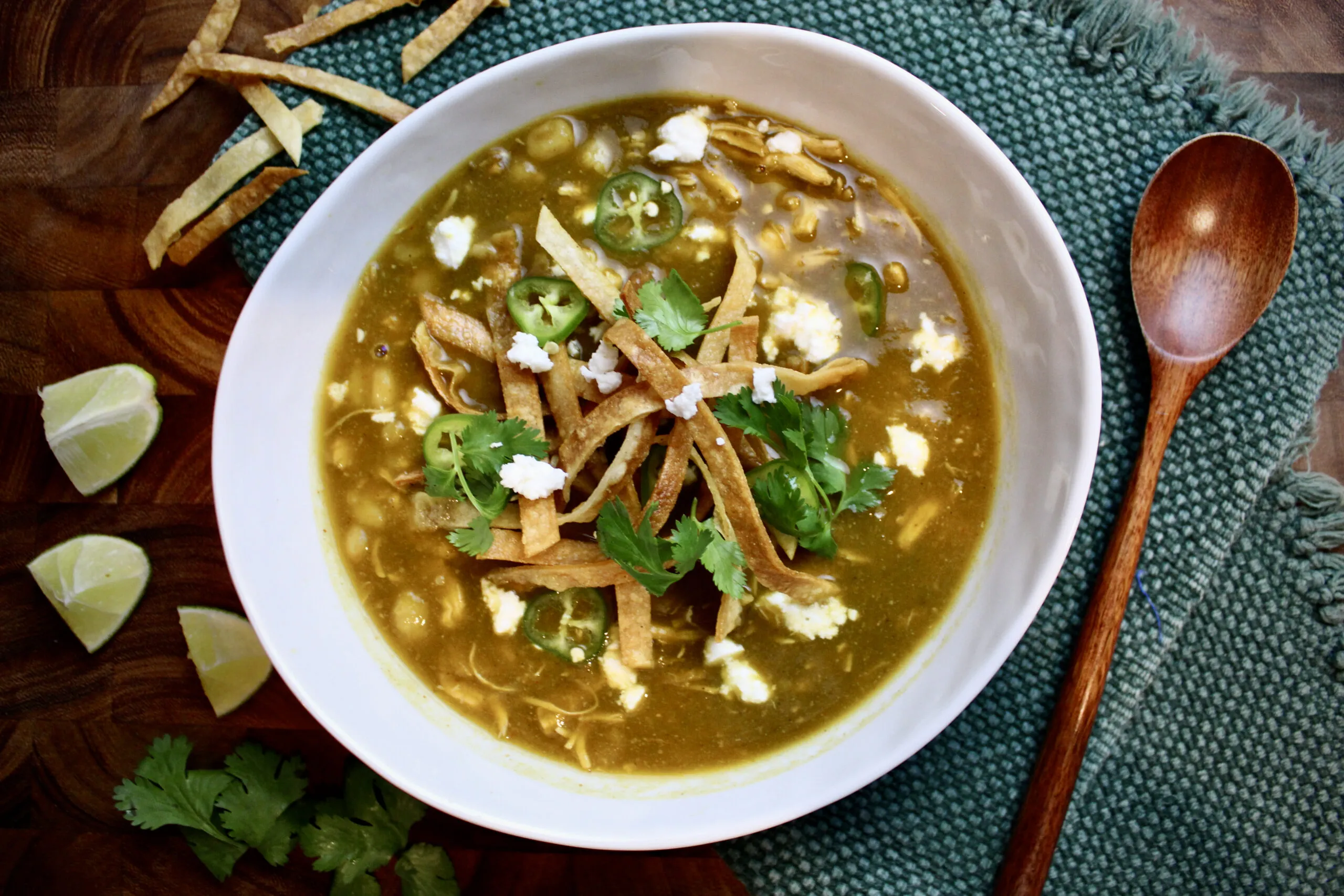 Print Recipe
Green Pozole with Chicken & Roasted Poblano Peppers
Warm, spicy, and oh so flavorful. If you like pozole or Poblano peppers, this soup is worth a try. It takes a little prep, but is so worth the effort!
Ingredients
Chicken Marinade:
2 chicken breasts
1/2 a lime, juiced
2 tablespoons olive oil
1/4 teaspoon cumin
1/4 teaspoon paprika
1-2 cloves minced garlic or, 1/4 teaspoon garlic powder
Sprinkle of smoked paprika
Salt and pepper
The Soup:
3 Poblano peppers
5 Anaheim peppers
1 jalapeno
1 onion
Small handful of cilantro *optional
1 tablespoon lime juice
1 chipotle pepper
2 garlic cloves
1/2 teaspoon salt
1/4 teaspoon oregano (Mexican oregano if you can find it)
Pinch of cumin
1 15 oz can hominy
5 cups chicken stock
Salt and pepper to taste
Garnish
Cotija cheese
Sliced serrano peppers
Cilantro
Crispy tortilla strips
Instructions
1

First, clean and cut the chicken into 1 inch cubes. Then make the marinade and massage it into the chicken. Set aside.

2

Place the whole peppers and halved onion onto a baking sheet and broil until charred on both sides (depending on your oven, this can take anywhere from 3-7 minutes). If you have a gas stove, simply turn on one of the burners and place over the direct flame until charred. Next, place the charred peppers into a plastic bag to sweat (this makes them a breeze to peel). After a minute or two, you can peel them.

3

Place the peeled peppers, onion, optional cilantro, lime juice, chipotle pepper, garlic, salt, oregano, and pinch of cumin into a blender or food processor and blend until smooth. Set aside.

4

Drizzle about a tablespoon of canola oil and optional tablespoon of butter into a hot medium-sized pot over medium heat. Place in the chicken to brown on all sides.

5

Once browned, remove the chicken from the pot and pour in the blended sauce, chicken broth, and hominy. Let this cook on low for 30 minutes.

6

Now that the chicken has cooled, you can shred it. I normally use two forks for this amount of chicken, but a hand mixer makes for quick and easy shredding as well!

7

Once the soup has cooked for about 30 minutes, you can add the shredded chicken back in.

8

Adjust for seasoning and serve with some cilantro, Cotija cheese, sliced serrano peppers, and crispy tortilla strips. (As stated above, serrano peppers are pretty spicy!).
Nutrition
357 Calories

31.6g Carbohydrates

56mg Cholesterol

16.7g Fat

5.4g Fiber

22.2g Protein

1.3g Saturated fat

2080mg Sodium

11.2g Sugar
Notes
You can make crispy tortilla chips at home!