This savory, Cheesy Mushroom & Pea Soufflé is the ultimate breakfast egg dish! This is my favorite recipe for a weekend breakfast or lunch. It's fluffy, flavorful, and full of cheesy goodness. I use Gouda, Aged White Cheddar, Provolone, and Parmesan for this recipe but feel free to mix and match your favorite cheeses. The same goes for the sauteed mixture you incorporate before baking. I love the mushroom-pea-pancetta combo, so that's what I used for this recipe; plus, some aromatics like shallot, garlic, and thyme. You can add any number of herbs as well, but we always have to add some dill. It pairs wonderfully with eggs and tastes amazing with peas and pancetta. Chives, parsley, and basil are great as well. This recipe is based off of Jacques Pépin's basic Cheese Soufflé that his Maman passed down to him. He uses Gruyere cheese and chives for a simple but perfectly balanced soufflé.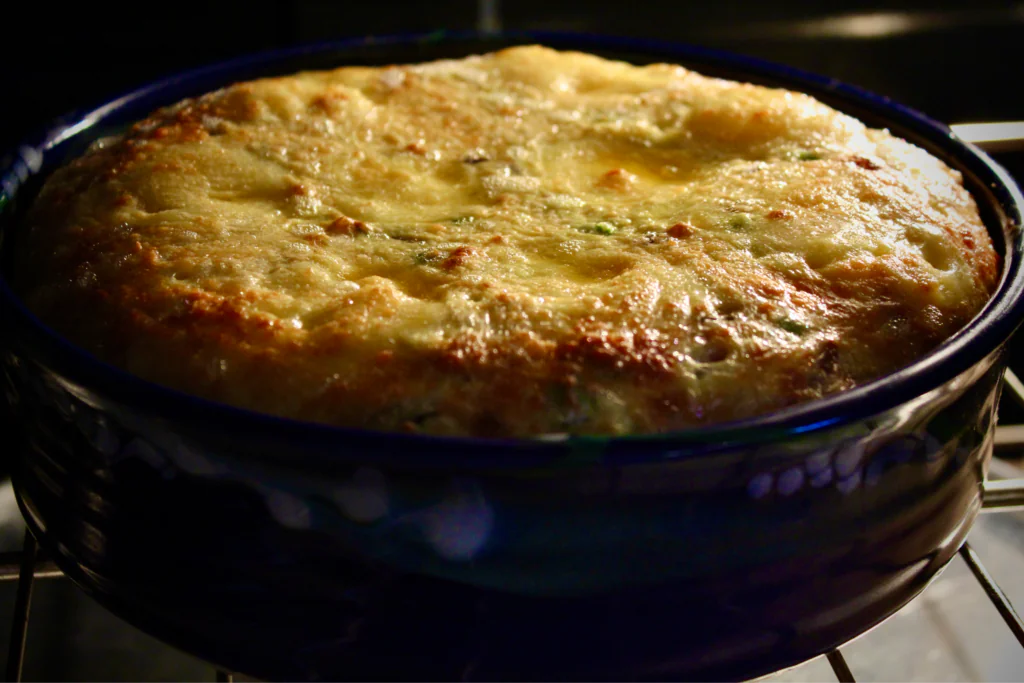 What to Serve with a Savory Soufflé
Savory soufflés are very rich so they're best served with a lofty side salad and light vinaigrette. Our favorite green to use is Arugula, but any combination of spring mix, leaf lettuce, or massaged kale is healthy and delicious. Since the soufflé is so heavy, I like to make the dressing a little more acidic than normal. Shallot Vinaigrette, Balsamic Vinaigrette, and Tahini Dressing are all deliciously tangy and light enough not to weigh down the salad greens. Nuts and fruits are great additions as well. Stone fruits, apples, pears, and berries are all delicious.
Recipes that Pair with this Soufflé: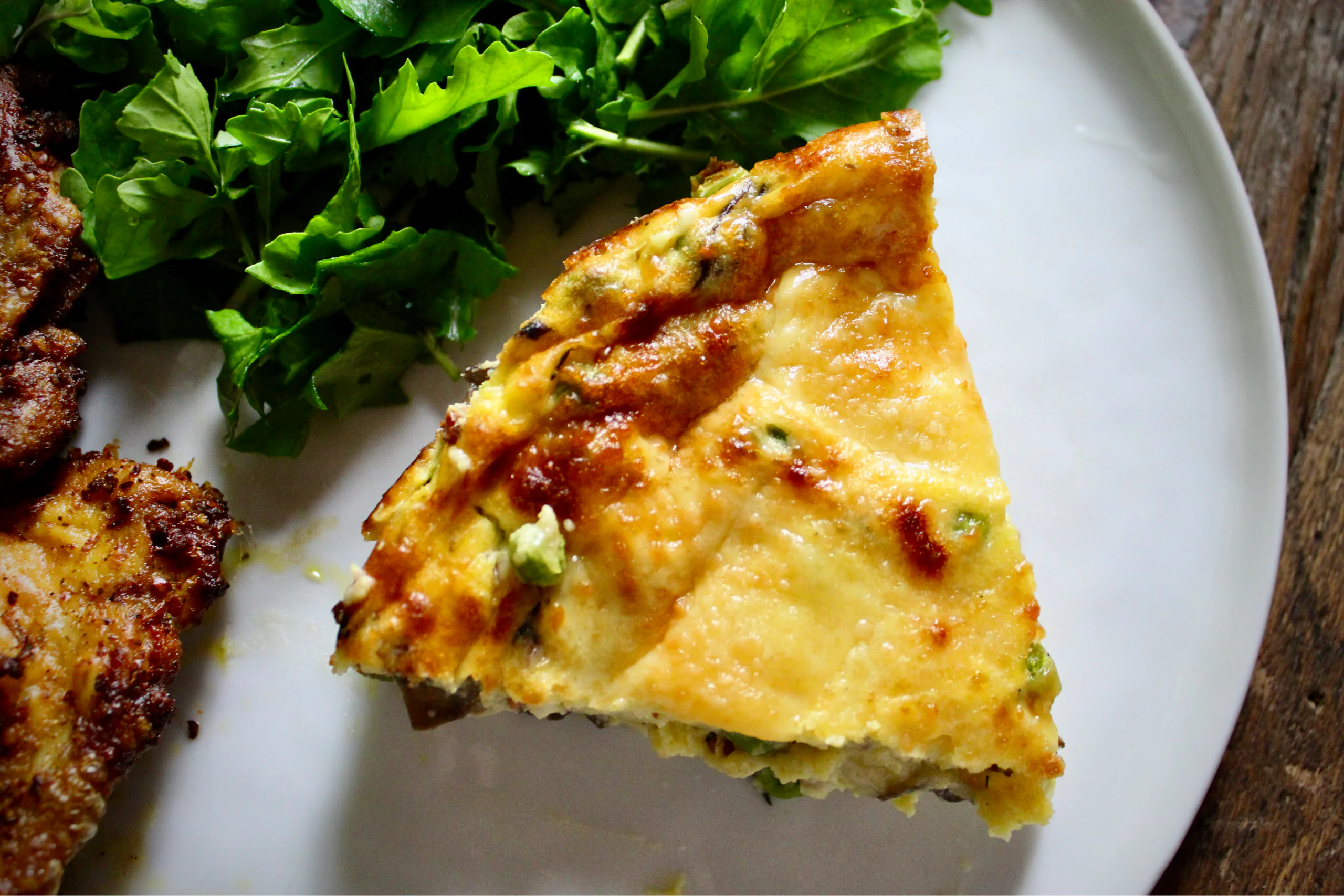 Print Recipe
Savory Mushroom & Pea Cheese Soufflé
This cheesy soufflé is incredibly flavorful and rich; best served with a lofty salad and light vinaigrette or dressing. It's just as good the next day heated up in the oven for 5-7 minutes at 350°F. Try it out with your favorite cheese and veggie combinations!
Ingredients
For Preparing the Baking Dish:
1 tablespoon of butter for the dish
1/4 cup grated parmesan for the dish
For the Bechamel Sauce:
6 tablespoons butter
6 tablespoons all-purpose flour
2 cups of cold milk
1/8 teaspoon nutmeg
1/2 teaspoon of pepper
1/2 teaspoon salt
For the Mushroom-Pea Mixture:
2 oz pancetta
3 tablespoons finely chopped shallots
2 small cloves garlic, minced
1 8oz package of portabello mushrooms, cleaned and thinly sliced
1/2 teaspoon fresh thyme leaves, minced
1/2 cup peas, frozen is good
Salt and pepper to taste
Assembling the Soufflé:
1 cup shredded gouda cheese
1/2 cup shredded of each: sharp cheddar, provolone, and parmesan cheese
6 large eggs
Instructions
1

Start by preheating your oven to 400°F.

2

Brush 1 tablespoon of butter onto an 8-inch baking dish and sprinkle with 1/4 cup parmesan cheese until coated. (Any excess cheese can be sprinkled on top before baking). This will act as a sort of crust for the soufflé.

3

Make the bechamel sauce by placing 6 tablespoons of butter into a small pot over medium heat. Once melted, add 6 tablespoons of flour. Whisk until fully combined. Then add in 2 cups of milk and let this cook for 3-5 minutes on med-low, whisking often. The sauce should thicken to a pudding-like texture. Last, add in 1/2 teaspoon salt, 1/2 teaspoon of pepper, and 1/8 teaspoon nutmeg. Whisk and set aside to cool for 10-15 minutes.

4

While the bechamel cools, place a medium-sized pan over medium heat. Add in the pancetta and cook until golden and crispy. Move the cooked pancetta to a small bowl and add the shallots to the pan. Cook for 1-2 minutes and add in the sliced mushrooms. Season with salt and cook until golden, ~5-7 minutes. Then add in the garlic and thyme for another minute.

5

Stir the frozen peas and add to a large bowl along with the bechamel and cheese.

6

In another bowl, beat the 6 eggs until thoroughly combined. Quickly incorporate the eggs into the bechamel mixture and pour into the prepared dish. Sprinkle with cheese and add a few thin slices to the top for some extra cheesy goodness!

7

Bake on 400°F for 40-45 minutes until the edges are golden brown. You can broil for 2-3 minutes if needed.

8

Once cooked, cool the souffle for at least 10 minutes.

9

Enjoy with your favorite salad!
Nutrition
494 Calories

16.3g Carbohydrates

283mg Cholesterol

36.5g Fat

1.5g Fiber

27.1g Protein

20.9g Saturated fat

905mg Sodium

6g Sugar
Notes
Store in the refrigerator for up to three days.