This Mongolian Beef Meatballs recipe is super quick but insanely delicious. I love slow-cooking food and taking time to build flavor, but this dish is a welcomed exception; perfect for meal prep or a quick weeknight dinner! All you need to do is make the meatball mix, bake them in the oven for 20-22 minutes, and make the glaze. The sauce/glaze can be made while the meatballs cook as well as any sides like rice or steamed broccoli.
History of Mongolian Beef
Surprise, Mongolian Beef isn't an authentic Mongolian dish! Most likely originating in Taiwan, it's become a very popular Chinese-American dish served throughout the US. There are countless variations, but it's basically a beef and green onion stir fry with a savory soy sauce-based sauce. The twist in this recipe is the fact that it's been reconstituted into meatballs which makes for quicker and healthier preparation. When you use pieces of beef to stir fry, you would normally season the meat, coat with cornstarch for crispiness, and fry in neutral oil. With meatballs, you can avoid the starch and oil for a healthier alternative.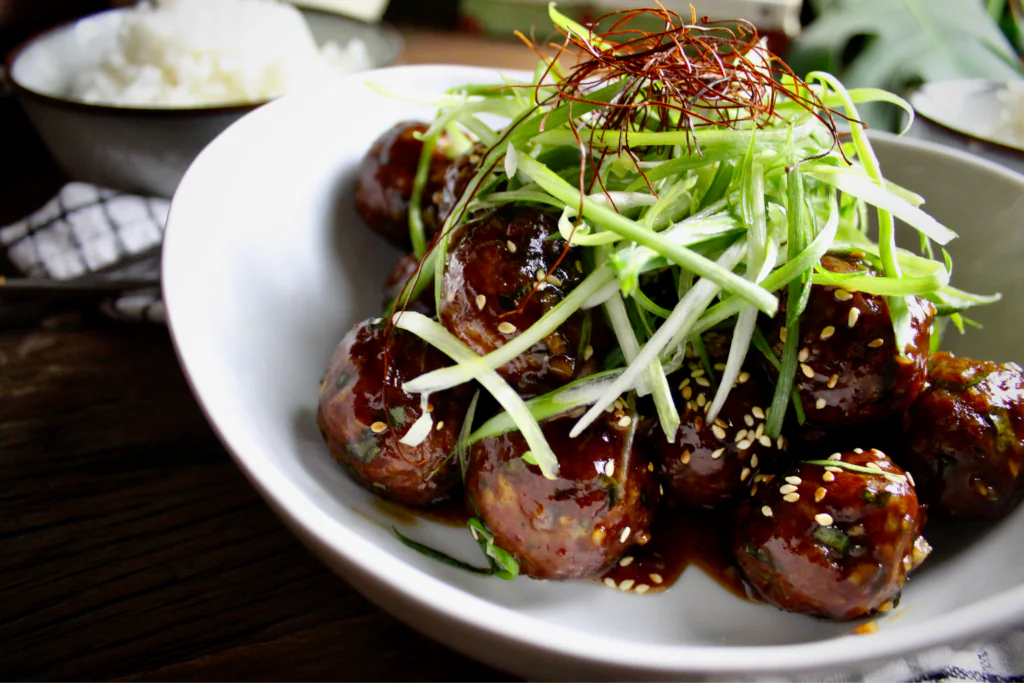 The Perfect Meal Prep Recipe
As stated above, this recipe is quick, easy, and the perfect candidate for meal prep. This recipe makes 4 servings with 4oz of ground beef per serving.
Here are the Macros:
Protein per serving: 37.6g
Carbohydrates per serving: 17.7g (you can forego the breadcrumbs, but they do make for good binding)
Fat per serving: 10.6g
How to Make Mongolian Beef Meatballs
There are three main steps for this recipe:
Make the Meatballs but combining all ingredients and rolling into 1-inch balls.
Bake them in the oven at 400°F for 20-22 minutes until cooked.
Make the glaze and toss the meatballs to coat.
What to Make with Mongolian Meatballs
Steamed or sauteed broccoli
Dry-fried or steamed green beans
Cucumbers or Asian cucumber salad
Seaweed Salad
Steamed or sauteed carrots
Try these recipes next: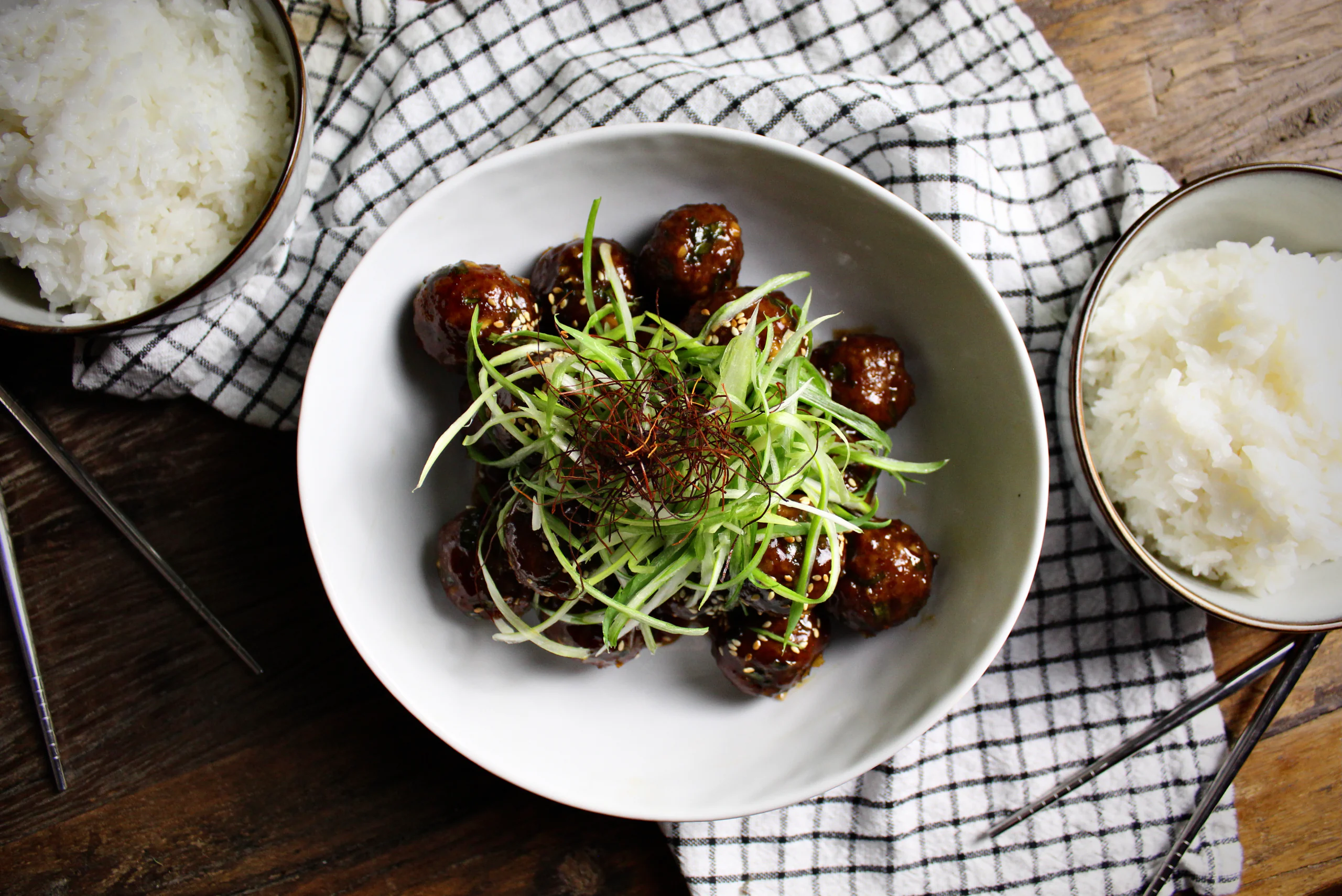 Print Recipe
Mongolian Beef Meatballs
Savory, delicious, and takes less than 25 minutes to make. A great option for meal prep or a quick weeknight dinner! Serve with white rice, steamed broccoli, dry-fired beans, or cucumber salad.
Ingredients
For the Meatballs:
1 lb of ground beef
1/2 cup panko breadcrumbs
1 large egg
½ cup chopped green onion
2 large garlic cloves, minced
1 1/2 teaspoon grated ginger
1 tablespoon oyster sauce
1 tablespoon soy sauce
1 teaspoon sesame oil (optional)
¼ teaspoon baking powder (tenderizes the meat)
1/4 teaspoon salt
1/8 teaspoon white or black pepper
For the Glaze:
3 dried chilis (optional-add more or less based on your heat preference)
3 cloves garlic, minced
3/4 teaspoon grated ginger
1/4 cup soy sauce
2 tablespoons brown sugar or rice syrup
2 tablespoons mirin
1/4 cup tablespoons water
1 teaspoon of cornstarch mixed with 1 teaspoon of water to make a slurry
1/4 cup chopped green onions, plus more for garnish
1 teaspoon sesame seeds for garnish
Instructions
1

Preheat the oven to 400°F.

2

In a large bowl, combine all ingredients for the meatballs and mix thoroughly. Roll into 1-inch balls and set aside until the oven is preheated.

3

Once preheated, place the meatballs onto a baking sheet and bake for 20-22 minutes until cooked through.

4

While the meatballs cook, you can make the sauce. Combine all ingredients except for the cornstarch in a medium pan over medium heat. Let this cook for 1-2 minutes so the garlic and ginger can flavor the sauce. Then, pour in the cornstarch slurry and let this cook until thickened, about 1 minute. Set aside.

5

Once the meatballs are done cooking, you can stir them in with the sauce and let that glaze. Top with the extra green onion and sesame seeds and enjoy!

6

Great for meal prep; consume within 3-4 days for best quality.
Nutrition
344 Calories

17.7g Carbohydrates

148mg Cholesterol

10.6g Fat

1g Fiber

37.6g Protein

3.8g Saturated fat

2588mg Sodium

9.2g Sugar
Notes
Serve with a bowl of steamed white rice, veggies, and/or a cool salad or pickle.