This Vietnamese pork chop recipe is the perfect balance of sweet, sour, and salty. I love using citrus juices in any meal, it brings a bright punch of acidity and works wonders in tenderizing meat, especially with lean cuts like pork loin. Add in a little sugar and fish sauce to balance out the flavors, and you would think it came out of a restaurant kitchen!
These Vietnamese pork chops take less than 40 minutes to make from start to finish; although, if you have the time, I highly recommend marinating it a couple of hours or a day ahead. At least 25-30 minutes if you're in a pinch. Marination allows the flavors to absorb and lime juice time to tenderize the meat, so it does make a difference.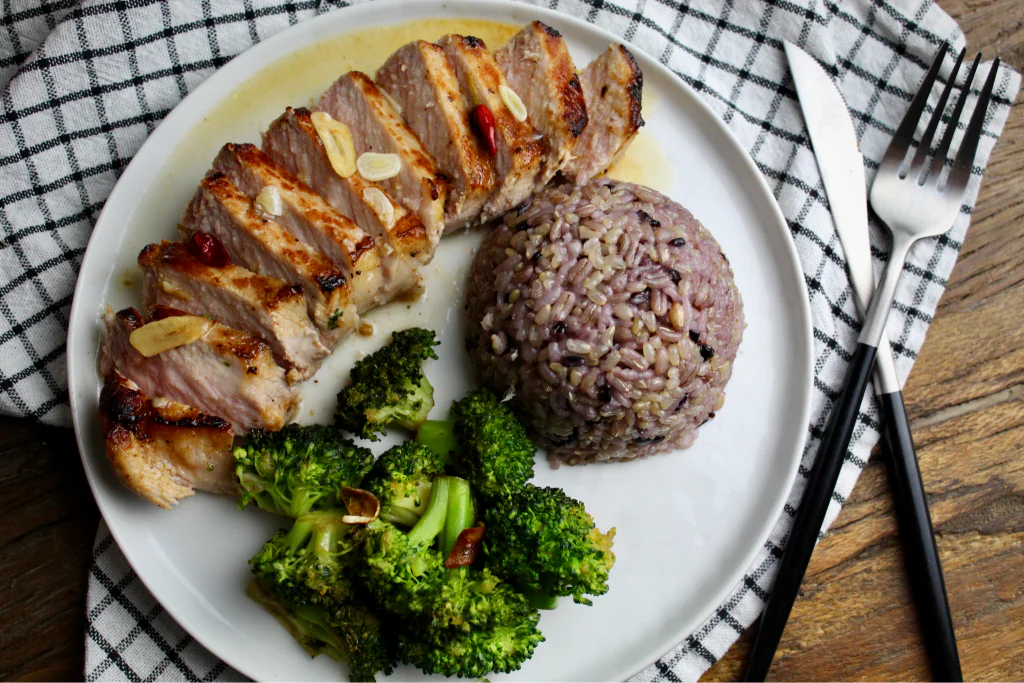 What You Can Make with Vietnamese Pork Chops
This recipe is super quick and easy to prepare, so it's a great option for meal prep. We normally serve Vietnamese pork chops with multigrain rice and some sort of side veggie like stir-fried broccoli, snow peas, or bok choy. There are several dishes you could make (especially with leftovers!) including:
Spring rolls: Place a few slices of pork chop, carrot, cabbage, and/or cucumber on top of a dampened sheet of rice paper. Add a few leaves of cilantro and cooked rice noodles and roll tightly. Once you have all the ingredients prepped, it's a quick assembly (great for a day or two's worth of lunch). Serve with peanut sauce. One of the BEST leftover meals ever! It's quick, easy, and so refreshing.
Soba Noodles: When cooled, thinly slice the pork chop. Thinly slice veggies of your choice and macerate by adding a sprinkle of salt and massaging until softened. Carrots, red cabbage, cucumber, peppers, bean sprouts, etc. are all great options. When cooled, thinly slice the pork chop as well and combine in a bowl with cooked soba noodles, veggies, and peanut sauce.
On a Salad: On a base of greens (spring mix, Romaine, and or Asian greens) add a little shredded cabbage, any of the previously mentioned veggies, sliced pork chops, wonton crisps, and sliced red chilis. Dress with peanut sauce or a vinaigrette with 3 tablespoons olive oil, 1 tablespoon lime juice, 1-2 teaspoons fish sauce or 3/4 teaspoon soy sauce, 1 small garlic clove (minced), and 1/4 teaspoon pepper. Emulsify and mix into the salad.
Give These Recipes a Try: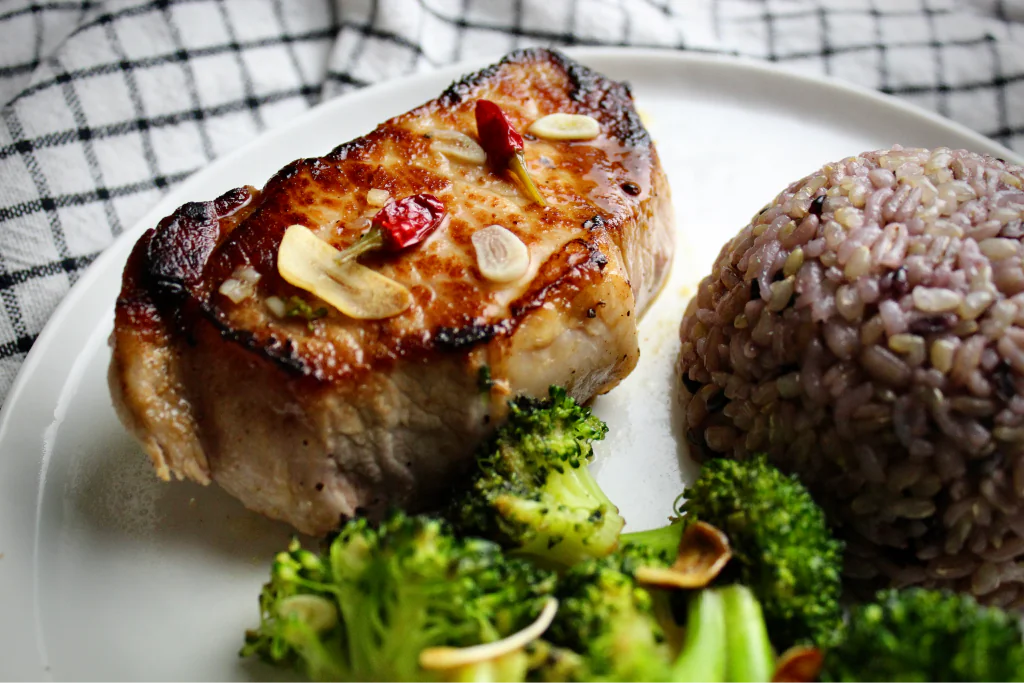 Print Recipe
Vietnamese Pork Chops
Super tender and juicy Vietnamese pork chops flavored with a tangy lime juice and fish sauce marinade. Perfect for meal prep or a quick weeknight meal. If you have time to let the pork chops marinate for a few hours or overnight, the flavor is even better!
Ingredients
4 bone-in or boneless pork chops
Juice of 2 limes (~1/4 cup)
1 1/2 tablespoons of fish sauce
1/2 tablespoon of rice syrup or 1/3 teaspoon granulated sugar
1 small shallot, thinly sliced
2 garlic cloves, thinly sliced
1-inch piece of peeled ginger, sliced into 4-5 pieces
4 sprigs of cilantro
*optional: 1/2 red serrano pepper (thinly sliced), 2-3 dried chilis, or a spicy chili of your choice
Instructions
1

Lightly salt and pepper the pork chops and set aside.

2

Add all the ingredients to a bag, except for the pork chops, and mix until fully incorporated.

3

Add in the pork chops and let marinade for at least 30 minutes. 1. Even better if you have 2-3 hours or overnight for them to sit in the fridge.

4

When ready to cook, brush off the excess marinade and garlic and place the marinade in a small pot. As you cook the pork chops, you can bring the marinade to a boil and cook for at least 5 minutes.

5

If using a grill, bring it up to med-high heat and grill the pork chops on each side for 4-5 minutes. If they are really thick (1"+), then you may want to place them over indirect heat for another 3-5 minutes per side. The same timings go for cooking over the stove; use a cast iron or heavy-bottomed pan if possible.

6

Once cooked, let them rest for at least 3 minutes to let the moisture reabsorb.

7

Slice and serve with a side of rice. Enjoy!
Nutrition
362 Calories

4.8g Carbohydrates

92 mg Cholesterol

26.5g Fat

24.8g Protein

9.9g Saturated fat

773mg Sodium

2.4g Sugar
Notes
There are several meals you can make with these Vietnamese pork chops: rice bowls, spring rolls, salads, soba noodles, etc. Perfect for meal prep! Nutritional information is calculated with 3 servings.