Ah the nostalgia–how can you not feel like a carefree, happy-go-lucky kid when eating a bowl of Spaghetti O's? Although as an adult with a more experienced palette, they sure don't taste as wonderful as I remember. But have no fear, you can make your own souped up spaghetti O's at home! All you need is a package of Anellini Siciliani pasta, tomatoes, and ingredients for meatballs. You can normally find Anellini Siciliani pasta at a local grocer here in the US, or online.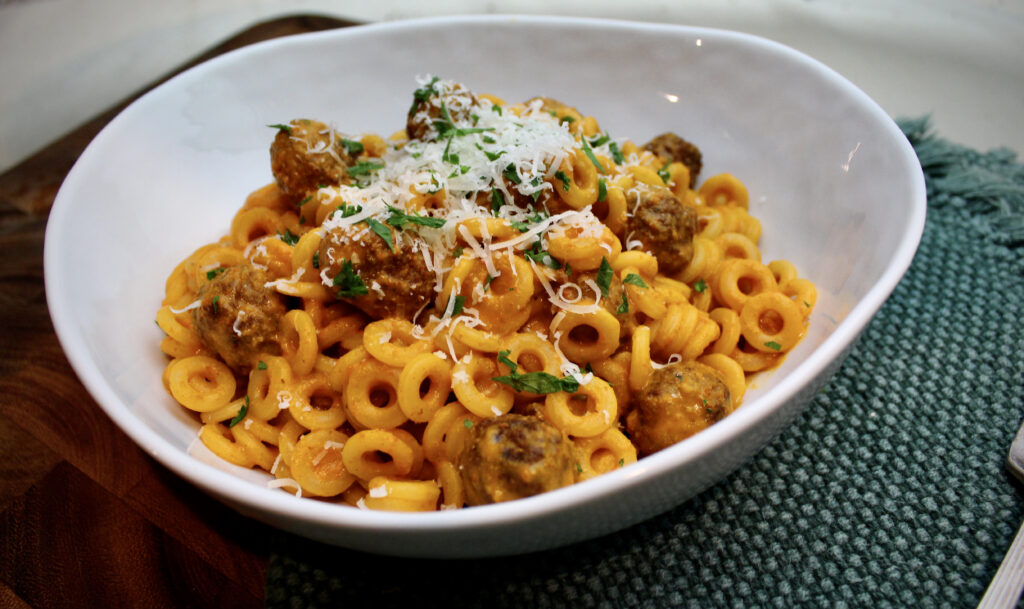 How to Make Homemade Spaghetti O's
There are basically three major steps to this recipe:
Make the meatballs by combining the milk, egg, breadcrumbs, parmesan cheese, ground beef, ground pork (or vegetarian meat), garlic, parsley, salt, and pepper in a bowl and mixing until thoroughly combined. Roll into 1/2 inch balls, lay onto a large plate, and place in the refrigerator until ready to use. Once everything for the sauce has been prepped, sear the meatballs in a large skillet, working in batches if necessary until browned. Place on a plate and set aside.
Make the sauce in the same skillet. If there is a lot of fat left in the pan, I will often just take a pair of tongs and soak some up with a paper towel. Toss in the onion and cook until translucent, then add in the garlic for another minute until fragrant. At this point, you can toss in the cherry tomatoes or chopped tomatoes to cook for at least 10-12 minutes. Then blend until smooth, pour back into a clean skillet, and add the cream to simmer.
Boil the pasta for 9-11 minutes, or per package instructions. While this boils, toss the meatballs into the sauce to finish cooking and soak up the yummy sauce. Once the pasta is done, you can dump that into the skillet and mix until combined. And voila! There you have a delicious, al dente Spaghetti O's.
Check out these other homemade pasta classics: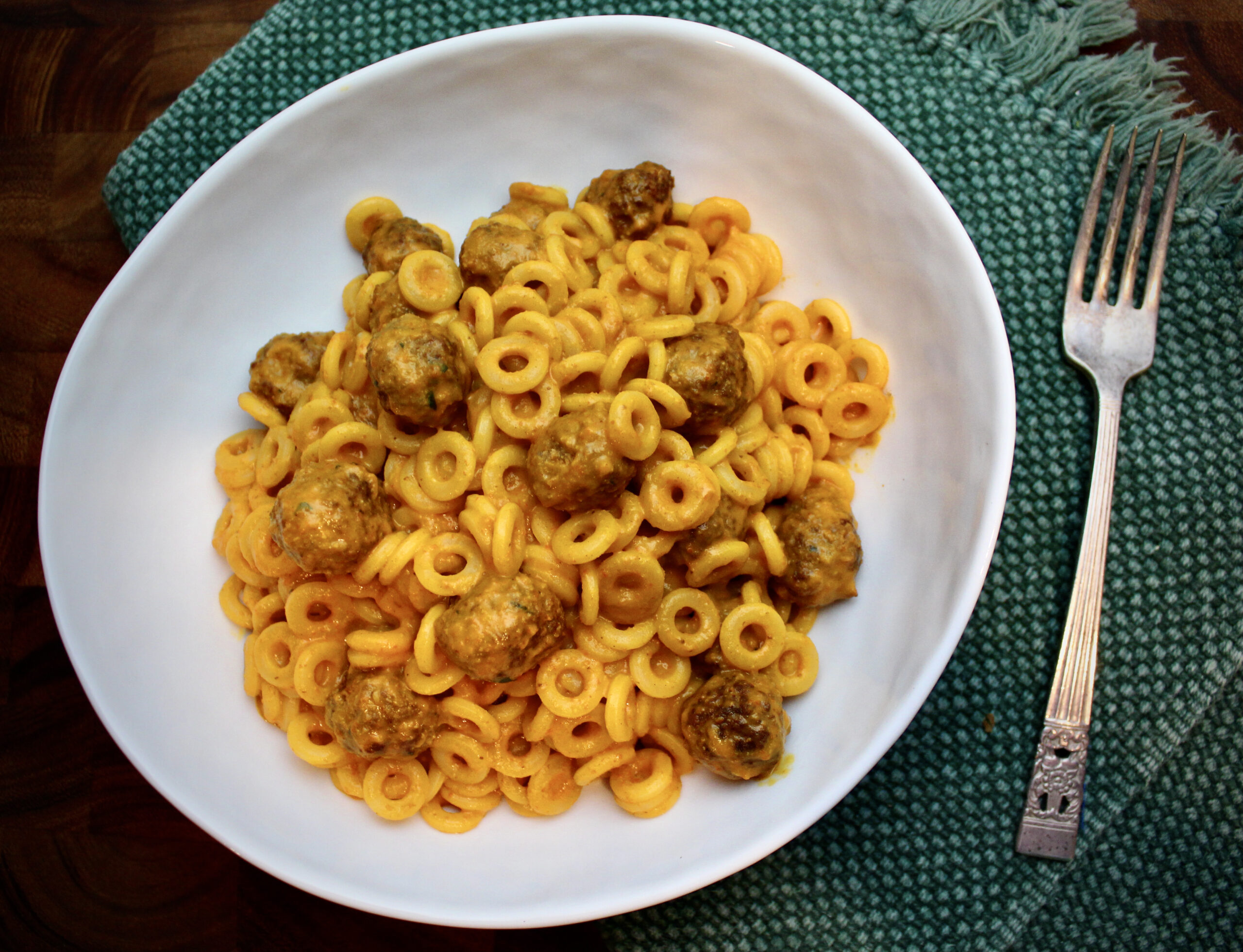 Print Recipe
Homemade Spaghetti O's | A Souped Up Childhood Classic
A souped up version of a childhood classic! Super simple, and a great way to learn how to make meatballs.
Ingredients
For the Meatballs:
1/3 cup Italian breadcrumbs
1/3 cup milk
1 egg
1 lb ground protein (I use 50/50 ground beef and ground pork, but you could use any combination of beef, pork, turkey, chicken, Beyond Meat, etc.)
1/3 cup grated parmesan or pecorino cheese
2 cloves of garlic, grated or minced
2 tablespoons of chopped parsley
For the Sauce:
2 tablespoons olive oil
1 small onion, chopped
3 cloves of garlic, chopped
2 pints of cherry tomatoes, 6 Roma tomatoes OR two 15oz cans of crushed tomatoes (I used cherry because they're in abundance and the skins are non-distinguishable once blended)
Salt and pepper to taste
For the Pasta:
1 package of Anellini Siciliani pasta
Parmesan and chopped parsley to garnish
Instructions
1

Start by placing the breadcrumbs, milk, and egg into a large bowl and mix until combined. Add in the ground meat, garlic, cheese, parsley, salt and pepper and mix until uniformly combined.

2

Shape the mixture into small, 1/2-inch balls and set aside in the refrigerator to firm up.

3

At this point, you can place a large pot of water over high heat to begin boiling for the pasta.

4

I like to cook the sauce in the drippings from the meatballs, so add a little olive oil to a large pan and cook the meatballs on all sides until browned. This works best on med-high heat while rotating the pan often. Once browned, set the meatballs aside on a plate with a paper towel to draw out excess oil. If there is a lot of oil left over in the pan, just soak some up with a paper towel using tongs.

5

Toss in the onions and cook until translucent, about 4-5 minutes. Then add in the garlic until fragrant, about a minute.

6

Lastly, toss in the tomatoes and cook for 10-15 minutes until softened and thick. Pour into a blender or food processor and blend until smooth.

7

While the tomatoes cook, toss the pasta into the pot of salted boiling water and cook per package instructions (we like our pasta a little al dente, so cook 1-2 minutes less than instructions if you prefer)

8

Add the sauce and meatballs back into the pan at low heat until the pasta is ready.

9

Once the pasta is cooked, pour them into the sauce with the meatballs, adding a little pasta water if you need to loosen the sauce a little.

10

Place in a bowl to serve as is, or top with a little grated parmesan cheese and parsley--enjoy!
Nutrition
487 Calories

28.9g Carbohydrates

157mg Cholesterol

20.6g Fat

3.6g Fiber

47.4g Protein

7g Saturated fat

346mg Sodium

7.5g Sugar
Notes
You can use any ground protein of your choice for the meatballs and feel free to substitute with whatever form of tomatoes you have on hand!