This kale salad is fresh, tangy, and nourishing. We have kale salad with shallot vinaigrette weekly during the winter when greens are the only thing producing in our garden. I love the fresh, hearty flavor of kale, especially when you have a garlicky, acidic dressing to massage in. This kale salad recipe has all our favorite components–greens, dried fruit, cheese, nuts, and a tangy shallot vinaigrette.
How to Make Kale Salad
You can certainly sub out different fruits, nuts, and cheeses. I would liked to have used feta cheese for this recipe, but parmesan was the next best thing we had in our fridge. Raisins are another common, but delicious dried fruit to use. I especially like using golden raisins and marinating them in lemon juice 10-20 minutes before incorporating into a salad. Nowadays, I can't make a salad with lemon-tahini dressing without using golden raisins–so good!
Feel free to sub in other types of nuts as well. In this recipe I used almonds, but you can use virtually any nut you have in stock; pine nuts, walnuts, cashews, pecans, peanuts, etc. If you're a big fan of cashews, try out a cashew dressing on denser varieties of lettuce that will hold up to a heavy dressing.
What to Serve with Kale Salad
Fresh quinoa salad with tomatoes and cucumber
Baked salmon
Any roasted or sautéed protein
Roasted butternut squash or sweet potato
With or on sandwiches
You can find the recipe for the accompanying shallot vinaigrette here.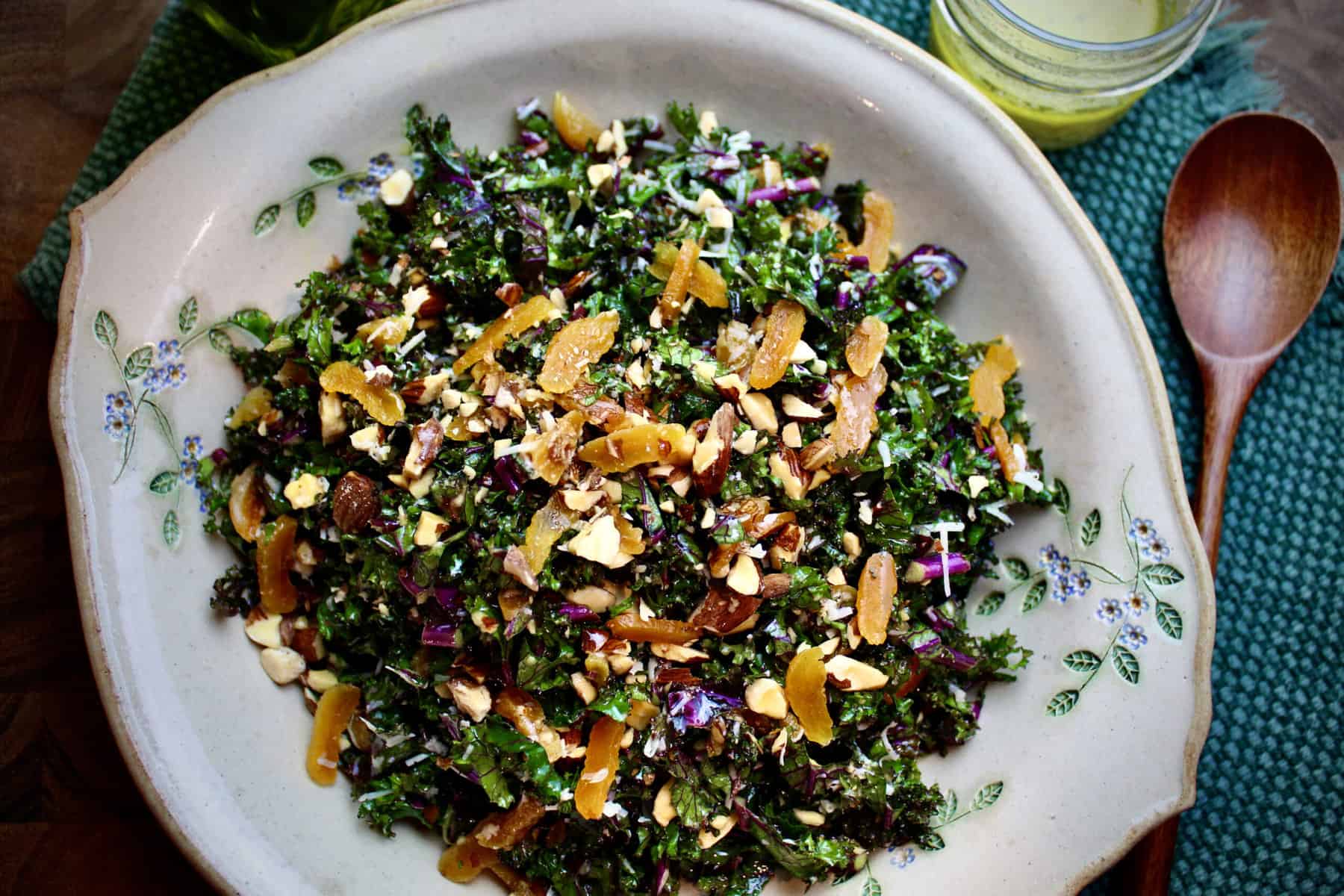 Print Recipe
Kale Salad with Shallot Vinaigrette
Fresh and tangy kale salad with a lively shallot vinaigrette. Perfect for a quick healthy meal at home, a weekly side salad, or for bringing to a potluck.
Ingredients
2 cups shredded kale
1/3 cup shallot vinaigrette
1/3 cup dried apricots
1/4 cup roasted almonds
1/4 cup shaved parmesan (or feta if you have it)
Instructions
1

Start by thinly slicing, or shredding, the kale.

2

Then massage in the shallot vinaigrette for about a minute or until the kale as slightly softened.

3

Get the toppings prepared by thinly slicing the apricots, chopping the almonds, and shaving the parmesan or crumbling the feta, if using.

4

Toss in the prepared toppings and mix until incorporated. Add a little extra dressing here, if you'd like.

5

Serve as a side salad or meal salad with a little protein on top. For a quick protein, I like roasted chickpeas or boiled eggs.
Nutrition
169 Calories

12.4g Carbohydrates

10mg Cholesterol

10.8g Fat

3g Fiber

8.8g Protein

2.7g Saturated fat

103mg Sodium

2.8g Sugar
Notes
Serve as a side salad or meal salad with a little protein. For a quick protein, we like to use roasted chickpeas or chopped boiled eggs