If you live in the southern United States, chances are you've heard about salmon patties or salmon cakes. Growing up in rural North Carolina, my mom and grandmothers all had their own spin on a salmon patties recipe. Usually from an old church cookbook, dotted with remnants of dirty fingerprints that were hard at work. I'm embarrassed to say there was a time when I turned my nose up at old church cookbooks filled with jello and marshmallow fluff creations, but being raised in the South, there are some things you just can't run away from. For me, salmon patties, pimento cheese, and pinto beans are among those cherished foods. They're all very simple, but simple doesn't necessairly mean boring or bland. Southern food is primarily about using salt, butter, and vinegar in balanced proportions. If you're having a pot of beans with buttered cornbread, some quick cucumber and onion pickles make the world of a difference. Combining sustainably preserved foods with the freshness of homegrown produce is at the heart of traditional southern cooking.
How to Make Salmon Patties
Salmon patties are incredibly forgiving–you just need salmon, flavorings, breadcrumbs, and a binder. From there, it's a simple procedure of mixing the patties, dredging them in flour (optional), and pan frying them in a little butter, or oil if you prefer. Below are a couple of tips I've discovered over the years:
When you go to mix everything, do so just until it starts to come together. If overmixed, the salmon cakes will be more dense and homogeneous. Simply stir from the outside and fold over to gently mix everything, then you'll have a nicely textured salmon patty.
My mom always used crushed Ritz crackers as her breadcrumb, but saltines and breadcrumbs also work.
If you don't have time to make tartar sauce, a dollop of sour cream will work wonders.
Can you eat the skin and bones in canned salmon?
The most challenging part of this recipe is processing the canned salmon. It seems time-consuming at first, but once you've de-boned a can or two, it's not so bad. The larger spinal bones are easy enough to remove but it's the tiny ones that take so much time. Although if you don't mind the texture, the soft bones and skin are totally edible, and provide a good source of calcium and omega-3 fatty acids. Since salmon is good for animals' skin and fur, our dog Lily always gets a piece of the skin in her dinner!
Can you freeze salmon patties?
Yes, you can freeze salmon patties! Just be sure to freeze them before you cook them. Cook them within 1-3 months.
What to serve with salmon patties:
Sauteed Green Beans
Tomato-Cucumber Salad
Cucumber-Onion Pickles
Cole Slaw
Creamed Corn
Butter Beans and Corn
Fried Squash
Serve with Homemade Tartar Sauce.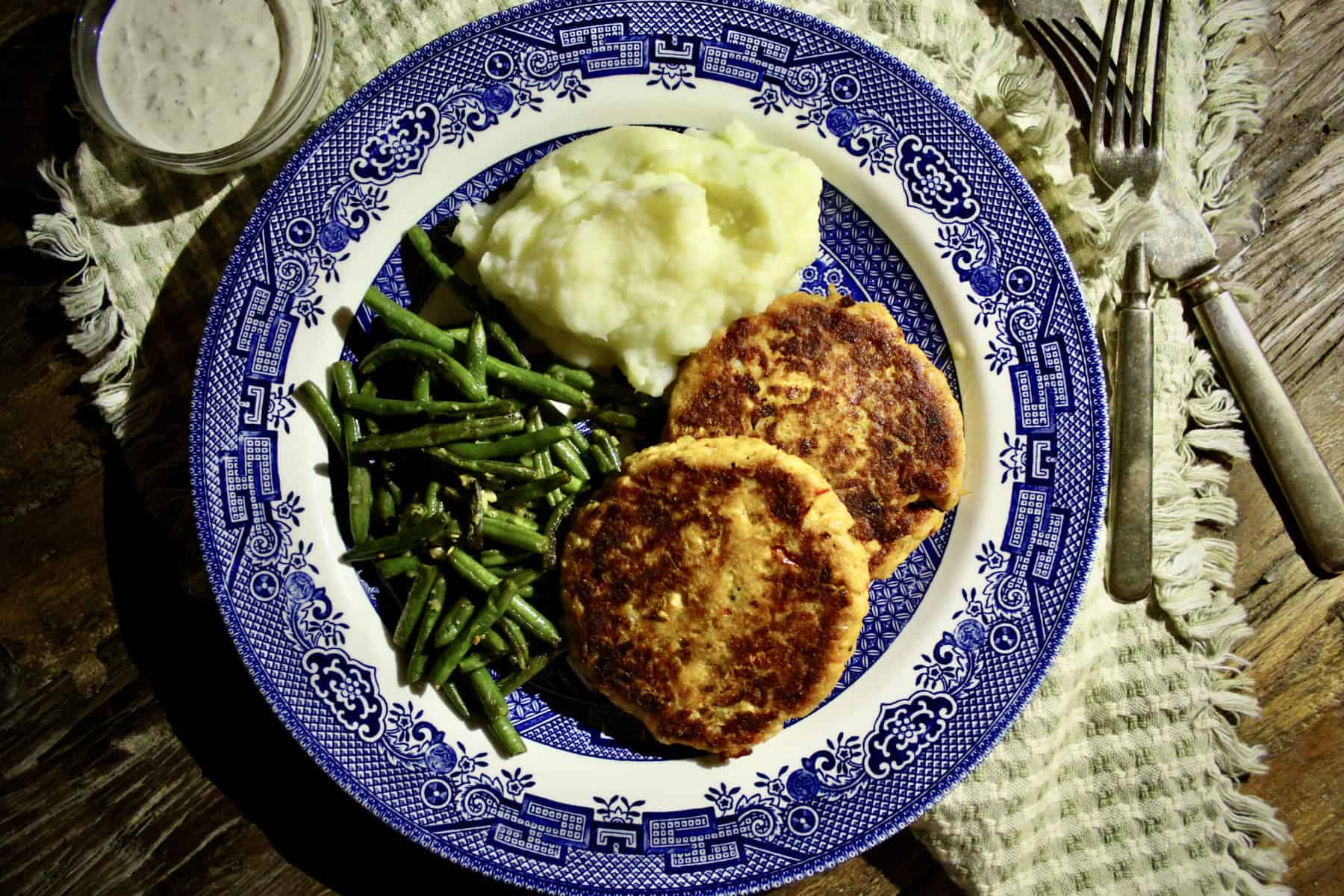 Print Recipe
Southern Salmon Patties
Learn how to make salmon patties, a true southern classic served with homemade tartar sauce--a delicious and surprisingly affordable weeknight meal!
Ingredients
1 14.75oz can of Salmon (I use Double "Q" brand)
1/4 cup minced red bell pepper
1/4 cup minced onion
1 garlic clove, minced
10 Ritz crackers
1 tablespoon mayonnaise
1 egg
3/4 teaspoon lemon juice
1/2 teaspoon salt
1/8 teaspoon pepper
Instructions
1

Start by sauteeing the pepper and onion in a little butter over medium heat. Season with a little salt and sweat down for about 3 minutes. Then add in the garlic for another minute and set aside.

2

Then place 10 Ritz crackers into a bag and smash with a tenderizer, rolling pin, or pommel (the butt end of your knife) until they're the consistency of breadcrumbs.

3

Next, remove the skin and bones from the salmon. Be gentle during this step so you can see where the fillets are and remove the bulk of the bones at once. Use your thumb to gently slide the skins off and tiny bones. (The bones and skin are totally edible, but try to remove as much as you can.)

4

Now you can mix everything together. In a mixing bowl combine all the ingredients, including the cooked onion and pepper. Mix until the egg and breadcrumbs are dispersed. (If you like larger salmon pieces don't mash or mix as much.)

5

You can dredge them in a little flour, but I normally cook them as is. Place two tablespoons of butter or oil into a skillet and cook over medium heat for about 2 minutes on each side, or until golden.

6

Serve with homemade tartar sauce (recipe above), mashed potatoes, and garlicky green beans..and enjoy!
Nutrition
468 Calories

16.4g Carbohydrates

209mg Cholesterol

21.7g Fat

2.2g Fiber

49.7g Protein

5.3g Saturated fat

2044mg Sodium

3.2g Sugar
Notes
*The skin and bones are edible, so don't fret if a few end up in the patty mixture.