These Dilly Breaded Fish Sticks with Tartar Sauce make for a quick, but deliciously satisfying dinner. They are so simple, breaded with just flour, eggs, breadcrumbs, and fragrant fresh dill. Not to mention, you can totally freeze them! I can't tell you how many nights I've been so thankful to have something this delicious in the freezer; every now and then you just want a really good home-cooked meal, without being the one to cook it. Hence why I love these sorts of meals that are just as good from the freezer as they are fresh. That said, this recipe in particular is a pretty quick procedure in itself. All you'll need to do is bread your fish sticks and cook them up–either job taking less than 10 minutes!
Try it out with this Homemade Tartar Sauce recipe!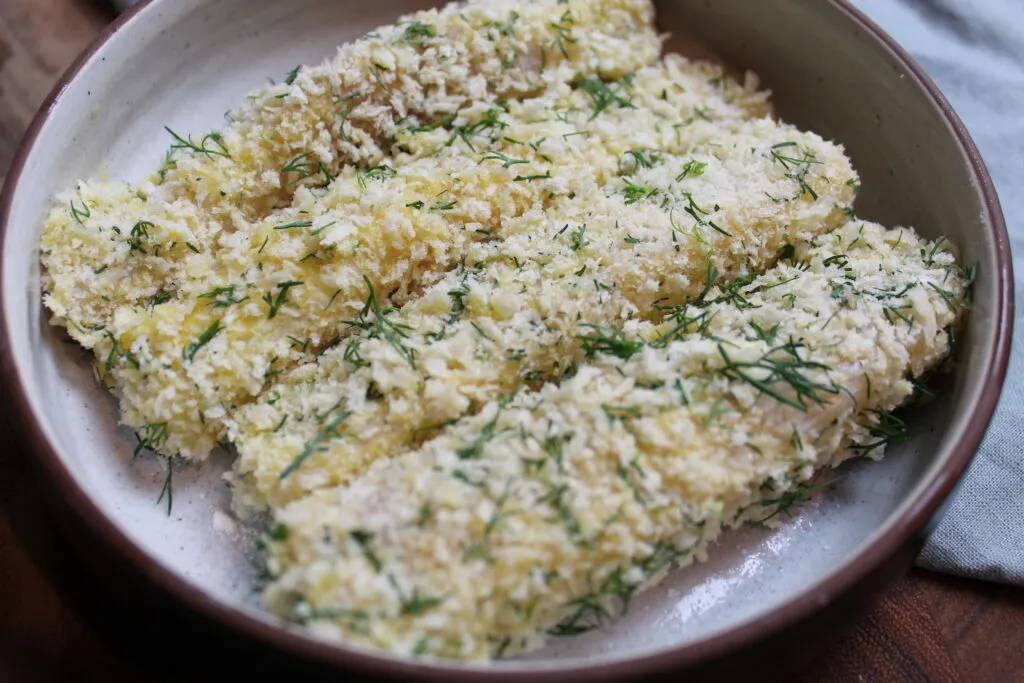 How to make fish sticks at home
I know how incredibly convenient it can be to purchase frozen fish sticks, but once you make them yourself, you'll never buy another box! There is such a difference especially when you go for quality ingredients and aromatics like dill or thyme. Simple, but good.
Any fish stick recipe requires a batter of some sort. For this one, we use the flour-egg-breadcrumb assembly. First, dip the fish into the flour (seasoned with spices if you prefer), then the egg, and lastly the breadcrumbs with fresh dill. You could use chives, parsley, tarragon, thyme, etc. as your aromatic herb(s). All taste amazing! I'm just a sucker for dill and the brightness it brings to a dish.
What kind of fish to use for fish sticks
Cod, halibut, and flounder are all great contenders for the perfect fish stick. Cod and halibut are both white, meaty fish with a mild flavor that stands up well as thick filet tenders. We usually use cod, since it has such a nice flaky texture. I also like to use flounder; although it has a thinner filet, the smaller fish sticks pack a lot of flavor with jagged crispy edges.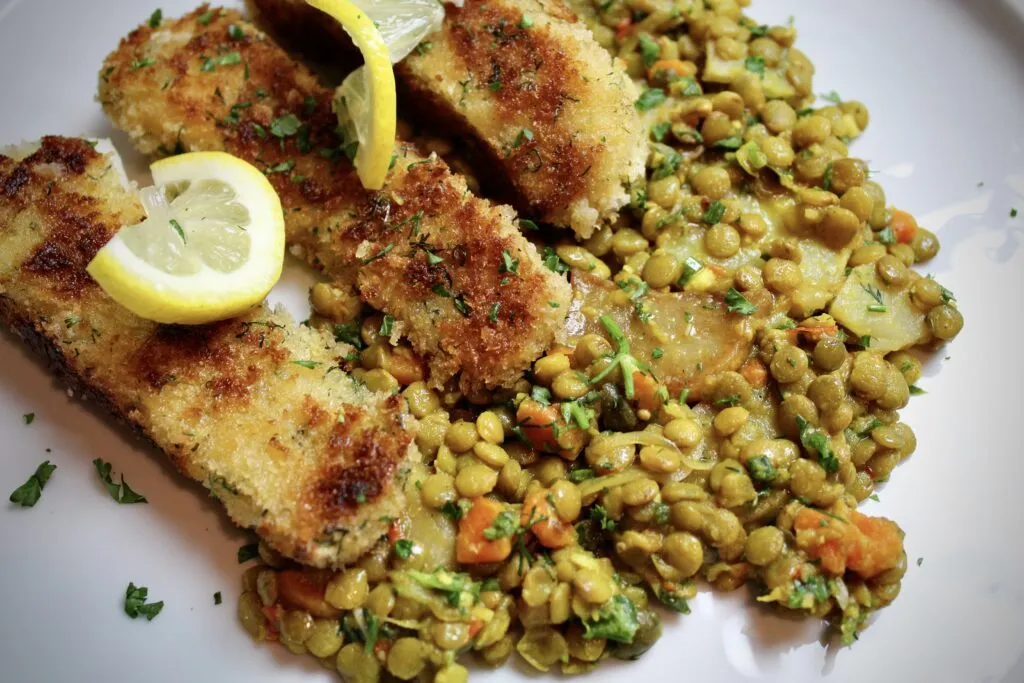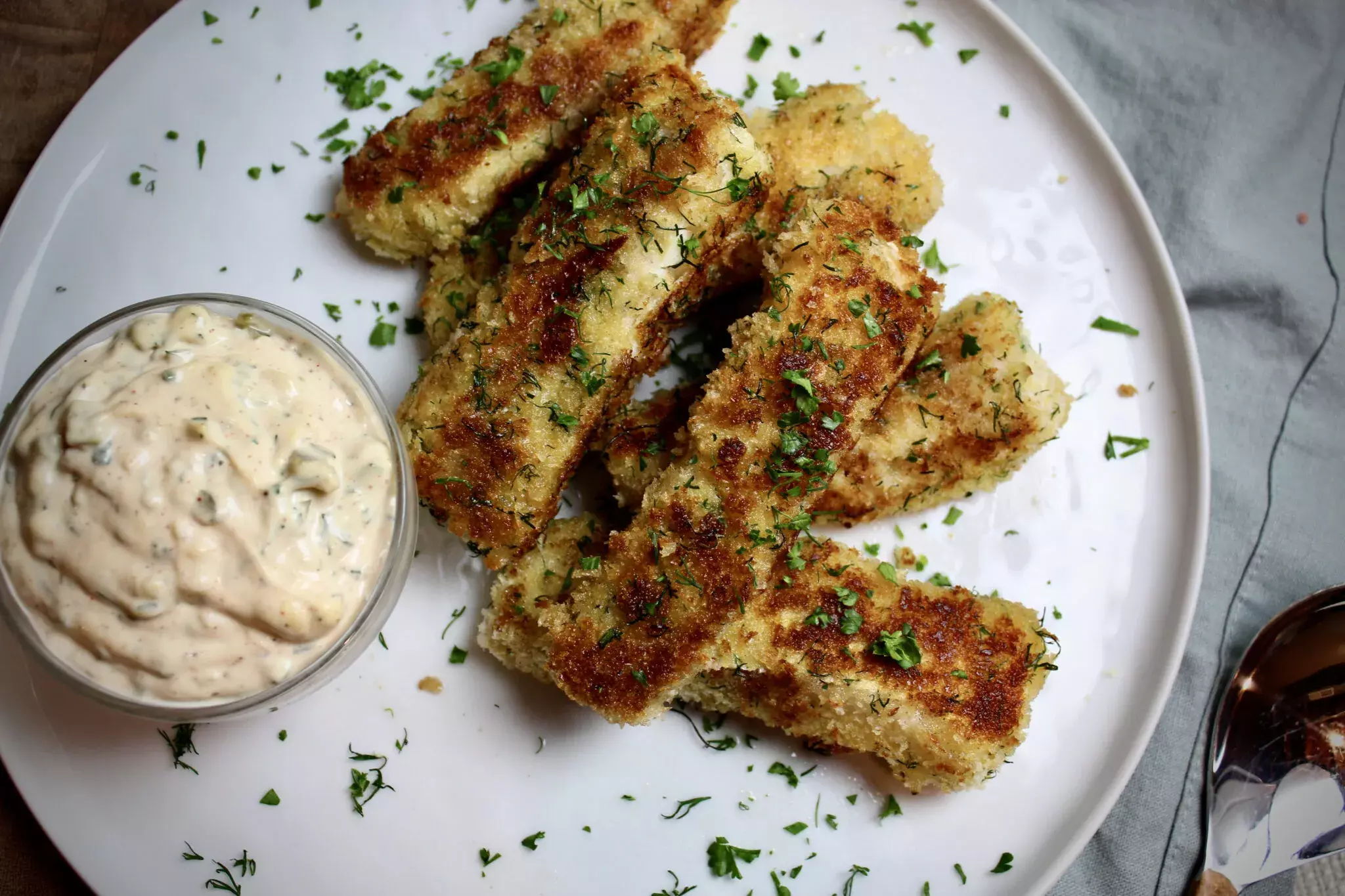 Print Recipe
Dilly Breaded Fish Sticks with Tartar Sauce
Ingredients
1 pound cod, cut into 1 inch-wide strips
½ teaspoon salt
¼ teaspoon pepper
½ cup all-purpose flour
2 eggs, beaten
1 cup panko breadcrumbs
2 tablespoons freshly chopped dill
2 tablespoons olive oil
2 tablespoons butter
Instructions
1

Start by washing and preparing your fish. Season with salt and pepper and set aside.

2

Toss the dill into the breadcrumbs and set aside.

3

Prepare your dredging station by laying out one bowl with flour, one with the beaten eggs, and last the panko breadcrumbs with dill.

4

Take the cod strips and dredge them in a little flour, then dip into the eggs, and last into the breadcrumbs until all are finished.

5

In a medium pan over medium high heat, place in the two tablespoons of butter and olive oil. Once hot, carefully place in the fish sticks with an inch of separation between them. You will probably need to cook them in batches.

6

Cook on each side for 1 minute, or until golden brown. Place them on a plate with a towel or napkin to soak up any extra oil.

7

Serve with a delicious tartar sauce, and enjoy!
Nutrition
647 Calories

26.5g Carbohydrates

319mg Cholesterol

32.3g Fat

1.3g Fiber

61.4g Protein

11.1g Saturated fat

910mg Sodium

.4g Sugar