This Air Fryer Black Pepper and Turmeric Okra has all the crisp minus the hydrogenated oil! It took me a while to come around to air fryers, but there is absolutely no denying their convenience, consistency, and overall quality. That said, this is one of my favorite dishes to make in the air fryer. Air fryer okra makes for a super quick and simple side item for dinner–it only takes 15 minutes! Or, try this recipe out as an appetizer for your next get-together.
How to Pick Out Fresh Okra
Here are a few things to keep in mind when selecting okra:
Size — Here, size matters. The larger the okra, the more fibrous and tough; 2-3 inches is best.
Minimal damage — Look for okra that don't have a lot of oxidation, or browning around the edges. This means they aren't as fresh. Generally our okra from the farm lasts about 4-5 days in the refridgerator before it begins to brown slightly. And that's properly sealed–if it's in an open container, expect more like 2 days.
So use it quick! As stated before, they don't last long. If you know you can't use them in time, go ahead and freeze them.
And as always, your local farmers market will have the best produce!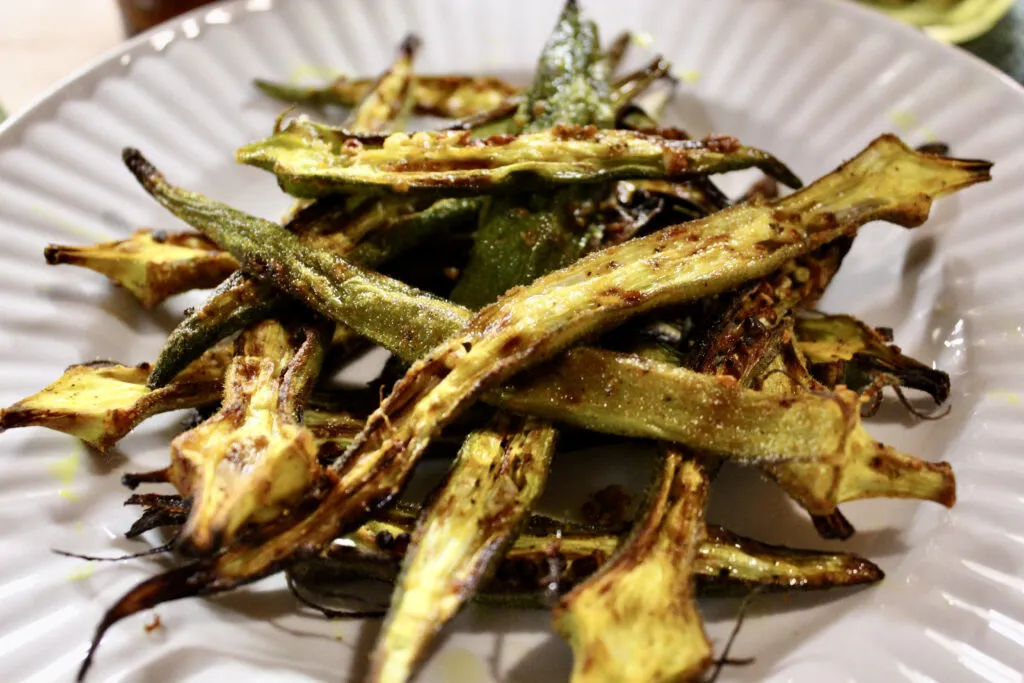 Not a fan of okra?
I totally get the hesitation some people have with okra. If it's not cooked correctly it can be slimy and mucilagenous. Although there are recipes that prize okra for this thickening property, like gumbo. When eaten by itself I usually prefer a crispier consistency. It's pretty amazing the stark differences in texture okra can have based on the way it's prepared.
That said, if you aren't a huge fan of okra, I would suggest trying it roasted or air-fried. When you roast or air-fry them, the slimy consistency evaporates; instead of being sealed up with moisture as traditionally breaded and fried okra. (Not dissing fried okra though, it's amazing!). But with this preparation, you get long crispy strips, almost like french fries. Perhaps we should rename this dish okra fries! Anyway, that's what won okra over for me, and now I love all the amazing variations.
How to Air Fry Okra
How long you air fry your okra, really depends on how you like the texture to be. If you prefer a crispy, all-crunch texture I would aim for 20 minutes of cook time in the air-fryer. We like ours with a little bit of a crispy, chewy bite so I only cook mine for around 10-12 minutes. The good thing about the air fryer is if it's not done to your liking, you can just pop it back in!
If you don't have any of the spices on hand, no worries. Air-fried okra seasoned with a little salt is just as satisfying! Just use a little neutral oil, about 3 tablespoons per pound, and season with 3/4 teaspoon of salt. Then layer them into your air fryer and cook for 10-12 minutes.
Read more about this bizarre vegetable!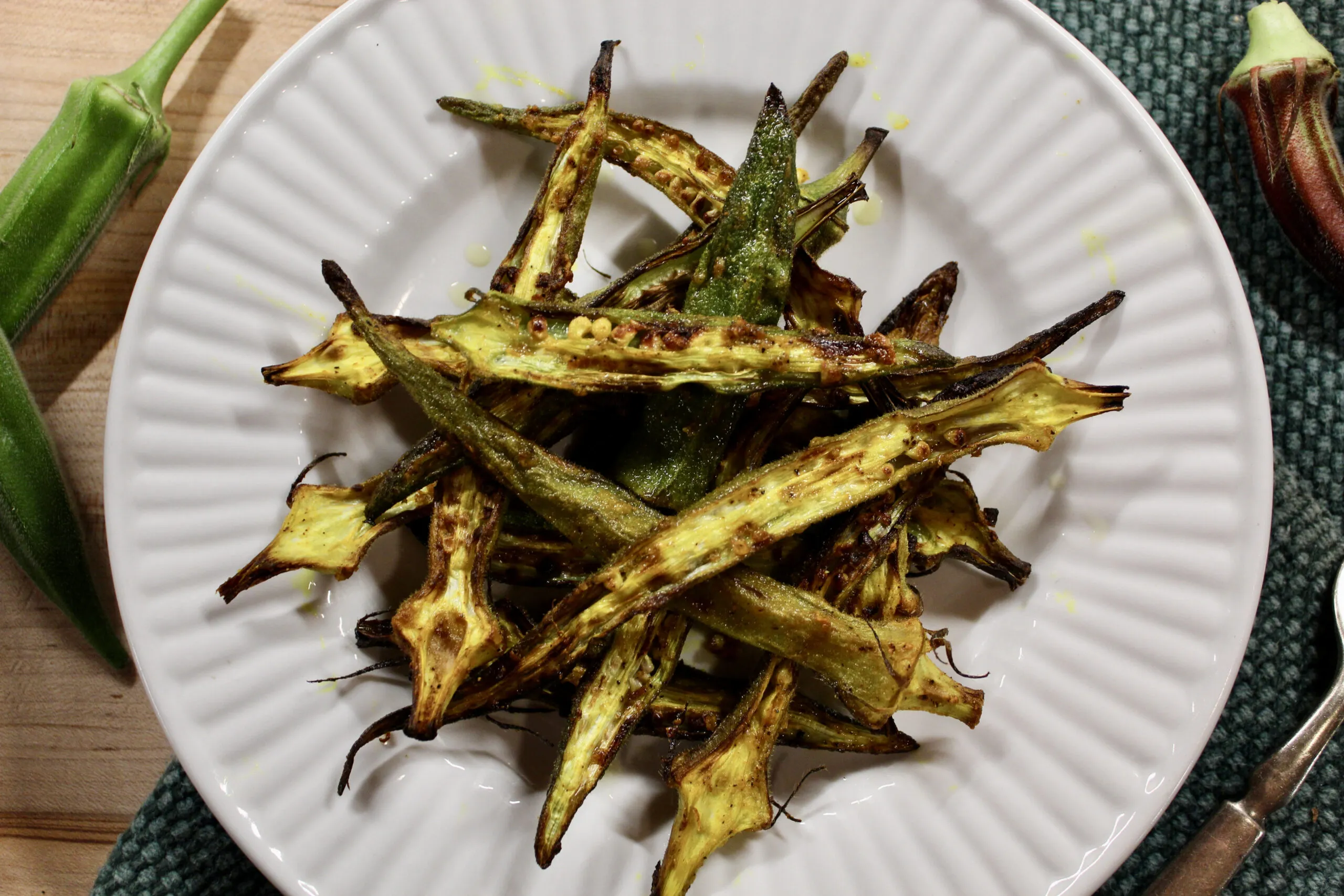 Print Recipe
Air Fryer Black Pepper and Turmeric Okra
Crispy, spiced okra slivers with the bold flavors of black pepper, turmeric, and garlic. Healthy, delicious, and ready in 15 minutes!
Ingredients
1 lb okra, washed and halved lengthwise

3 tablespoons olive oil

1 teaspoon freshly ground black pepper

1/2 teaspoon ground turmeric

*or 1 teaspoon freshly grated turmeric

1/4 teaspoon garlic powder

1/2 teaspoon of salt
Instructions
1
Combine the olive oil, black pepper, turmeric, garlic powder, and salt in a large bowl.
2
Toss in the okra and evenly coat all the pieces.
3
Preheat your air fryer. Once ready, place in the okra and fry for 12 minutes, flipping halfway through.