If you're from the south, chances are you've tried pimento cheese! It's sharp, creamy, and delicious. This Blistered Hot Pepper and Pimento Cheese Spread is a slightly spicy play on the traditional Pimento Cheese. The sharp and creamy flavor of pimento cheese is heaven to tastebuds, especially on a slice of toasted sourdough. Pimento cheese is a staple of the south worth trying–it's simple, delicious, and made with very few ingredients. Not to mention the vast assortment of tasty things you can make with pimento cheese; cheesy grits, quiche, grilled pimento cheese sandwich, jalapeno poppers, and much more!
What are Pimentos, or Pimientos?
Pimentos are incredibly sweet, thick-walled Spanish peppers that come in a range of colors, most notably red. The mild flavor and thick walls make this pepper the perfect contender for pickling, stuffing, roasting, and drying for powder. All around a star player for the Capsicum genus!
I found this Allrecipes article on pimentos interesting: A Closer Look at the Pimento, an Unsung Hero of the Pepper Kingdom.
Where can I buy pimentos for pimento cheese?
You can reliably find canned pimentos in the hot pickles section of your local grocer, or you can order them online. If it happens to be summer, or early fall as you're reading this, try your local farmers market! There's been a lot of interest in niche peppers in recent years, so you may just get lucky and find them.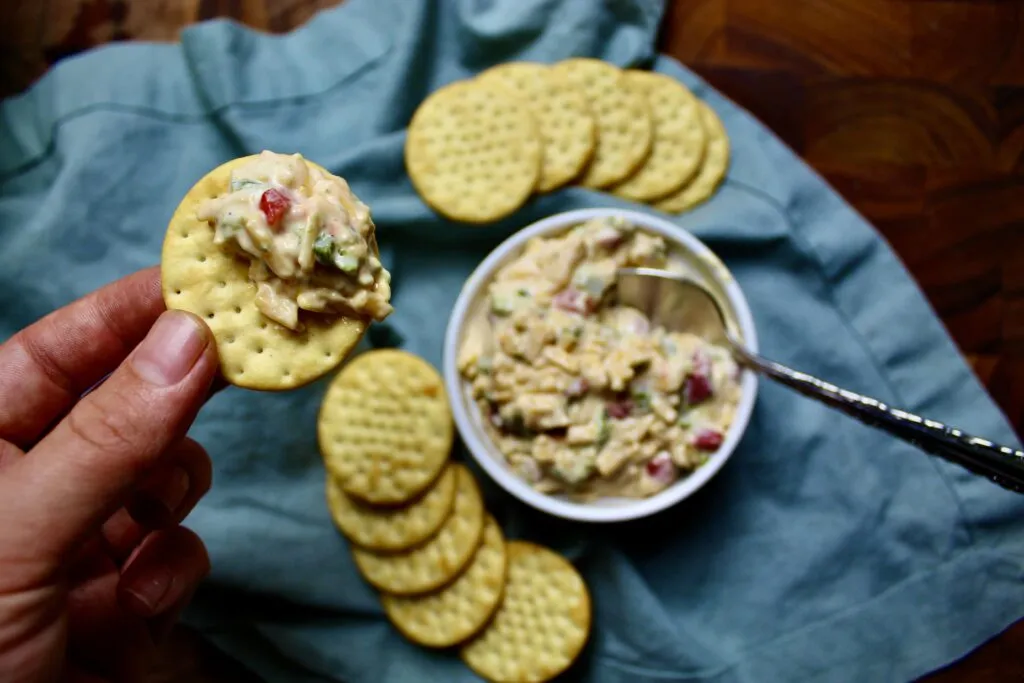 Grow pimentos at home…it's easier than you think!
Another fun idea would be to grow them yourself! This variety of pepper produces very well with countless ways to use the fruit: roasted, blistered, pickled, stuffed, dehydrated, and ground into paprika, etc. In general, pepper plants are relatively unfussy as long as they receive consistent water and the occasional fertilizing. (I fertilize with Neptune's Harvest Fish and Seaweed Fertilizer once every two weeks.)
The variety of pimento I grew this year was Round of Hungary, and it performed wonderfully. Even though it doesn't have the traditional cherry drop shape, the flavor is outstanding. The thick walls also lend well to dehydrating and grinding into a sweet paprika powder. I'm telling you, if you go through the pains of growing it or dehydrating these sweet peppers yourself, you will be satisfied, and the meals you cook with it will be that much better! And, you absolutely have to do a taste comparison if you grow them yourselves!
Make it your own
Sure pimento is in the name, but make your own with the peppers you like! I've used roasted red peppers, pickled jalapenos, candied Fresnos, the list goes on. Since poblano peppers have such a thin flesh, I decided to blister these–but smoked or cooked on a grill would be next level! If you have a gas stove, you can simply blister them over the burner flame. It's much quicker than broiling in a large oven and you get more control over the heat.
Below you can see a before and after of the blistered poblano and jalapenos. You should see a clear separation between the skin and flesh of the pepper. Once they are done boiling or roasting, quickly place them into a closed container or bag to sweat down. This will make them really easy to peel. If you don't, sometimes the liquid will evaporate and cause the skin to shrink back onto the flesh.
Tips and Substitutions
To keep it on the mild side, remove as many of the seeds as possible. If you want it really spicy, use them generously.
For this recipe I would suggest not using pre-shredded cheese–the texture turns out much better when you grate it fresh. And go for good quality cheese and mayo, as these are the main ingredients. If you've got some extra eggs laying around, homemade mayonnaise would work wonders in this dish!
Blistering or broiling the hot peppers definitely brings more depth of flavor. Not to mention, the smokey taste of the charred peppers goes wonderfully with cheddar cheese.
If you're serving this as an appetizer spread, take it out of the fridge 15 minutes beforehand to soften a little. That way all your crackers or chips won't be broken in the dipping process!
This recipe makes around two and a half cups of pimento cheese. If you're making pimento cheese sandwiches, you'll probably want 1/4-1/3 cup per sandwich (~7 servings per batch). This is the perfect amount for a lunch or dinner of sandwiches for 4, whilst leaving enough for snacks.
What to make with Pimento Cheese
Jalapeno Poppers
Grilled Pimento Cheese Sandwich
Macaroni Salad
Frittata or quiche
Quesedilla
Cheesy Grits
Galette
Pimento Cheese Stuffed Chicken or Pork Croquettes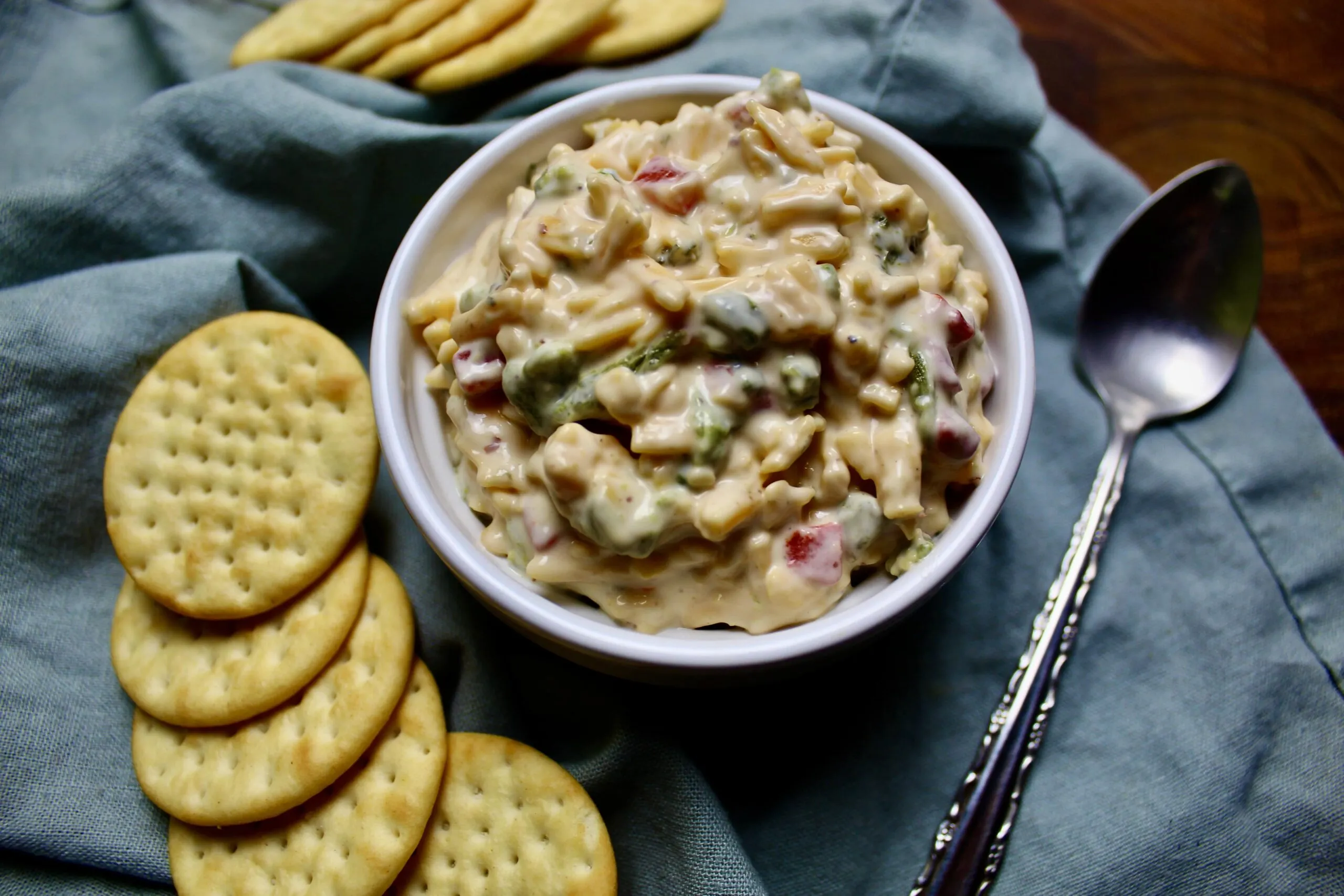 Print Recipe
Blistered Hot Pepper and Pimento Cheese Spread
A deeply-flavored, slightly spicy take on traditional Pimento Cheese.
Ingredients
1 lb sharp cheddar cheese, coarsely grated

1 poblano pepper

2 jalapeno peppers

1 2oz jar of pimentos

3/4 cup mayonnaise

1/2 teaspoon apple cider vinegar

1 teaspoon dijon mustard

1/4 teaspoon garlic powder

1/8 teaspoon celery powder

Salt and pepper to taste
Instructions
1
Start by placing the poblano and jalapeno peppers onto a baking sheet to broil in the oven/toaster oven for 3-4 minutes on each side, or until adequately blistered. When the peppers have cooled, peel the skins off and give them a rough chop. Set aside.
2
In the meantime, grate the cheese with a grater or food processor with a grater disk.
3
In a large bowl, combine all the sauce ingredients: mayo, apple cider vinegar, dijon mustard, garlic powder, celery powder, salt, and pepper.
4
Toss in the cheese, chopped hot peppers, and pimentos and mix until everything is incorporated.
5
Serve with crackers and raw veggies, or in between two slices of sourdough. Enjoy!