Creamy, garlicky, and buttery smooth. This may not be the healthiest way to consume a potato, but for sure it's one of the tastiest! These Garlic Mashed Potatoes with Sage Butter are simmered in a pot of chicken broth and mixed with delicious sage-infused butter and cream. Top with some of the fried sage and reserved butter, and you've got a show-stopping side dish for the holidays that tastes even better than it looks! I may be a little partial to mashed potatoes, as I had it almost every night growing up, but the addition of garlic and sage really makes me excited for the holidays. Now that my mom and grandmother have passed their wisdom on to me, this is the dish I always bring to holidays.
How to Make Mashed Potatoes
Mashed potatoes are really simple to make, but it's all in the ratio of butter, salt, and milk/cream that you add. Some people like to add nearly all butter, others mostly milk. My grandmother always used a little butter and at least half a can of evaporated milk in her mashed "taters". I think there's a happy medium with both and substituting the milk for a richer cream makes a big difference. Toss in some garlic cloves and herbs, and you've elevated it to gourmet status. If want to get really extravagant, creme fraiche is an outstanding addition in place of the cream.
When mashing, you could use a potato masher or a hand mixer. If you like small chunks in mashed potatoes, go for the masher, but if you like smooth mashed potatoes, definitely use a hand mixer. I normally use a hand mixer as it only takes a few seconds and is the same amount of clean-up; plus, I like the potatoes on the smoother side.
The cooking liquid is another opportunity to increase flavor. First and foremost, heavily salt the water; although you can add salt later, this ensures the flavors have time to meld and absorb. Oftentimes, I just add a tablespoon or so of chicken base for some extra umami (add vegetable base if your vegetarian). Garlic and herbs like thyme, rosemary, sage, and bay leaves are excellent enhancers as well. Try out your own combinations–you may find it's not that much more effort and makes a huge difference when you sit down to eat dinner with your family!
What to Make with Mashed Potatoes:
Pork Marsala (one of my fav dinner combos with some garlicky green beans!)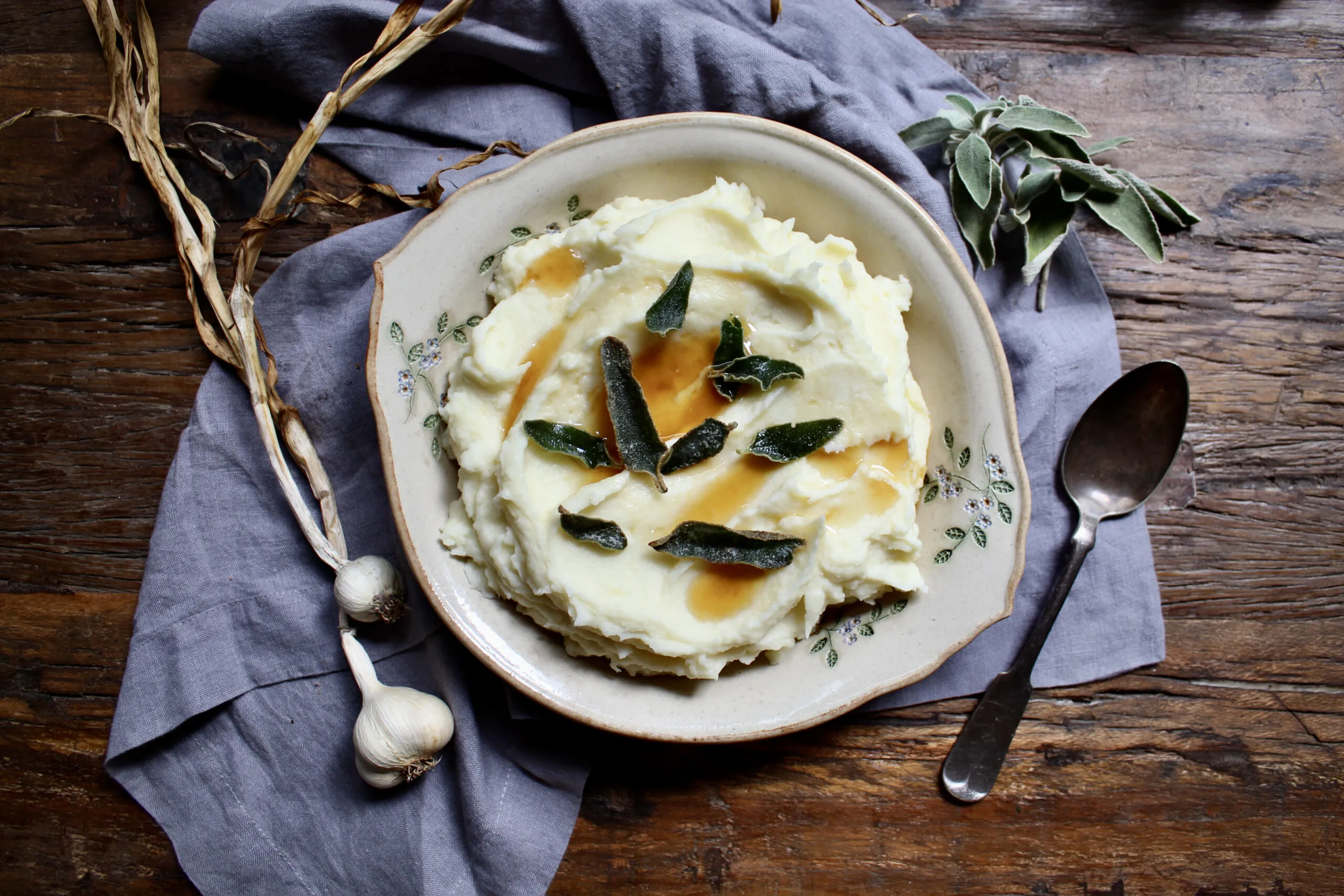 Print Recipe
Garlic Mashed Potatoes with Sage Butter
Creamy, buttery smooth mashed potatoes with an infused sage butter to ring in the fall season. Perfect for a Thanksgiving side dish or weeknight meal. Growing up, we had mashed potatoes with dinner every night, so needless to say--this recipe is as good as gold in my eyes!
Ingredients
4 Russet potatoes
3 garlic cloves
1 tablespoon chicken base
6 tablespoons butter
1/2 cup of heavy cream
1/3 cup reserved cooking broth
6-10 sage leaves
Salt and pepper to taste
Instructions
1

Start by placing a large pot of water on to boil. Then, wash, peel, and chop into 1-inch cubes.

2

Once the water is boiling add 1-1 1/2 tablespoons of salt and 1 tablespoon of chicken base. Mix until dissolved.

3

Bring the water down to a simmer and add in the cubed potatoes and garlic cloves. Cook for 10-15 minutes or until fork tender.

4

While the potatoes cook, make the sage butter by heating a small sauce pot over medium heat (medium-low if you're using gas or your stove runs hot). Add in the butter melt, and once it reaches a golden brown color, add in the sage leaves a few at a time for about 5-10 seconds (they should sputter as soon as you put them in). Lay them on a towel to dry and quickly remove the butter from the heat. Pour into a heat-proof ramekin if you think it's starting to burn.

5

Once the potatoes are cooked, reserve 1/3 cup of the cooking liquid and strain the potatoes. Add them back into the pot and pour in the butter and cream.

6

Mash with a potato masher or mix with a hand mixer (I normally go the mixer route as it results in a smoother consistency).

7

Salt and pepper to taste, and enjoy!
Nutrition
205 Calories

17.7g Carbohydrates

43mg Cholesterol

14.4g Fat

2.6g Fiber

2.5g Protein

9g Saturated fat

936mg Sodium

1.3g Sugar
Notes
Make this recipe a little quicker by omitting the sage and just using plain butter. You could add a sprinkle of rubbed sage if you still wish to have some of that herby flavor. Also great with rosemary subbed in for the sage!