The Melon and Prosciutto salad combines two of the most delicious complimentary flavors on earth: cantaloupe and cured ham! The unique sweetness of the cantaloupe and salty umami of the prosciutto are the perfect duo. Seriously one of my top 3 favorite flavor combos! This dish is perfect for a warm summer picnic or serving as an appetizer for friends and family. There's no cooking involved so it's a great starter if you have other parts of a meal to prepare.
How to Make Melon and Prosciutto Salad
This Melon and Prosciutto salad recipe is very simple, much like many Italian preparations, but packs a punch of fresh flavor. You can use any melon of your choice; however, I highly suggest using at least some cantaloupe. Honeydew is a close runner up. There's also something to say about the texture of those types of melons with the soft prosciutto versus watermelon, which by name is more juicy and grainy.
If you wanted to style this salad with a little more finesse, you could use a fruit scoop to get perfect cantaloupe spheres. Then shred the prosciutto into pieces and place on the greens with the cantaloupe, pecans, and feta cheese. Drizzle with a little Balsamic vinegar, or better yet, Balsamic glaze if you have some on hand.
The History of Melon and Cured Meat
According to La Cucina Italia, this dish dates back to the 2nd century AD when a doctor by the name of Galeno assembled melon and cured meat to align with his studies on a healthy, complete meal. Galeno said a dish should have ingredients that are warm, cold, juicy, and dry representing the elements of fire, air, water, and earth. In this dish the prosciutto contains warm flavor and dryness while the melon is cool and juicy. It's an interesting methodology, much like the Ayurvedic discipline in India. Many of these preparations are now being backed by modern science.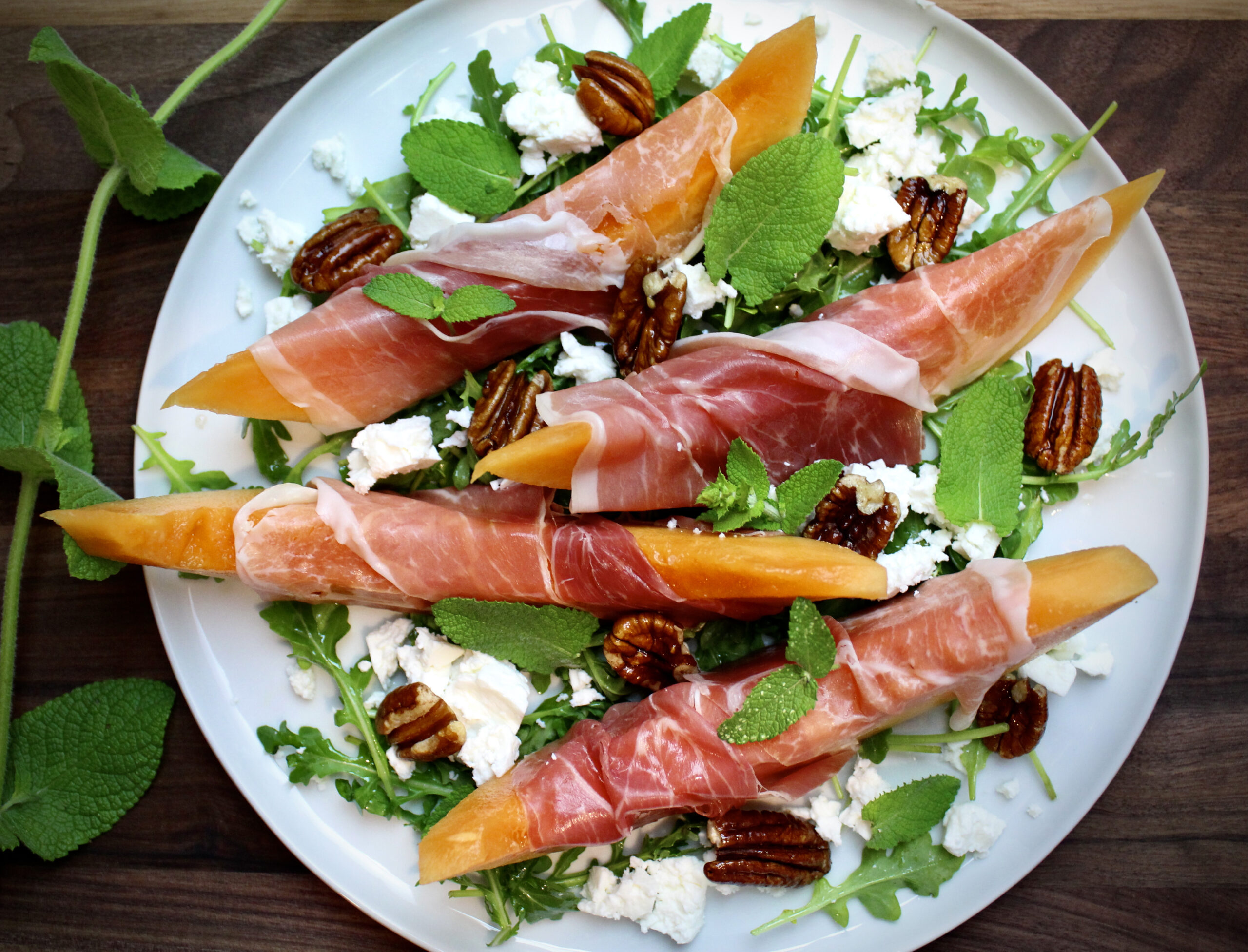 Print Recipe
Melon and Prosciutto Salad
Cool, fresh, salty, and slightly spicy--all the flavors you want in a summertime lunch or appetizer! I always use Cantaloupe, but feel free to combine different varieties of melon like Honeydew, Canary Melon, Watermelon, etc.
Ingredients
1 cantaloupe, cut into 1 1/2 inch-2 inch slices
1 package of prosciutto
2-3 oz arugula, or two large handfuls
1/2 cup pecans or walnuts, candied if you don't mind the extra sugar!
1/2 cup feta cheese crumbled into large pieces
A few sprigs of fresh mint
2 tablespoons olive oil
Drizzle of balsamic vinegar
Instructions
1

Start by cutting the cantaloupe into 1-2 inch thick slices. You'll have some left over after this recipe, or you could purchase two packs of prosciutto.

2

Wrap the cantaloupe slices with the prosciutto and set aside.

3

Toss the arugula with a little olive oil and dust with a little salt. Place this evenly on a large plate.

4

Place the prosciutto-wrapped cantaloupe onto the greens and garnish with the pecans/walnuts, feta cheese, and mint.

5

Drizzle with a little Balsamic vinegar or Balsamic glaze when you are ready to serve.
Nutrition
240 Calories

5.2g Carbohydrates

42mg Cholesterol

19.4g Fat

2.2g Fiber

14g Protein

5.5g Saturated fat

858mg Sodium

3.1g Sugar
Notes
You can make this dish as simple or complex as you like. Sometimes we just have the prosciutto wrapped cantaloupe. However, I will say, the arugula brings a welcomed hint of spice as does the feta cheese. Experiment with different nuts and garnishes, there are no mistakes in making it your own!