Deviled eggs have to be one of the best contributions Southern American cuisine ever gave the world, or at least I think so! My family has had deviled eggs at every holiday gathering since I can remember, and for good reason. My mom taught me how to make them by eye, but this southern deviled egg recipe is my interpretation and attempt to record it.
How to Make Deviled Eggs
Deviled eggs can be as simple or complex as you make it. At is base, it's just boiled egg whites filled with a creamy yolk mixture usually made up of a combination of mayonnaise, mustard, seasonings, and minced pickle. In this deviled eggs recipe, I used minced onion because I love the slight pungency it brings, but if you're not a fan, feel fee to omit it. Or better yet, use something more mild like green onion. My mom told me the filling should be slightly too salty, since it's also there to season the whites–this trick has always served me well.
When you go to add the filling to the yolks, a makeshift piping bag will be your best friend. I've done it by just spooning the filling into the whites, but its much easier, quicker, and ends up looking much more desirable if you make a piping bag. You can simply fill the gallon bag with the yolk filling, push it all to corner, twist the top, and cut a 1/2 inch hole in the corner. From there, just twist the top and push. I find that about one heaping tablespoon of filling per white is enough to fill each half.
Deviled eggs can be refrigerated overnight or you can eat them the day of. I lean towards refrigerating them overnight; not only does this provide time for the flavors to meld, but it buys you time the next day to cook anything else you planned on making. If you leave them overnight, I would wait to garnish until the next day so the paprika doesn't bleed into the eggs.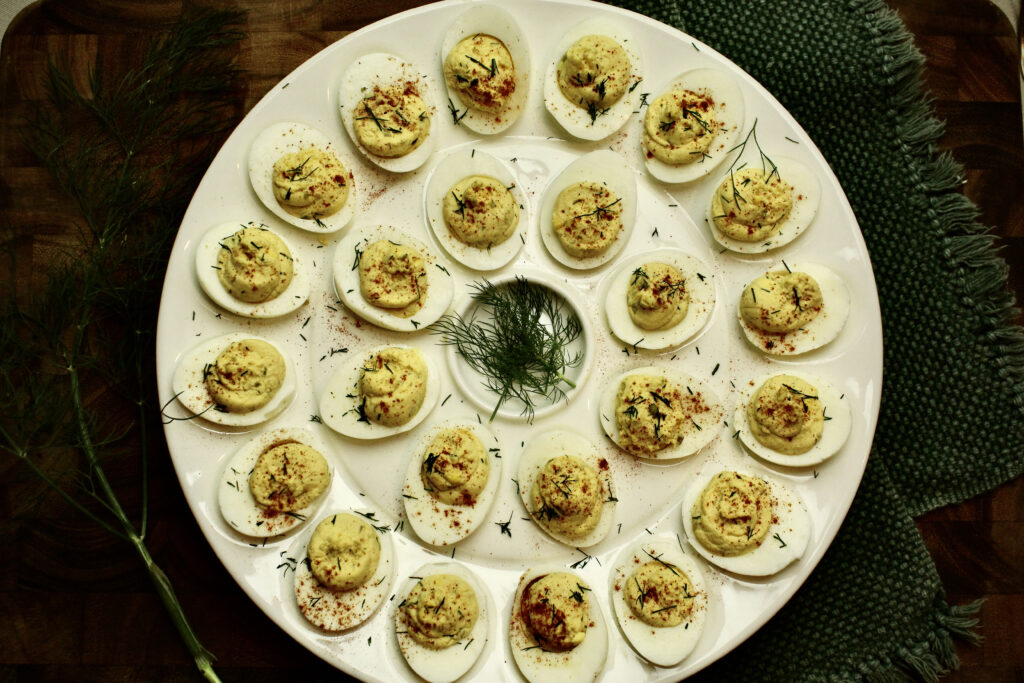 A Few Distinctions
A couple of distinctions between our version and traditional deviled eggs is that we use minced dill pickles instead of pickle relish. Pretty much the same thing only not as sweet. Eggs are beautifully complemented by paprika, so no matter the preparation I always add a dash to the yolk filling or garnish with it at the end. Freshly chopped dill goes a long way as well with its fragrant and tangy flavor.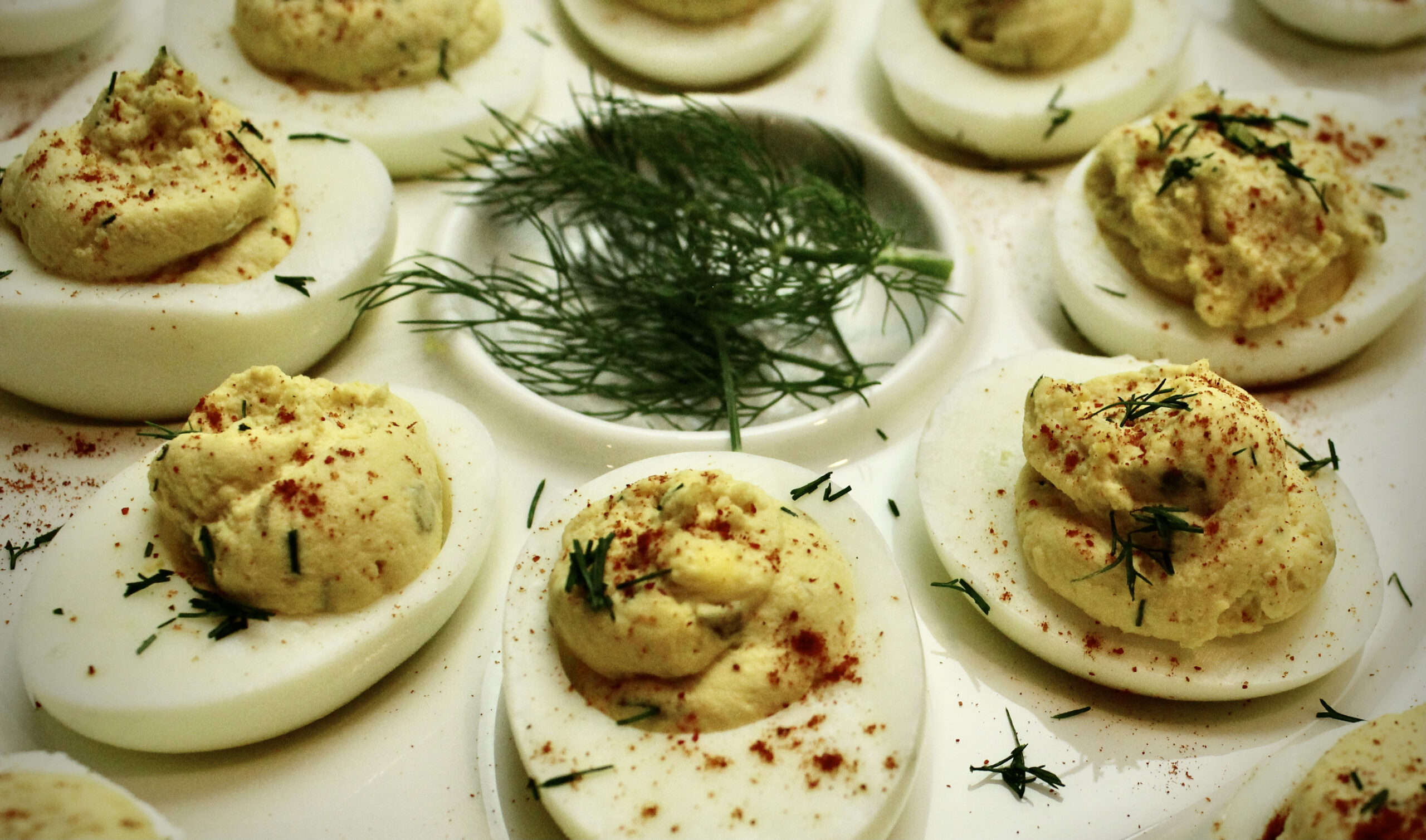 Print Recipe
Southern Deviled Eggs
Simple, easy to prepare, and delicious. These southern deviled eggs are a hit at potlucks; we always come home with a clean plate!
Ingredients
1 dozen eggs
1/4 cup plus 2 tablespoons mayonnaise
1 teaspoon yellow mustard
1 tablespoon grated onion *optional
1 1/2 tablespoon minced dill pickle
1/2 teaspoon apple cider vinegar
1/2 teaspoon salt, or more to taste
1/8 teaspoon pepper
Paprika and freshly cut dill for garnishing
Instructions
1

Start by putting the eggs in a large pot and bring to a boil. I add a dash of vinegar as that can help with peeling (not too much though, or your eggs will be extra tangy!).

2

Once it comes to a boil, decrease heat to a simmer and cook for 10 more minutes.

3

After 10 minutes, put the eggs in a large bowl with cold water (preferably with ice) to cool for 10-15 minutes.

4

Once the eggs are cool enough to handle, you can peel them.

5

Cut the peeled eggs in half and empty the yolks into a medium sized bowl.

6

Combine the mayonnaise, yellow mustard, grated onion, minced dill pickle, apple cider vinegar, salt, and pepper.

7

Mix until smooth and put the filling into a gallon size plastic bag.

8

Push the filling to one corner and cut the bottom for a small piping hole, about 1/2 inch.

9

Fill the egg halves with about one tablespoon of filling per half.

10

Garnish with paprika and freshly chopped dill.

11

Refrigerate overnight or eat the day of. Enjoy!
Nutrition
102 Calories

2.3g Carbohydrates

188mg Cholesterol

7.3g Fat

.1g Fiber

6.4g Protein

2g Saturated fat

240mg Sodium

1.1g Sugar
Notes
The filling should taste just a bit too salty as it's also the seasoning for the whites.