This edamame hummus recipe is creamy, delicious, and packed full of nutrition. If you like traditional hummus or steamed edamame with sea salt, you will love this change-up! Where the chickpeas have a meatier, more savory character, the edamame bring a sweet legume flavor that we've really come to appreciate. Plus, I love the convenience of frozen edamame. Don't get me wrong, I love the fresh edamame we grow during the summer, but summer only lasts for so long..and we never have enough to freeze. That said, we have purchased many bags from Costco and Trader Joe's. I've started seeing them in a lot of our grocers, so I doubt you would have a problem finding frozen edamame in a store near you.
Edamame vs. Chick Pea Nutrition
Edamame beans (aka immature soybeans) contain higher levels of proteins and fat, as opposed to chickpeas with higher levels of fiber and carbohydrates. Although both legumes are great sources of Vitamins A, B, and E, edamame contains significantly higher levels of Vitamins C and K. Top that off with higher levels of Omega 3 and Omega 6 fatty acids, and you've got a great substitute for chickpeas when the need arises!
It's all about the garnishes
This is the PERFECT recipe to dress up–use anything with spicy, tangy flavors to top the mellow base. Feta cheese, fresh dill, sumac, cumin, minced pickles of all kinds, pepper flakes, paprika, etc. One of our favorite trios is feta, dill, pickled red onion. Lastly, and not that it's needed, but we love drizzling some extra olive oil on top!
This hummus recipe is not limited to edamame or chickpeas. I've found cannellini beans and navy beans lend themselves quite nicely to hummus. However, you may need to adjust the liquids to achieve the ideal texture.
For small get-togethers, it's fun to make a tri-color hummus appetizer with the vibrant green edamame hummus, pink beet hummus and the traditional chick-pea hummus. Each have their own colorful pop and have contrasting enough flavors to warrant making them all at once. You could also blend in a little turmeric into the chick-pea hummus to give a little pop of yellow. Who says playing with your food isn't fun, at least when it comes to designing fun appetizers!
What to eat with edamame hummus:
Multigrain chips, crackers, or pretzels
Dehydrated veggie chips
Breakfast wrap (filled with pickled onion, edamame hummus, arugula, cucumber, and quinoa)
Menemen, a tomatoey breakfast egg scramble–be sure to serve with bread!
Roasted veggies
Buddha bowls
Roasted Beet Relish as a garnish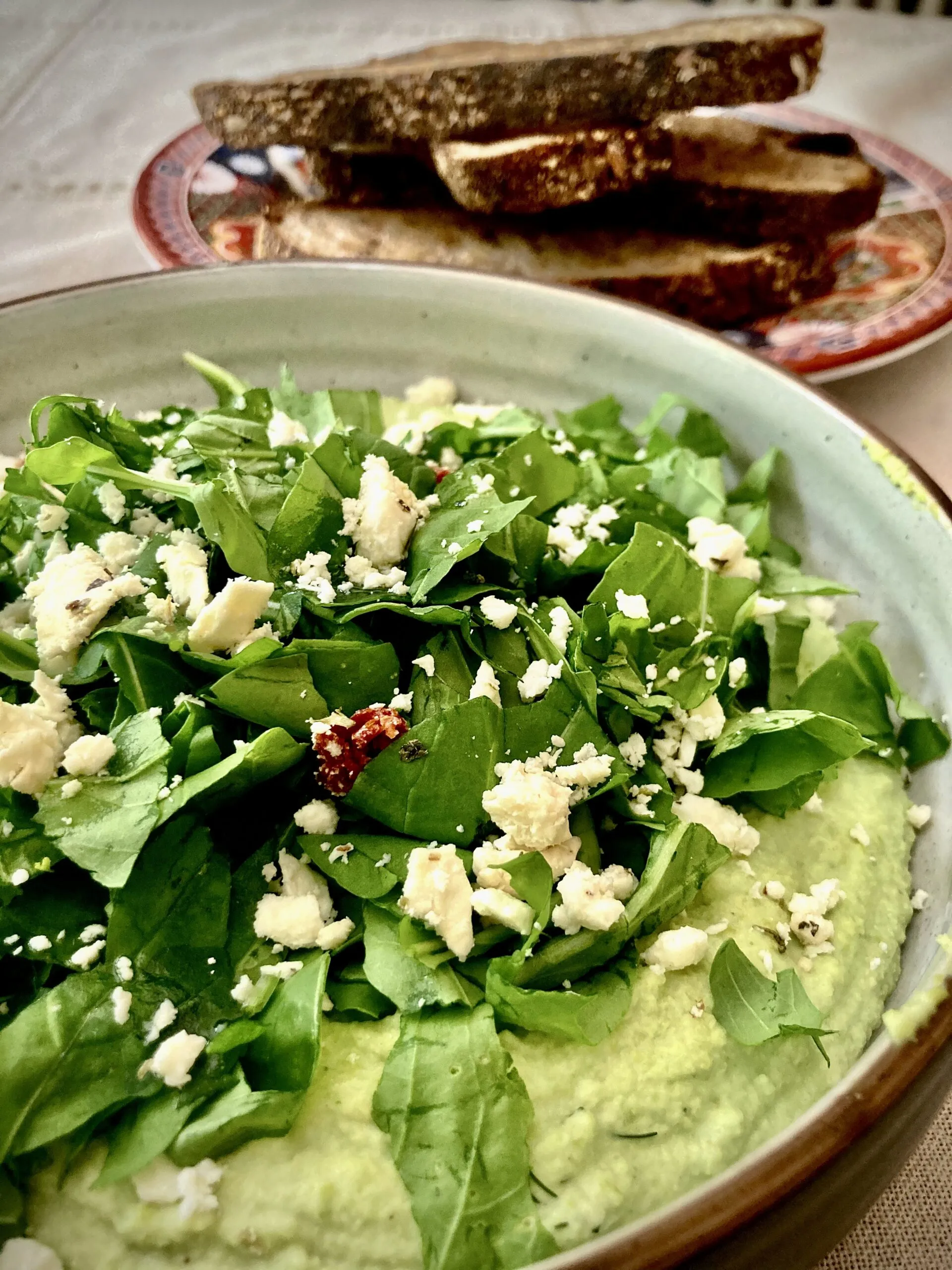 Print Recipe
Edamame Hummus
A tasty alternative to the traditional chick-pea hummus.
Ingredients
2 cups steamed edamame beans

2-3 cloves garlic

¼ cup tahini

2 tablespoons lemon juice, or lime juice if preferred

3 tablespoons olive oil

½ teaspoon cumin

¼ cup water or vegetable stock (more if needed)

Salt and pepper to taste

optional: herbs (I tend to use dill, mint, and/or thyme)

optional: feta cheese for topping
Instructions
1
Combine tahini and lemon juice in a food processor and process for 30 seconds, until the mixture is slightly whipped.
2
Toss in the remaining ingredients and process until it meets your desired consistency. If the mixture is too thick, incrementally add small amounts of water or veggie stock.
3
Taste and adjust salt and/or lemon juice.
4
Serve immediately or refrigerate for a few hours allowing the flavors to meld. Enjoy as a dip, in a wrap, or on a sandwich!