We made this dish with Hakurei turnips–one of our most anticipated root vegetables to harvest in the spring and fall! Crisp, sweet, and absolutely delicious. Hakurei turnips are great eaten raw with a dip or salad, in a roasted medley, or in this yummy gratin. For this Cheesy Hakurei Turnip Gratin, we combined the strong, rich flavors of Gruyere cheese, garlic, and heavy cream to create a filling side dish for those cool fall days.
Turnips lend themselves nicely to gratins as their texture becomes incredibly tender and silky. Not to mention, there is a slight sweetness you get from turnips, especially Hakurei turnips, that you don't find in potatoes. The sweetest turnips you'll find will have had some exposure to cooler temperatures. Just like carrots, they gain all their sweetness during the frost. As temperatures approach freezing, the stored starches inside the roots slowly convert into sugars.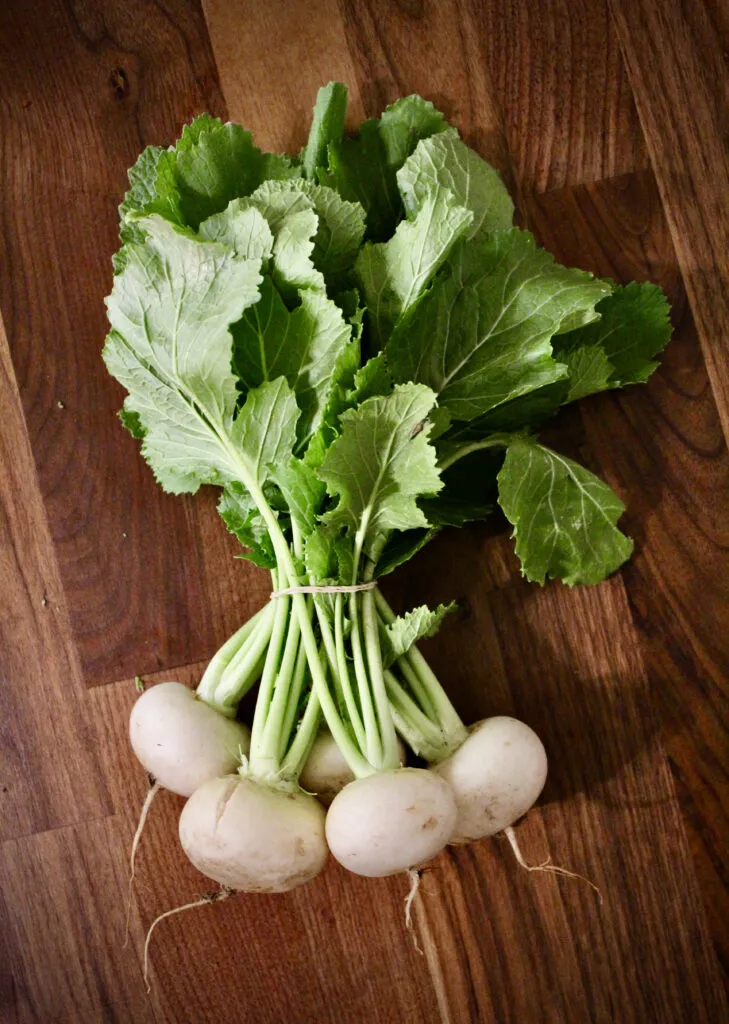 Before I started farming, I would pass by the turnips in search of the more common, "flavorful" vegetables–oh what my tastebuds were missing out on. Once I learned of their balanced and sweet flavor, I couldn't get enough. Purple top turnips are also delicious, but the next time you visit your local farm stand, ask about Hakurei turnips..you won't be disappointed!
Tips & Substitutions
If you have pesto or romesco on hand, even better! Dot a little between the layers and forgo the other herbs, oil, and garlic, if you so choose. Try it out with this Arugula Pesto.
Add other vegetables if you wish such as beets, carrots, potatoes, etc. This make for a delicious way to "eat the rainbow".
If you're able to find celery root or parsley root at your local market or grocer, give them a try. Eaten raw you may find them a little strong, but roasted or cooked in a gratin like this, they mellow into a delicious conglomeration of heavenly fall flavors.
If you have a mandolin, this would be a time saver for this recipe! If not that's okay, it doesn't really matter how thick the slices are as long as they are consistent. You may want to adjuxt the baking time. Just cook until fork tender.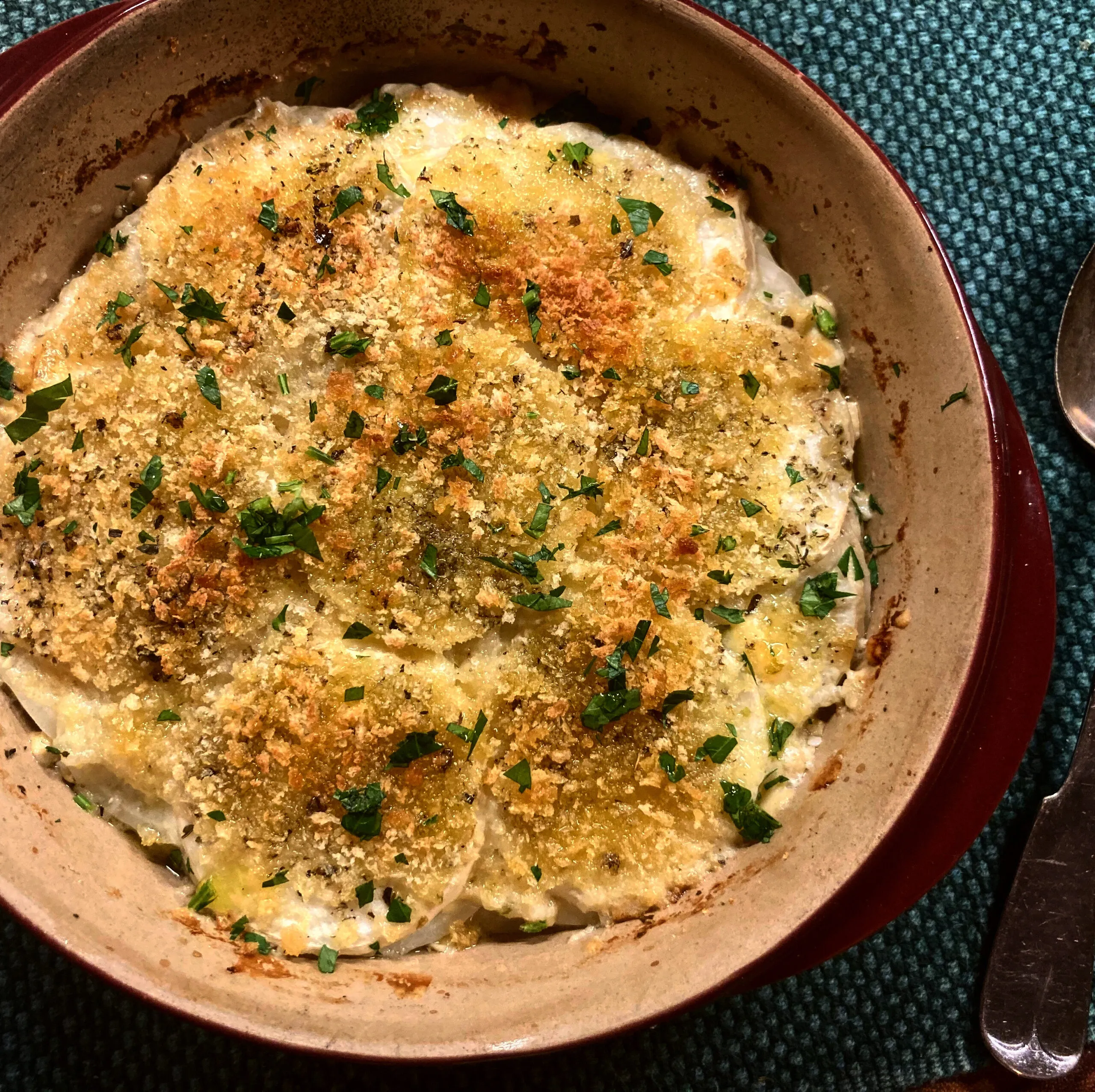 Print Recipe
Cheesy Gruyere And Hakurei Turnip Gratin with Fresh Herbs
Ingredients
2 tablespoons butter

2 pounds, or 2 bunches of Hakurei turnips, or Purple Top turnips

1-2 cloves of garlic, minced

1 cup of Gruyere cheese, or a cheese of your choice, grated

½-1 teaspoons fresh or dry herbs (I used thyme, rosemary, and sage)

¼ cup of heavy cream

¼ cup bread crumbs

2 tablespoons parmesan cheese, grated

2 tablespoons olive oil

Salt and pepper to taste
Instructions
2
Wash and thinly slice turnips with a knife or mandolin.
3
Salt and pepper the turnips to taste and mix.
4
Next, place the minced garlic into a small bowl with 2 tbs of olive oil. If you have a mortar and pestle, grind the garlic into a paste with salt and add in the oil.
5
Melt the butter in an 8-10" skillet and begin layering.
6
Start with a layer of turnips and then sprinkle with salt and pepper, cheese, herbs, garlic oil, and a dash of heavy cream.
7
Repeat the layering process until the last turnip layer.
8
Combine the parmesan cheese and bread crumbs and sprinkle over the top of the gratin. Finish assembling with a drizzle of garlic oil, or olive oil if you run out.
9
Place in the oven until golden brown, about 25-30 minutes. Enjoy!