When I'm craving something cool and healthy, Broccoli Salad always crosses my mind. The textures alone make this mouthwatering, healthy side dish one of my favorite potluck recipes–the crispness of the fresh broccoli, crunchiness of the toasted almonds, and chewiness of the golden raisins. Yum! If you have a broccoli salad recipe your family has always used, I'd love to hear about it! There are always some slight variations worth taking note of.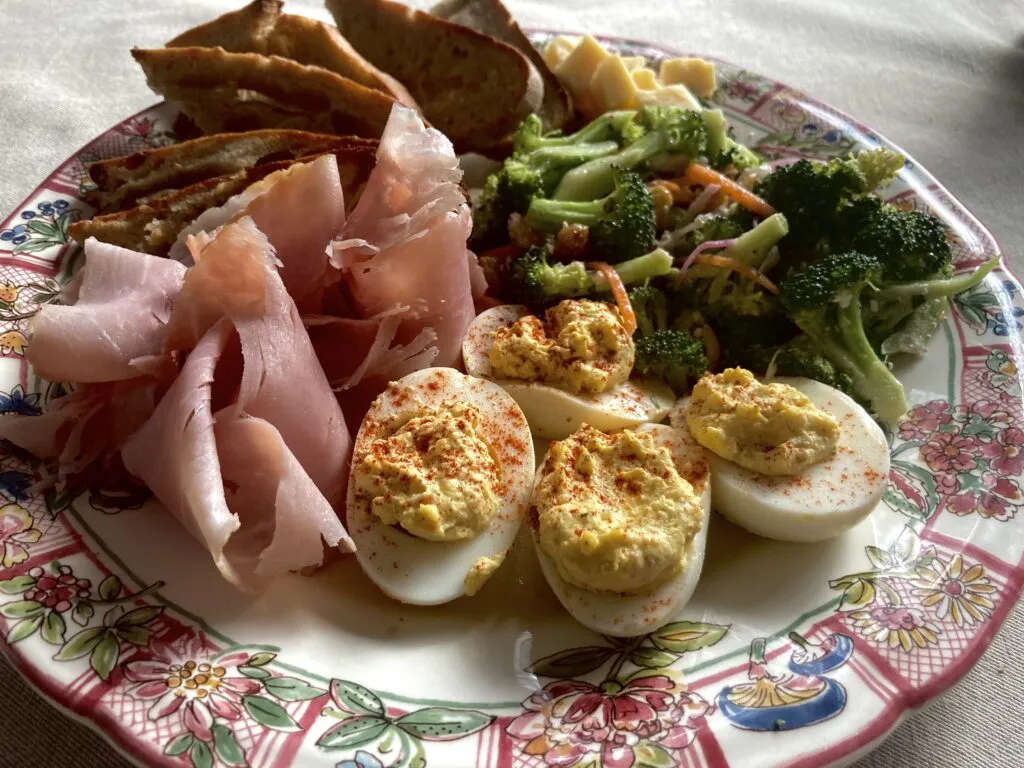 What to eat with Broccoli Salad:
Absolutely everything!
Wraps, sandwiches, and other salads
Grilled fish or other proteins
Buddha bowls
Roasted potatoes
Tips and Substitutions
As I said before, the highlight of this dish is all the textures..plus the yummy lemon-mayo sauce! I tend to dress my salad on the lighter side, however, feel free to double the sauce recipe and add as much as you like.
If you don't have raisins on hand, other dried fruits like cranberries, dates, or prunes will work.
If you have no use for the broccoli stems, don't throw them away! They provide another crisp, crunchy texture to the salad when chopped into matchsticks or thin slices. Actually, the stem is my favorite part of broccoli stir fry!
It may sound strange, but I occasionally enjoy these Garlicky Croutons in my broccoli salad. I add them just as we are about to eat–if I were to leave them in for more than an hour or so, they get a little soggy. And we arent making Panzanella!
The note to self I've finally made after making broccoli salad a zillion times: Always use a bowl way larger than you think you'll need! To get all the flavors married and happy, you'll need to do some mixing so save yourself the cleanup heartache by using a massive bowl.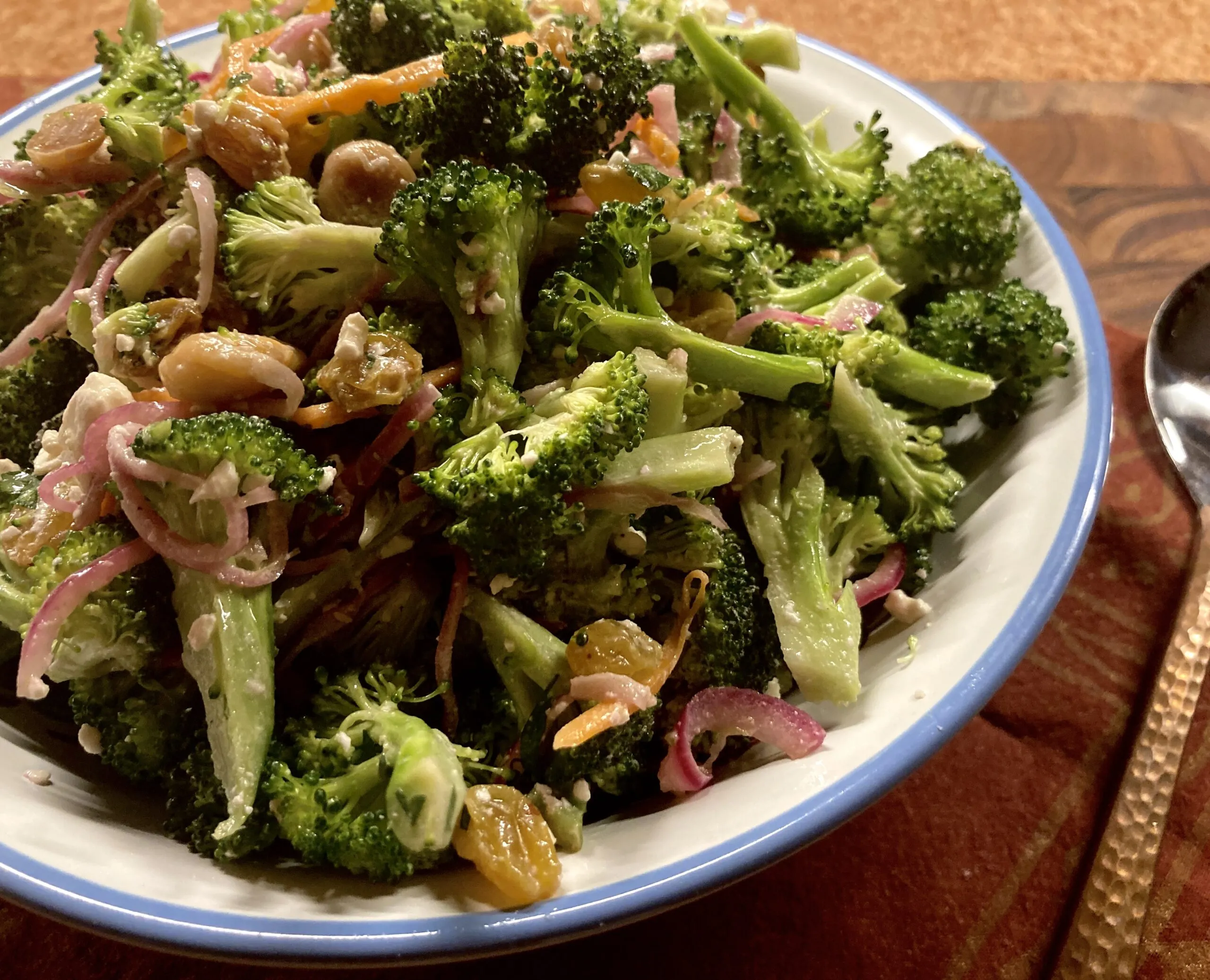 Print Recipe
Ingredients
1 pound or 1-2 heads broccoli, cut into ½-1 inch florets (you can julienne the stems or save them for another dish!)

2 carrots, peeled and julienned

½ cup golden raisins

½ cup almonds, or sunflower seeds

½ cup red onion or shallot, thinly sliced half-moons

⅓ cup feta cheese

1.5 tablespoons red wine vinegar

1 tablespoon lemon juice

¾ cup mayonnaise, or olive oil

1 teaspoon sugar

Salt and pepper to taste
Instructions
1
Wash and cut the broccoli into ½-1 inch florets. Julienne the stems, if using, and the carrots. Add the broccoli to a large bowl, salt to taste, and lightly massage. Set aside.
2
Prepare the raisins by placing them in a bowl with enough boiling water to barely cover, then add a tablespoon of lemon juice. Set aside.
3
Prepare the onion or shallot by slicing it into half-moons. Place into a small bowl with a pinch of kosher salt and enough red wine vinegar to barely cover. Set aside.
4
Make the dressing by combining the 1.5 tbs red wine vinegar, ¾ cup mayonnaise, 1 tsp sugar, and a pinch of salt and pepper.
5
Combine the ingredients in a large bowl, mix, and serve. Enjoy!