This Hibachi Ginger Sauce recipe is the closest thing I have found to Japanese steakhouse ginger sauce, and it's so easy! Fresh simple ingredients blended into a harmonious tangy flavor. Hibachi ginger sauce is incredibly versatile–enjoy it on a fresh salad, sauteed vegetables, grilled meat, fried rice, and homemade spring rolls. It can double as a delicious marinade for steak and mushrooms–the possibilities are endless!
How to make Hibachi Ginger Sauce
This recipe is very simple, made almost effortlessly with a food processor or blender. Just combine all the ingredients in a blender: onion, ginger, garlic, soy sauce, rice wine vinegar, lemon juice, honey, dark soy sauce, and black pepper. Pulse until it is to your preferred consistency. And that's it!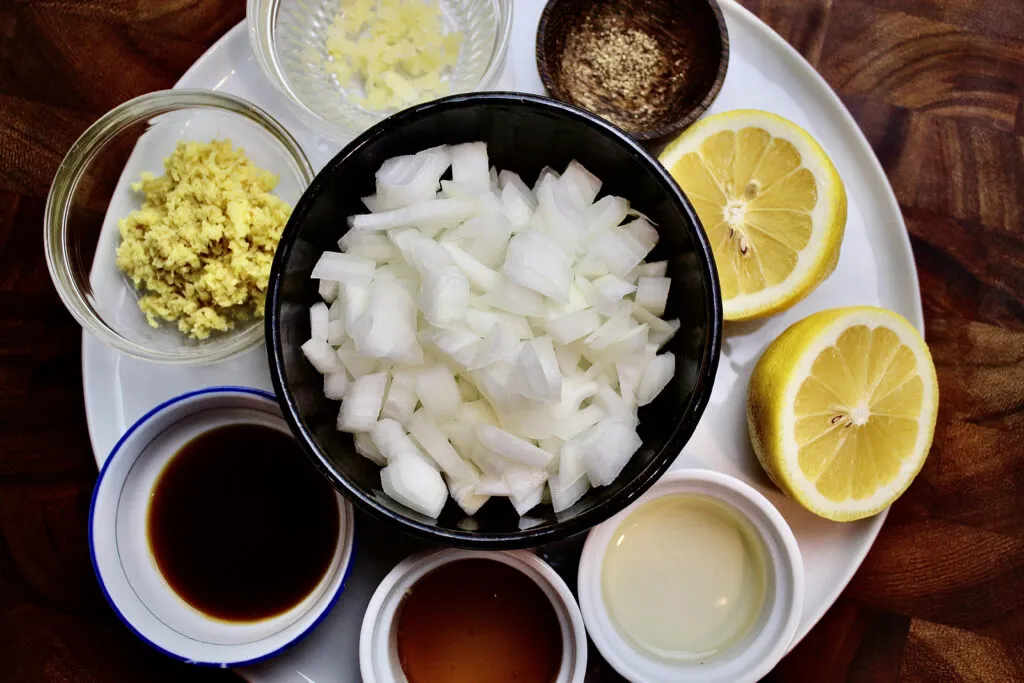 Tips for making Homemade Ginger Sauce
Let sit in the refrigerator at least 30 minutes before serving–this gives it some time for the flavors to meld.
If you have dark soy sauce, it will make all the difference with a darker color and deep intense flavor. If you don't no worries, just use regular/light soy in its place.
Shallots are a great way to improve upon this recipe–they have a milder, more balanced flavor than strong onions.
What to eat with Ginger Sauce
Any type of stir fry and rice
Steamed vegetables
Spring rolls
Use it as a dressing for a fresh salad
Use it as a marinade for grilled meat and vegetables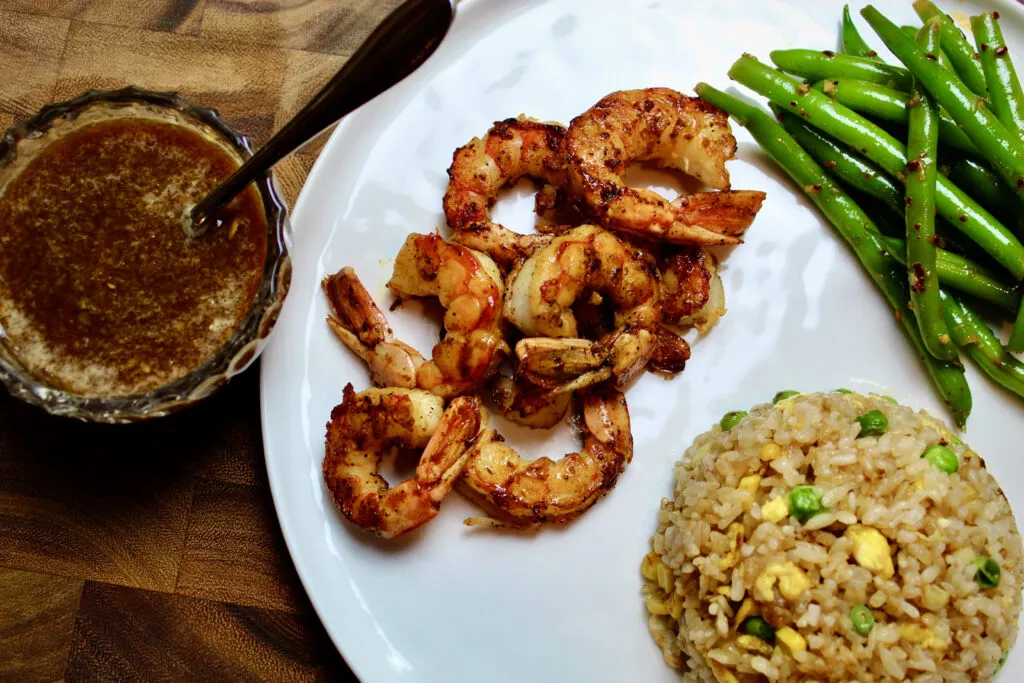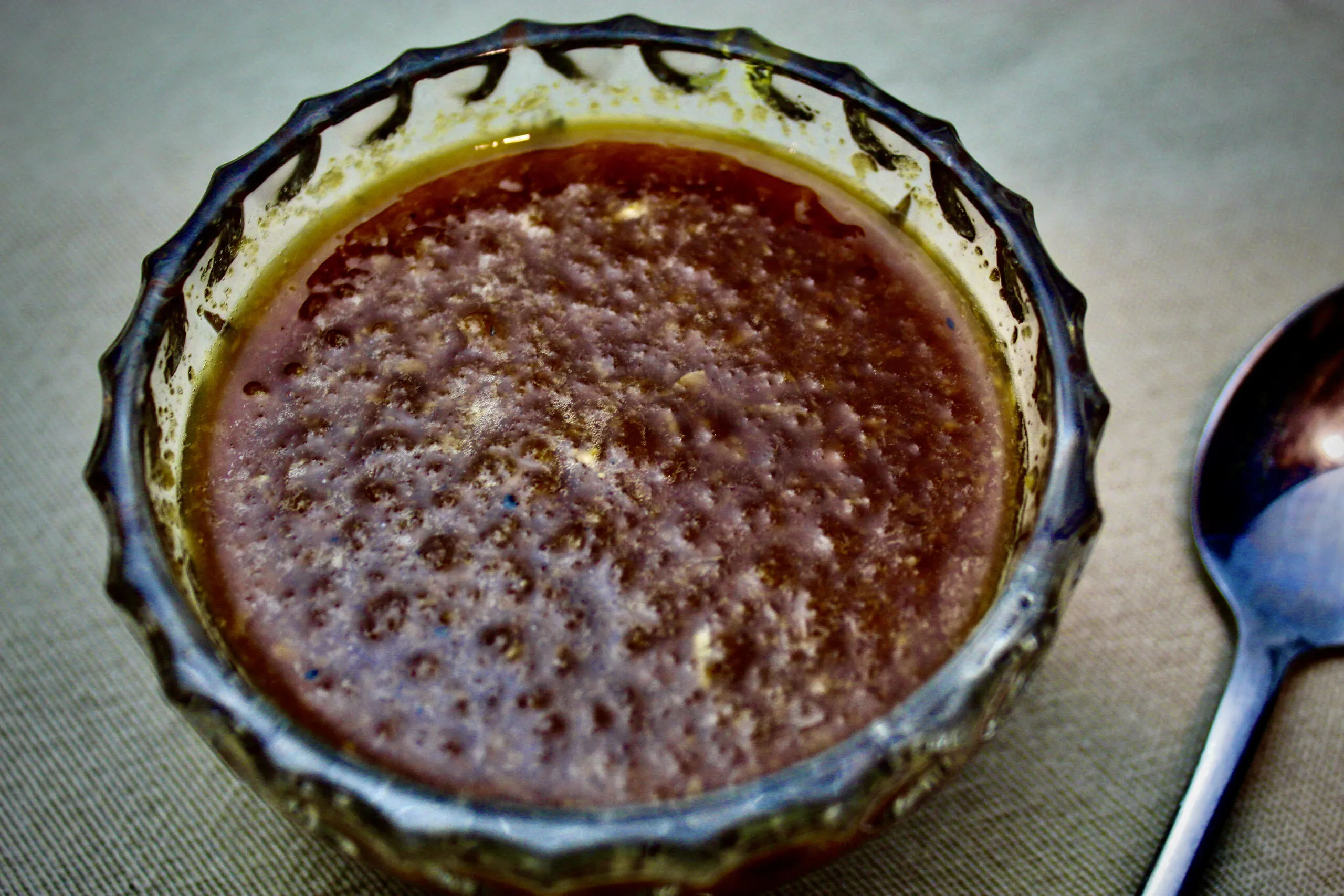 Print Recipe
Hibachi Ginger Sauce
Learn how to make homemade ginger sauce--it's the closest I've found to Japanese steakhouse ginger sauce and it's incredibly easy. All you need is a blender!
Ingredients
1 small onion, chopped
2 tablespoons freshly grated ginger
2-3 cloves of garlic, chopped
1/4 cup soy sauce
3 tablespoons rice wine vinegar
1 tablespoon lemon juice
2 tablespoons honey
1 teaspoon dark soy sauce (or substitute regular soy sauce)
1/4 teaspoon ground black pepper
Instructions
1

Combine all ingredients in a blender or food processor and pulse until it reaches your desired consistency. If you feel it needs a little salt, add more soy sauce as needed.

2

Let marinate in the refrigerator for 30 minutes-1 hour for the best flavor. Even better overnight!
Nutrition
24 Calories

5.1g Carbohydrates

0.1g Fat

0.4g Fiber

0.6g Protein

355mg Sodium

3.6g Sugar