Crispy rice, toasted sesame seeds, and an out-of-this-world tuna salad filling. This Spicy Tuna Salad Onigiri (Japanese Rice Ball) is seriously one of my guilty pleasures for a quick lunch. I love all the textures you get from such simple ingredients. The outer layer of rice gets brown and crispy from the butter, while the rice on the inside remains soft and pillowy. I hate to say it, but the best thing about this tuna salad onigiri is the spicy sriracha-mayonnaise sauce that you mix into the filling–creamy, spicy, and delicious!
If you're a person that agonizes over tuna brands, you've come to the right place. I've spent hours looking at canned tuna in the grocery store trying desperately to find the safest, most sustainable option. I finally sat down and did my research, on How to Choose the Best Canned Tuna. I learned the differences between different types of canned tuna, tuna species, and eventually landed on a favorite brand.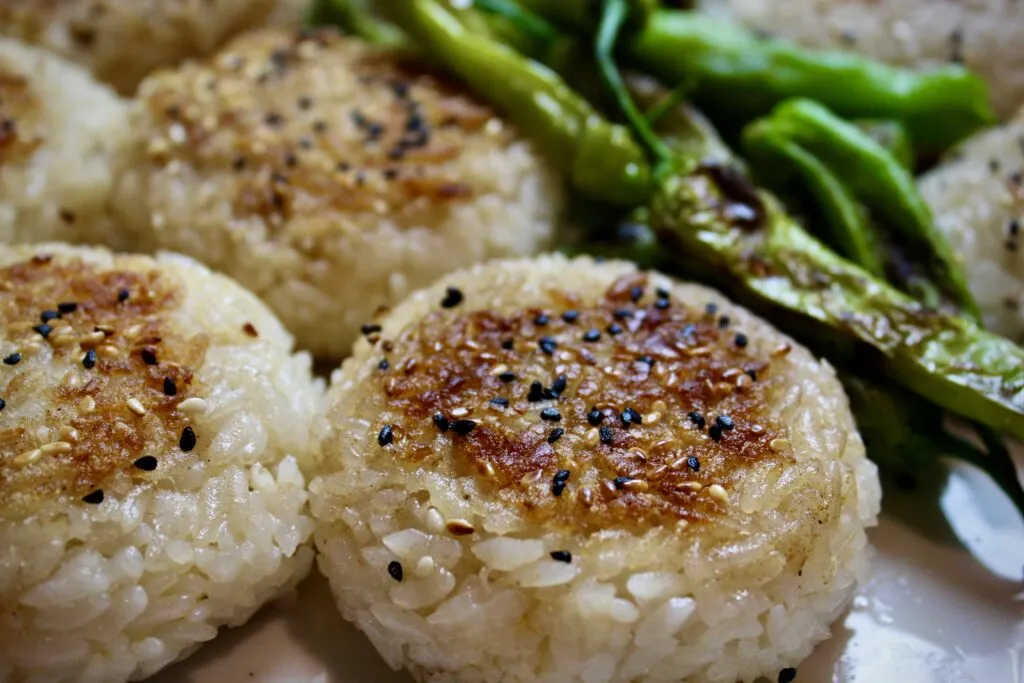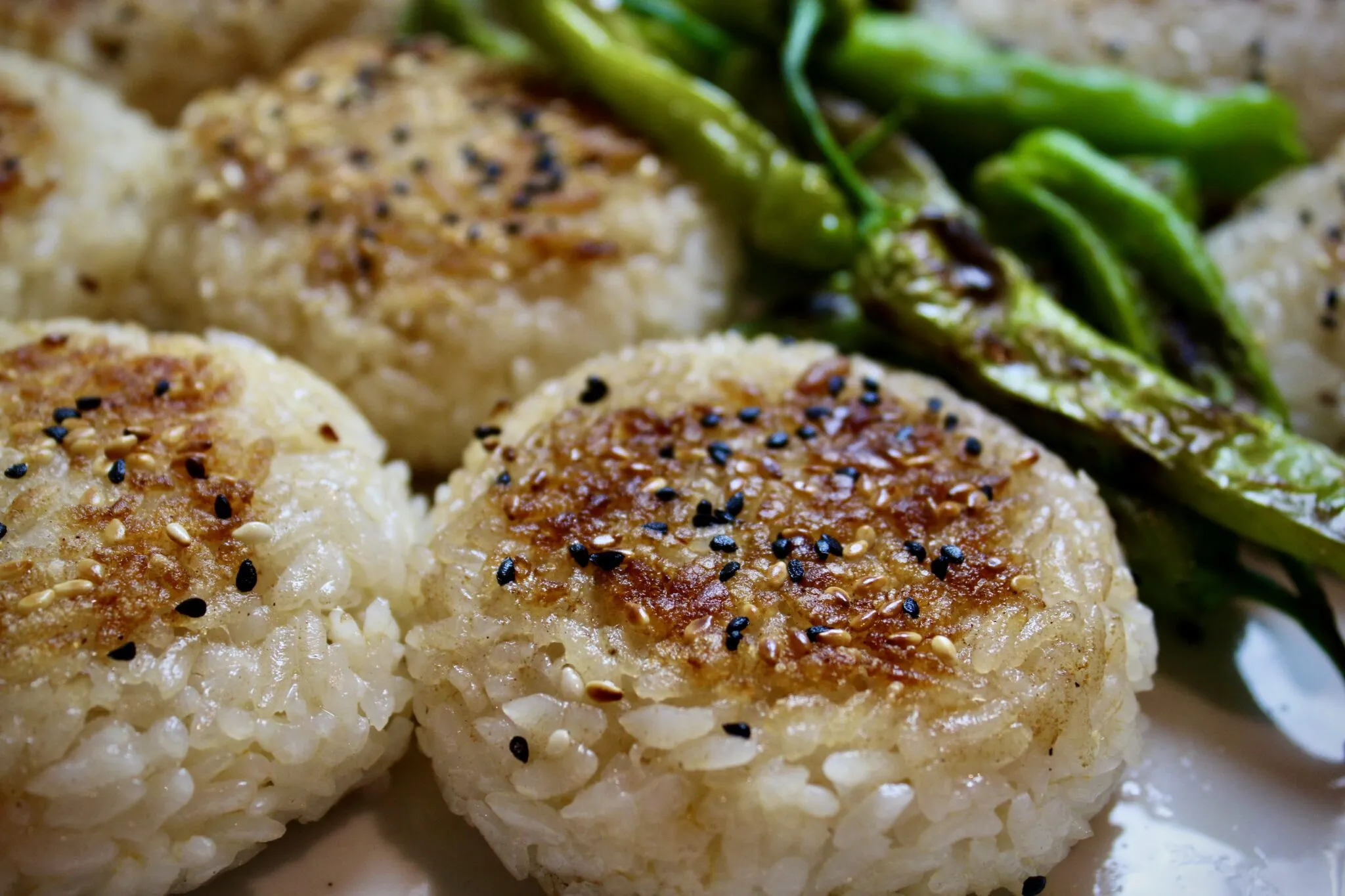 What makes a Japanese Tuna Salad?
If any distinction for Japanese Tuna Salad could be summed up in one word, it would have to be..KEWPIE. Kewpie is a Japanese brand of mayonnaise prevalent throughout the cuisine but has been gaining steady traction worldwide. Understandably, this mayo is gaining popularity for a reason–it tastes so much creamier and rich than Hellman's or Duke's (sorry, I guess this only applies to folks in the US!). The real secret here is that Kewpie is a yolk-based mayonnaise which explains why it feels so much richer and full flavor. The whites in the other brands create a little more airiness and mildness in the texture and flavor.
You can certainly tell a difference between Kewpie and other mayonnaise brands, but I still interchange them regularly at my house and can't say that I am ever disappointed! It really comes down to balancing the flavors correctly.
What to eat with onigiri:
Blistered shishitos
Steamed and salted edamame beans
Pickled radish
Cucumber pickle
Kimchi
Sauteed or steamed vegetables
Egg salad
Can I freeze tuna salad onigiri?
Yes! You know we are all about convenience here, so this theory was put to the test. Although onigiri will keep for a year in the freezer, I would suggest eating it within 2-3 months.
Steps for freezing:
Lay them all out on a baking sheet with parchment papper. Make sure none of them are touching.
Let them set in the freezer for 3 or more hours.
Put them into a freezer bag or container and store for up to 3 months.
One tip! If you like your tuna very spicy, feel free to adjust the sriracha ratio. Or throw in some of your favorite hot sauce!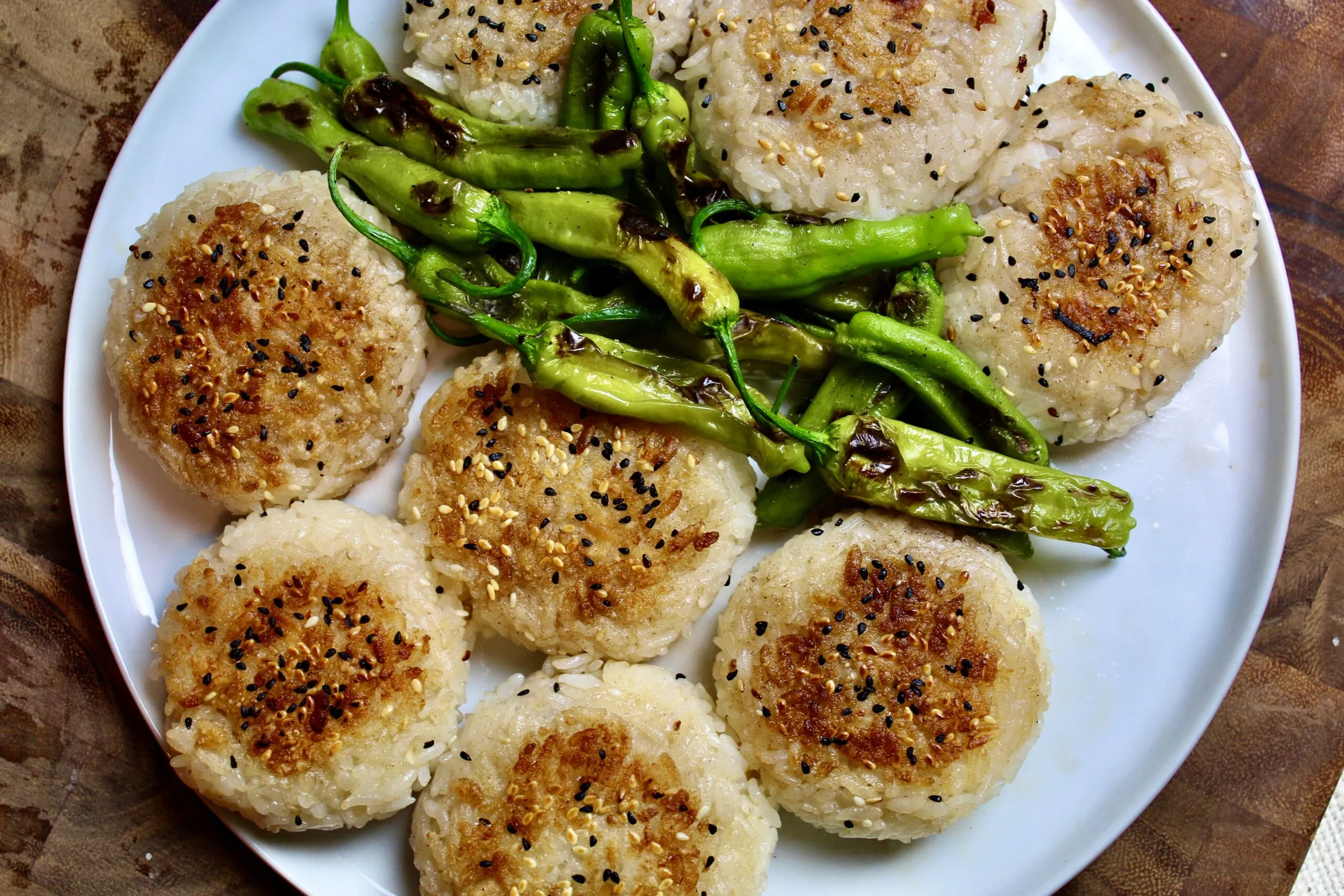 Print Recipe
Spicy Tuna Salad Onigiri (Japanese Rice Ball)
Ingredients
4 cups cooked rice (about 1 ½ cups dried to 2 cups water)
1 tablespoon rice vinegar
1 6oz can of tuna
2 tablespoons mayonnaise
1/2 teaspoon Sriracha sauce
1 tablespoon minced pickle
1 tablespoon minced onion
½ teaspoon lemon juice
¼ teaspoon grated garlic
1 teaspoon sesame seeds
Instructions
1

Cook the rice based on package instructions. The brand I use calls for 1 ½ cups of dry rice to 2 cups of water. Season with one tablespoon of rice vinegar.

2

In a small bowl, combine the tuna, mayonnaise, sriracha, pickle, onion, and garlic. Set aside.

3

To make the onigiri, you can use your hands, or a plastic mold if you have one. Be sure to have a bowl of water to rinse your hands in between making onigiri. You can portion the rice into ¼ cup sections, or simply eyeball it.

4

With wet hands, grab a handful of rice and pat it down until it's evenly dispersed across your hand. Place 1-2 tablespoons of filling in the middle and fold the rice over the filling. If it doesn't fully cover it, top it with a little more rice. Then, begin forming the ball into a nice, flat, hockey-puck-shaped disk. The flatter you can make it, the more crispy texture from pan-frying in butter.

5

Sprinkle with sesame seeds. Repeat step 4 for the other onigiri.

6

Once everything has been nicely formed, heat up a large pan over medium-low heat. When hot, place in the onigiri and cook until browned, about 2-3 minutes on each side.

7

When the onigiri are toasted to perfection, they are ready. Set aside to cool for a few minutes and enjoy!
Notes
We like to serve this onigiri with blistered shishitos, a vinegary cabbage salad, and an egg salad-like tartar sauce.