This Sweet Chili Sauce made with Fresno Peppers is simple, balanced, and packed full of flavor. A perfect dipping sauce for dumplings, sandwiches, noodles, and more. Although simple, the complexity all lies within the chemical interaction on your taste buds! Sweet, salty, sour, bitter, and umami tastes are all present in this recipe.
We've started harvesting more peppers on the farm, and one that has swiftly become a favorite in our kitchen is the Fresno pepper. It's super sweet (for a spicy pepper!) if you remove the seeds, and has a citrusy aftertaste that lends well to a hot sauce or pepper paste marinades. Hence, the Fresno pepper has by far become our favorite chili to use in the ever-loved sweet chili sauce!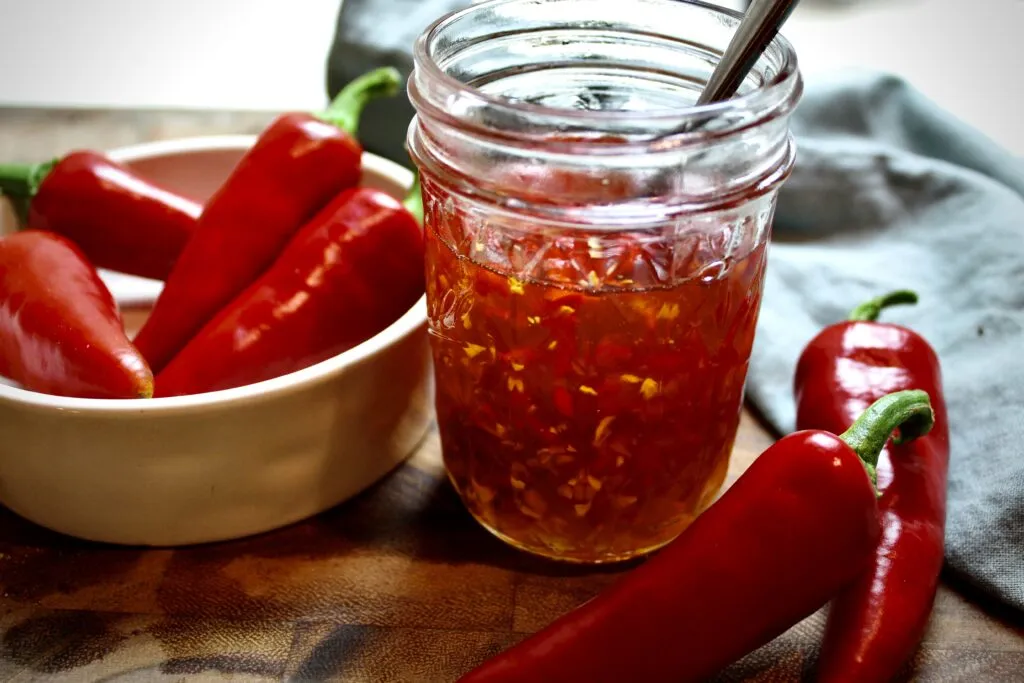 What to eat with Sweet Chili Sauce:
Spring rolls
Toast with chevre, or another spreadable cheese
Roasted potatoes or croquettes
Stir-fry
Dumplings
Chicken wings
Tips and Substitutions
If you have some on hand, kaffir lime leaves go a long way with the flavor of this sauce. Thinly slice 1-2 leaves and incorporate them with everything in the first step. They bring a bright, citrusy flavor to this sweet and savory chili sauce. You can find them in the frozen section of Asian supermarkets. I was lucky enough to find a Kaffir lime plant at one of our local farmers' markets and I've never had to purchase them in-stores since.
The consistency of the sauce is very important. You don't want any lumps or a watery sauce–should be thickened to a near syrup consistency. Just make sure when you add the cornstarch to the sauce, that it has been thoroughly mixed in the tablespoon of water. And then when the sauce is boiling, pour in the cornstarch and mix well. Stir for a minute or two, and let it cool.
If you're a pepper person, I think you might like this Shishito Pepper Steak recipe..it's definitely better than takeout!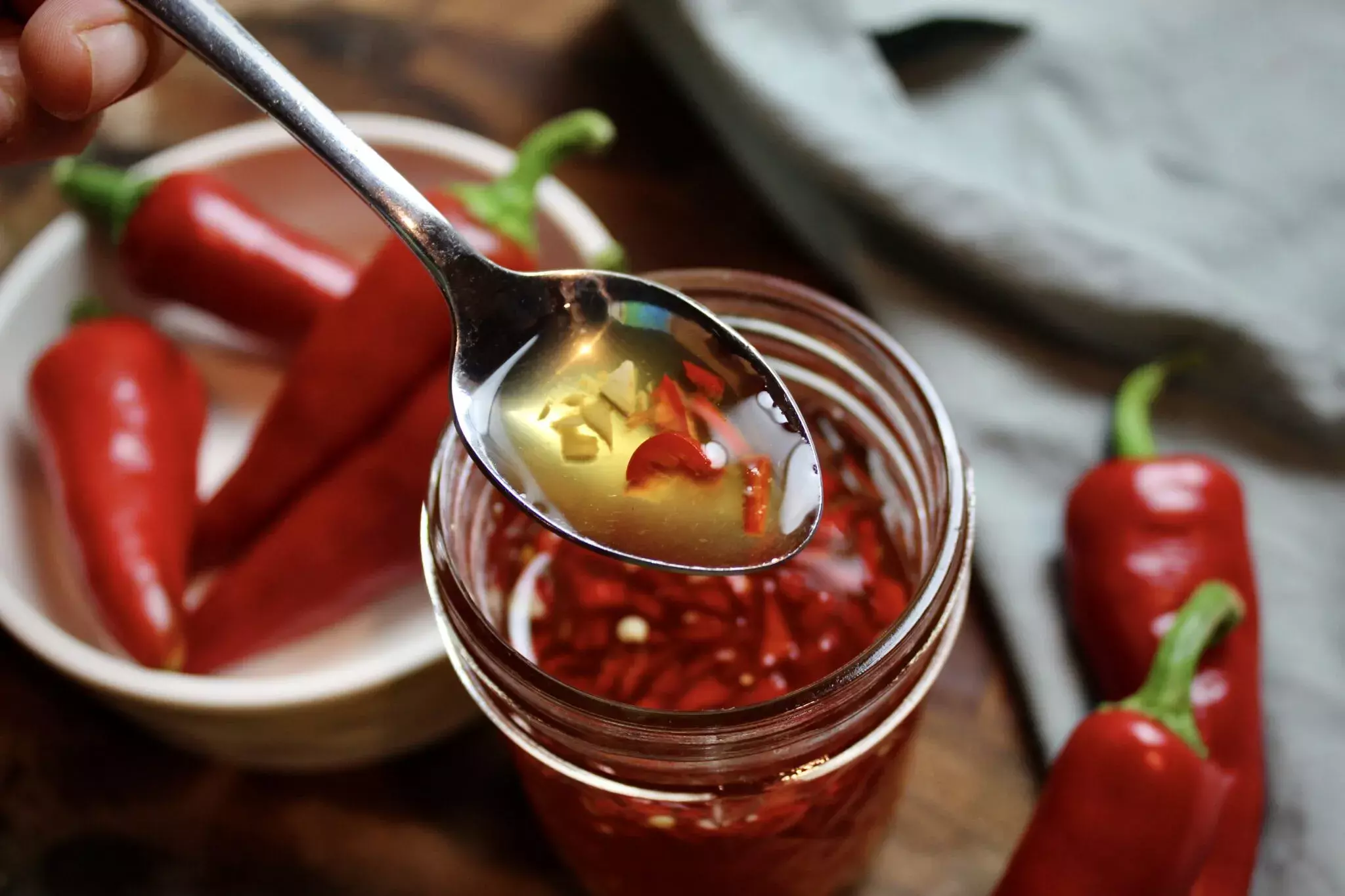 Print Recipe
Fresno Pepper Sweet Chili Sauce
Ingredients
¼ cup water

¼ cup honey

¼ cup rice vinegar

1 ½ tablespoon minced chili pepper (we used Fresno) *for mild sauce, remove most of the seeds; vice versa for spicy

2 garlic cloves, minced

1 teaspoon grated ginger

2 teaspoons soy sauce

1 teaspoon cornstarch dissolved in 1 tablespoon of water
Instructions
1
Combine everything except for the dissolved cornstarch into a small pot. Bring to a boil and then lower back to a simmer, pour in the dissolved cornstarch, and stir until smooth, about 1 minute.
2
Let this cool and enjoy! I store this sauce in a half-pint jar, in the refrigerator, for up to two weeks.