This Thai Basil Chicken is the perfect low-carb, meal prep dish & satisfying weeknight dinner! The savory, sweet, and spicy flavor completely transforms cauliflower rice without sacrificing on health and nutrition. The use of ground chicken makes all the difference–the increased surface area leaves room for the flavors to absorb creating a super tasty protein that you could eat purely by itself. That's why I love it for meal prep and weeknight dinners. Plus, it takes less than 10 minutes to cook once you have all the ingredients prepared!
How to Make Thai Basil Chicken
The key to preparing this dish is using high heat to brown the chicken without it losing moisture. Woks are great, but you can also use steel or cast iron; avoid nonstick pans as the high heat can denature the coating. Just drizzle a little neutral oil into your pan, turn the burner onto high heat, and wait until you start seeing a little smoke. Gently place in the chicken and onion and toss often. Once the chicken is browned, you can toss in the garlic for a minute and then the sauce. From there, it should only take about 2 minutes for the sauce to thicken and flavor the dish. Throw in the basil and as many chilis as you can bear!
Add More Toppings
Here's a short list of toppings to take this Thai Basil Chicken to the next level:
Fried Egg (fried over high heat in a wok with neutral oil)
Sauteed or steamed veggies like green beans, broccoli, cabbage, etc.
Fresh or pickled cucumbers
Lettuce and perilla/shiso (not as a topping, but for making small wraps)
Chili crisp, chili oil, dried chili
Cilantro or culantro
Substitutions
If you don't have access to Thai basil, you can use regular Genovese basil. Italian basil isn't as sweet, but still worth using if in a pinch.
If you aren't big on spice, you can omit the chilis and add another type of pepper that suits your preferred heat level. Red jalapenos are great, or red bell peppers for the mildest option.
Making it Low-Carb
I've been testing out high-protein meals like this that mix well and flavor carb alternatives. Plain ole cauliflower rice isn't the most appetizing thing in the world, but with a flavorful sauce and savory protein, it's delicious! Plus, it makes for a quick and simple base for any protein, salad, or roasted veggies. One of my favorite dishes to make with cauliflower rice is blackened chicken (or fish) with roasted peppers, steamed spinach, and a creamy mustard vinaigrette. Depending on how far you take no carb, you may want to avoid extra sugars that are present in a lot of dressings, like honey mustard and ranch. This recipe even calls for a little sugar in the sauce, but it's easily omitted.
Try These Other Low-Carb Recipes: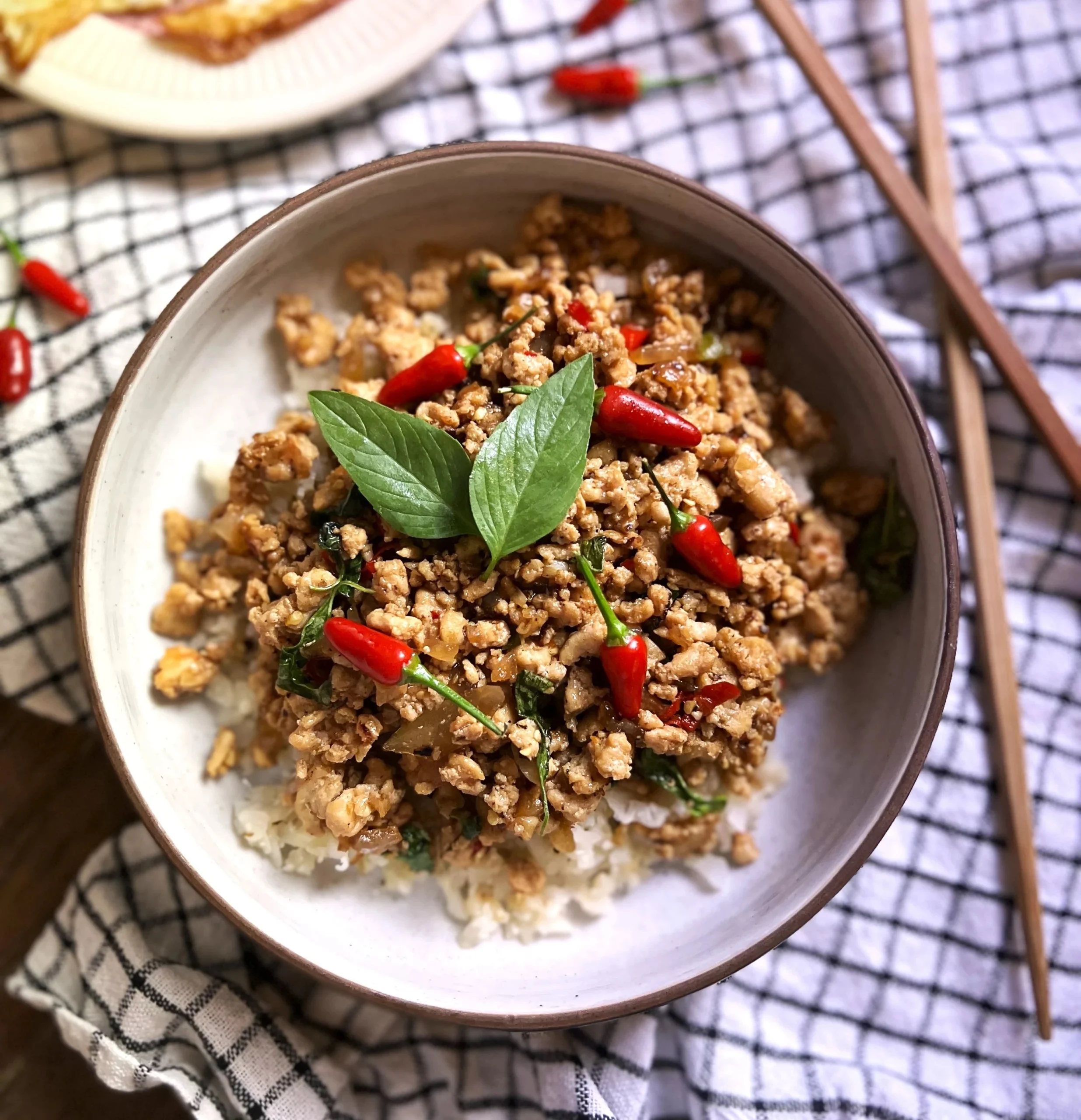 Print Recipe
Thai Basil Chicken with Cauliflower Rice
A savory & spicy flavor bomb! This quick, low-carb recipe makes for the perfect meal prep dish. It takes less than 20 minutes to make, is packed with 71 grams of protein per serving, and is absolutely delicious. Make it as mild or spicy as you like.
Ingredients
INGREDIENTS
For the Thai Basil Chicken
1 lb chicken
1/2 large onion, finely chopped
4-5 large garlic cloves, minced
1/4 cup oyster sauce
2 tablespoons soy sauce
2 tablespoons fish sauce
1 tsp rice syrup, or 1/2 teaspoon of sugar (omit this if you like)
Juice of half a lime
1/4 cup of loose Thai basil leaves (you can substitute with any variety of basil)
Minced fresh red chili (use as little or as much as you like!)
For the Cauliflower Rice
1 package of frozen cauliflower rice
Instructions
1

Add the frozen cauliflower rice to a pan and cook on medium low until the cauliflower is tender and the moisture has evaporated (~7-10 minutes). Add a sprinkle of salt, to taste.

For the Thai Basil Chicken

2

Make the sauce by combining 1/4 cup oyster sauce, 2 tbs of soy sauce, 2 tbs of fish sauce, 1 tsp rice syrup, and lime juice in a small bowl.

3

Heat a large pot over high heat until very hot--you'll want to see a little smoke coming off of the pan.

4

Add in a drizzle of neutral oil and the chopped onion and chicken. Toss often for about 3 minutes, or until the chicken is browned. Then, add in the garlic and chilis (if using) and toss for another minute.

5

Add in the sauce and continue tossing for another 1-2 minutes, until the chicken is fully cooked.

6

Turn off the heat and toss in the basil leaves.

7

Serve on a hot bed of cauliflower rice for a healthy, low carb meal!
Nutrition
601 Calories

38.8gg Carbohydrates

175mg Cholesterol

17.4g Fat

3.4g Fiber

71.5g Protein

4.1g Saturated fat

1668mg Sodium

6.7g Sugar
Notes
A great meal prep recipe! Store in the fridge for up to 4-5 days.