This Avocado Mayo recipe has resolved so much of my guilt when I make egg salad, ranch dressing, and whatever concoctions I end up using it for. I used to buy storebought, vegetable oil-based mayo which is hugely convenient–but when you make this avocado mayo once, you'll see how easy it really is.
Is Avocado Mayo healthy?
Most importantly, when you make homemade mayonnaise you can replace all the saturated vegetable oil fat with heart-healthy unsaturated avocado fat. This monounsaturated fat, made primarily of oleic acid, is proven to reduce "bad cholesterol" (LDL) levels and increase "good cholesterol" HDL.
Vitamin E is present in avocado oil with 3.5mg of Vitamin E per tablespoon of oil. A productive antioxidant, Vitamin E helps combat free radicals in the body generated from everyday oxidative stress. Eventually, this stress can lead to cell mutations, chronic disease, and aging; so vitamin E is paramount for good preventative health!
Avocado oil is also said to increase the bioavailability of other fat-soluble vitamins it contains such as Vitamin A, K, and D.
How to Make Avocado Mayo:
There are 3 ways to make this mayonnaise:
Bowl & Whisk – I believe this is the best way to learn how to emulsify a mayonnaise if it's your first attempt. Plus, I think it's more enjoyable and hands-on!
Stand Mixer or Hand Mixer – Both very easy, convenient, and effective options
Vitamix – I definitely use this method in a time pinch, plus it's a much easier clean-up since blenders are nearly self-cleaning. (If you've not cleaned your Vitamix this way–it's a game-changer! Just rinse it out, throw in a small squeeze of dish soap, and fill it halfway. Blend on high for 30 seconds and rinse again. Literally as easy as putting it in the dishwasher.)
That being said, the basic process is the same for all methods:
Combine the egg yolks, acid (vinegar and/or lemon juice), and salt and whisk/beat/mix until completely uniform and almost creamy.
Then slowly, drip by drip, begin adding in the avocado oil while continuously whisking.
About a third of the way through, you'll begin to see it thicken which means the fats are emulsifying with the acid. You can then begin to stream in the oil a little more at a time–once it's successfully emulsified it's much harder to mess up.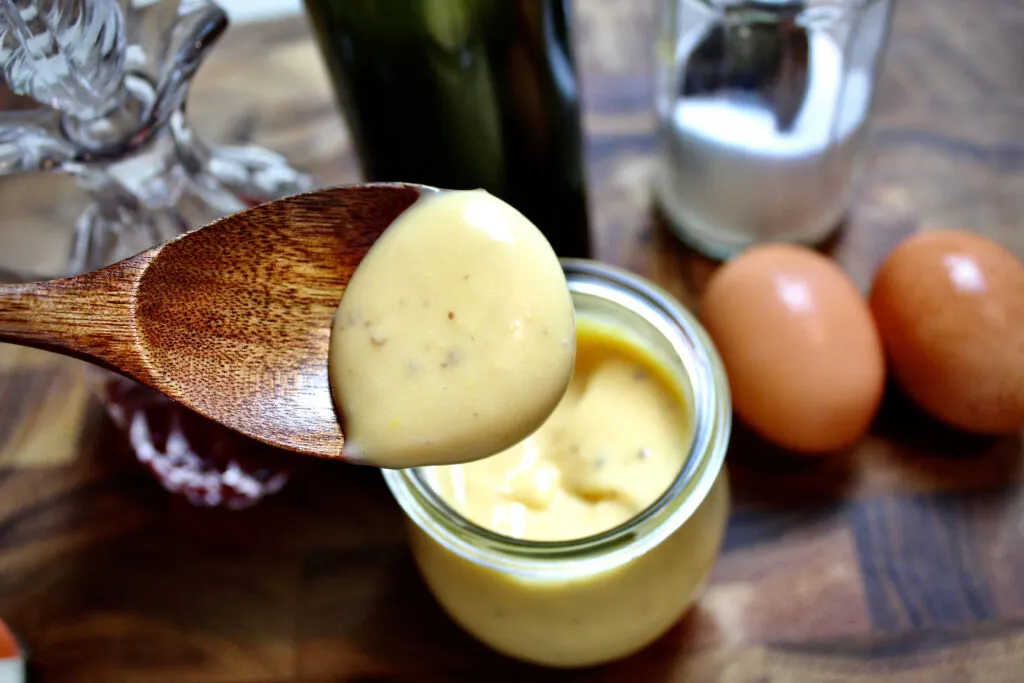 How long does homemade mayo last?
We normally try to use ours within a week, but theoretically, homemade mayonnaise could last over two weeks when stored properly in the fridge.
What to Make with Homemade Avocado Mayo
Egg Salad
Potato Salad
Sandwiches
Wraps
Dressings
Dips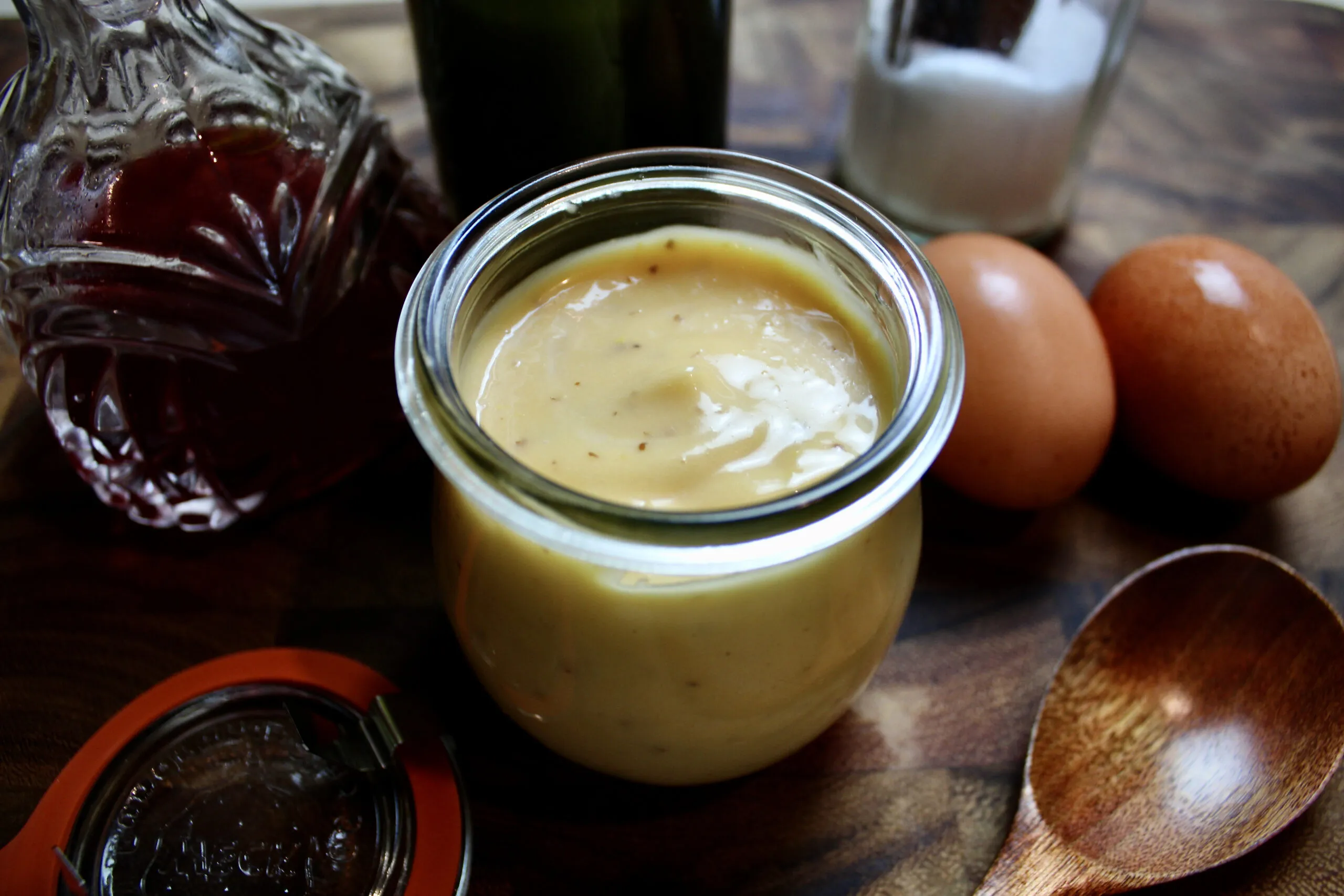 Print Recipe
Avocado Mayo
Creamy, tangy, and full of flavor. Perfect for sandwiches, dips, salads, and much more!
Ingredients
2 egg yolks
1 tablespoon vinegar or lemon juice (I used red wine vinegar and a little lemon juice)
1 teaspoon salt
2 teaspoons dijon or whole grain mustard
1-2 garlic cloves (I used some I had from garlic confit)
3/4 avocado oil
Instructions
1

Combine the egg yolks, vinegar and/or lemon juice, and salt in a medium-size bowl. Whisk or blend for 30 seconds, or until uniformly mixed.

2

Slowly dribble 1/4 cup of the avocado oil into the egg mixture, whisking constantly until it begins to emulsify.

3

After it's emulsified, you can begin pouring the rest in a slow steady stream while continuing to whisk.

4

Taste and adjust for salt!
Nutrition
54 Calories

2g Carbohydrates

52mg Cholesterol

4.9g Fat

1.3g Fiber

1.1g Protein

1.2g Saturated fat

308mg Sodium

0.1g Sugar