Rich, creamy, and delicious! This Savory Zucchini and Potato Tortino was adapted from Pellegrino Artusi's 'Science in the Kitchen and the Art of Eating Well'. Published in 1891, it still remains one of the most significant Italian cookbooks of modern times. This book is rich with the history of Italian cooking techniques, tools, and most importantly, the mindset of an Italian cook. Everything is simple, fresh, and seasonal.
The History of Zucchini and Potato Tortino
If you wish to view the original recipe, Artusi called this dish "Tortino di Zucchini", or "Tortino di Patate". You can find both versions on page 319 of his cookbook. Although many of the recipes don't have ingredient lists or detailed instructions, they provide the necessary basics to recreate centuries-old dishes in your modern home! This Tortino di Zucchini e Patate recipe combines the soft velvetiness of roasted zucchini with the starchy creaminess of potatoes. I could seriously eat this and toasted bread every day in the summer!
Tips & Substitutions
The first time I ever made this dish, I made a mistake. I mixed the bechamel sauce with the vegetables before baking instead of gently pouring it on the top so that it creates a creamy top, like in Greek moussaka. It came out like a creamy casserole–holy crap, so delicious! So the next time, I made it as intended with the bechamel layer remaining on top. This resulted in more of a separated consistency that you might look for in a side item to a meal. Also absolutely delicious.
If you are preparing this dish as an appetizer with bread, I suggest mixing all the components before you bake it.
If you have leftover zucchini you're not sure what to do with, try out this refreshing Roasted Zucchini Dip recipe!
What to Eat with a Vegetable Tortino
Toasted Bread or Pita Chips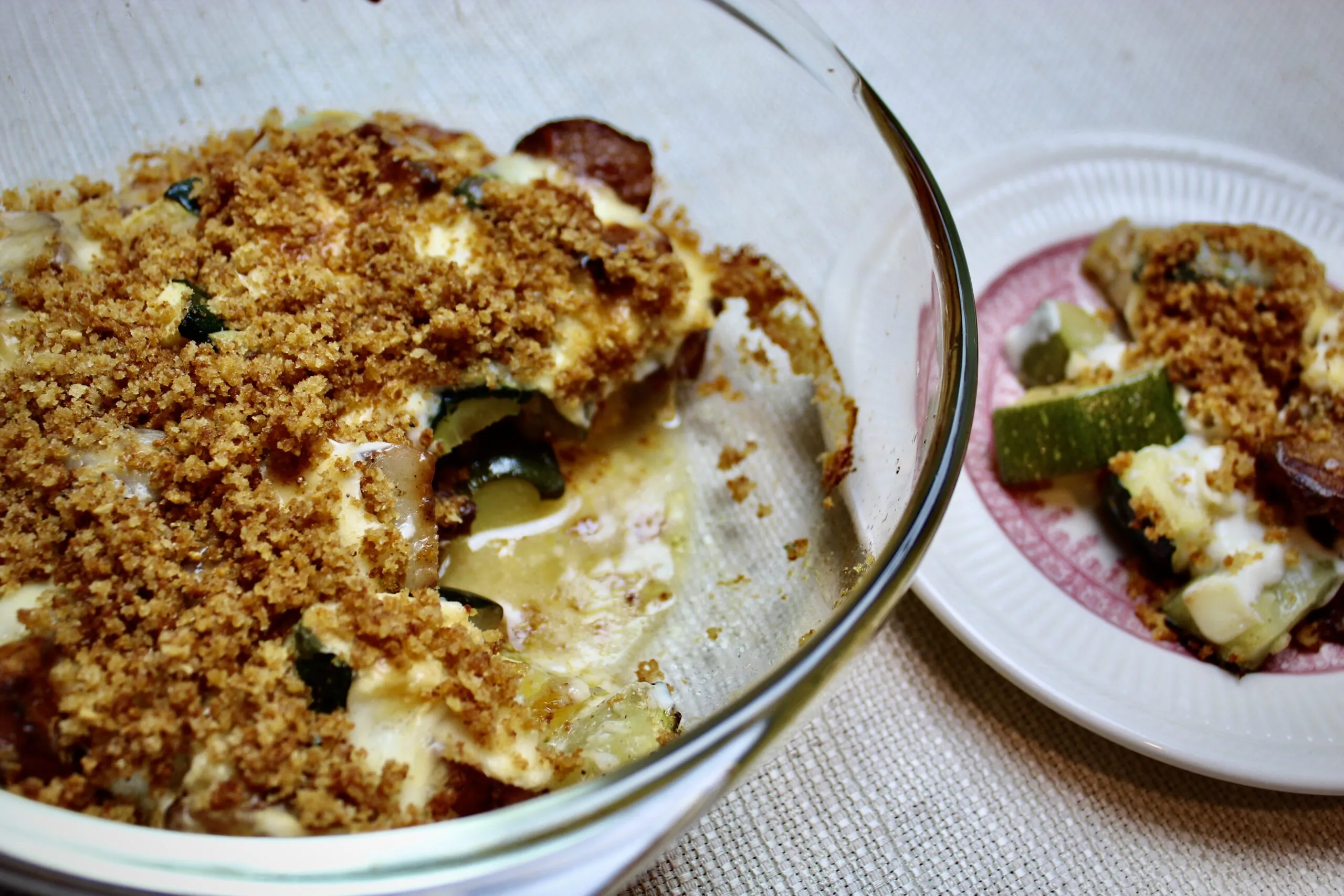 Print Recipe
Savory Zucchini and Potato Tortino
Baked zucchini and potatoes topped with creamy bechamel sauce and crispy breadcrumbs. Delicious on a crostini or served as a side dish with a meal.
Ingredients
1 tablespoon flour

2 tablespoons butter

1 cup milk, or cream

Pinch of nutmeg

1 tablespoon olive oil

2 cups zucchini, cut into 1" cubes

2 cups potatoes, cut into 1" cubes

2 cloves of garlic, minced

1 teaspoon of fresh thyme or 1/8-1/4 teaspoon of dried thyme

½ cup grated parmesan or pecorino romano cheese

¼ cup breadcrumbs (mix in some parmesan and herbs if you're feeling fancy!)

Salt and pepper to taste
Instructions
1
Preheat the oven to 375°F.
2
Then, make the bechamel sauce by melting 1 tablespoon of butter in a small saucepot over medium heat.
3
Toss in 1 tablespoon of flour. Stir and cook for 30 seconds.
4
Pour in all the milk at once, and whisk often until it comes to a boil and thickens. Turn off the heat.
5
Season with salt, pepper, and nutmeg. Set aside.
6
In a large skillet over medium heat, place in 1 tablespoon of butter and ~1 tablespoon of olive oil (so the butter doesn't burn through the sauteeing process).
7
Once melted, toss in the potatoes and cook, stirring occasionally, until golden brown, but not cooked through. About 3-5 minutes.
8
Toss in the zucchini and season the mixture with salt and pepper. Cook, stirring occasionally for another 3 minutes.
9
Toss in the garlic and thyme and cook until fragrant, about 1 minute.
10
Turn off the heat, and quickly toss in the parmesan so that it coats evenly.
11
In a medium-size (8-9 inches in diameter) oven dish, pour in all the sauteed vegetables and roughly level the top.
12
Pour the bechamel sauce on top and sprinkle with the breadcrumbs. (If you're making this as an appetizer with toast, mix the bechamel in before cooking for a creamier consistency throughout.)
13
Place the dish in the oven to bake for 45-60 minutes, or until the potatoes are cooked through.
14
If the crust isn't toasted to your liking, broil for 1-3 minutes on high.
Notes
If you plan on using it as a dip or toast topper, be sure to mix the bechamel into the vegetables before cooking instead of leaving it as a thick layer on top. This results in a creamier consistency throughout.