It's that time of year for Roasted Tomatoes! The plants are loaded with vine-ripened fruit ready to be preserved for the year to come. To me roasted tomatoes, is the second best way to eat tomatoes, just behind eating them straight out of the garden! The fresh acidity transforms into a sweet, rich umami that you just don't get from other fruits and vegetables. When blended, all the caramelized bits and soft fruit combine into a sweet, flavorful sauce that can literally stand on its own as soup. So delicious , yet incredibly simple–much like any dish you'd find in the rustic kitchens of Italy.
You just can't beat the flavor of a fresh, naturally ripened tomato–the same goes for roasted tomatoes or tomato sauce made from real ripened tomatoes. I like to combine the two and make canned roasted tomatoes, that way we can still enjoy the taste summer throughout the dreary days of winter. It makes those nights when you don't feel like cooking an absolute breeze–just boil a pot of pasta, toss that into your sauce, and top with some parmesan cheese. You can also substitute them for fresh tomatoes in nearly any dish that calls and seriously heighten the flavor.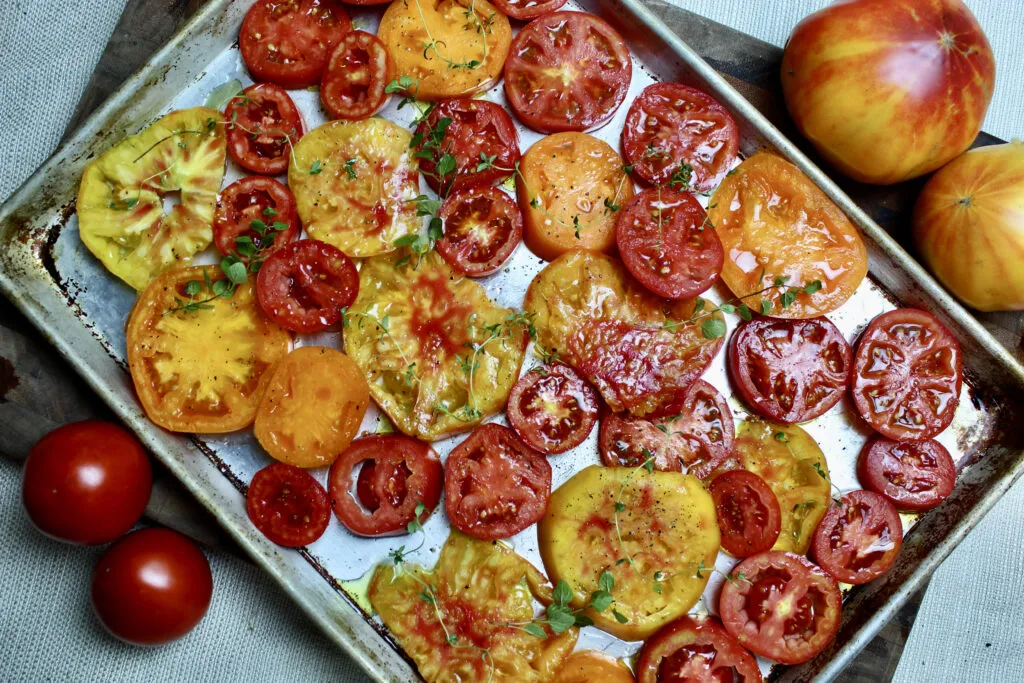 How to Roast Tomatoes
There are two ways to roast tomatoes: low and slow or hot and fast. Often times, I'm in a hurry for dinner so I lean towards the hot and fast, which is about 40 minutes-1 hour at 400°F depending on the size of the tomato. For low and slow, you can roast them for 2-8 hours depending on the temperature (200-300°F)–I highly recommend trying this if you have the time!
Both methods achieve a deliciously sweet, umami flavor through a process called the Maillard Reaction. Basically, the sugars and amino acids in the tomato transform with heat to produce new molecules that are noted for a caramelized, umami flavor.
Types of Tomatoes
Slicing tomatoes: These are some of the best you can use as you can find heirloom varieties with varying colors and acidity. I normally cut them into 1/2-1 inch slices–if you need them to roast faster, lean towards thinner slices.
Roma Tomatoes: These are great for roasting because they have thicker walls and more tomato "meat". If you can find the San Marzano variety at your local farmers market, you're in for a treat! You can roast them by cutting them in half and placing them skin-side down on the tray.
Campari Tomatoes: Perhaps the best tomatoes for roasting because of their high sugar content and thick walls. The goes for them as Romas, just cut them in half and lay skin-side down on a baking sheet.
Cherry Tomatoes: These you can leave whole. There are several varieties of cherry tomatoes but I think the Supersweet 100's and Sungolds make the best roasted tomatoes. The Sungold variety is a yellowish orange and boasts incredible sweetness. I'll be posting a recipe using this variety for a Roasted Sungold Tomato Sauce.
All the Trappings of a Perfectly Roasted Tomato
You basically need just two items to roast tomatoes: olive oil and salt (don't skimp on the olive oil). However, here's a list of other ingredients you can add to make them even more flavorful:
Herbs: especially basil, thyme, oregano, marjoram, and summer savory
Garlic: it's just too good of a complementary flavor to leave out!
Balsamic vinegar: this will help balance the sweetness
Sugar: if you're using tomatoes that aren't completely ripe, a sprinkle of sugar will help develop more richness
Try your Roasted Tomatoes with these recipes:
Print Recipe
Oven Roasted Tomatoes Recipe
One of the best things about summer. Incredibly delicious and great in so many dishes; bruschetta, pasta, risotto, dips, hummus, salsa, the list goes on...What do you do with your roasted tomatoes?
Ingredients
5 large tomatoes
1/4 cup olive oil
1/2-1 teaspoon salt
3-5 sprigs of fresh herbs (thyme, basil, oregano, etc.)
3 cloves of garlic, minced or grated
Drizzle of balsamic vinegar, about 1 tablespoon *optional
Instructions
2

Slice your tomatoes into 1/2-1 inch thick slices and place on a large baking sheet.

3

Rub the minced/grated garlic onto the tomatoes.

4

Season with salt and drizzle with olive oil and balsamic vinegar, if using.

5

Top with sprigs of herbs and place in the oven for 40 minutes-1 hour, until lightly caramelized.
Nutrition
152 Calories

9.6g Carbohydrates

13.1g Fat

2.8g Fiber

2.1g Protein

1.9g Saturated fat

302mg Sodium

6g Sugar
Notes
Use your roasted tomatoes for an out-of-this-world bruschetta!