This Southern Potato Salad recipe is all you need for your next cookout, barbecue, picnic–whatever you call an outdoor summertime meal! The best part is, you can make it the night before and bank on it being even better the next day. Potato salad and cole slaw are dishes that only get better with a few hours in the fridge; let the flavors meld and you won't be disappointed!
How to Make Southern Potato Salad
Potato salad has 3 main steps:
Cooking the Potatoes: Cook the potatoes until they are fork-tender, not mushy. This way, you will have distinguishable chunks of potato amongst the dressing. Although, if you like your potato salad a similar consistency to mashed potatoes, you can stand to let them cook a little longer.
Making the Dressing: The dressing must be a balance of salty, tangy, and sweet. I tend to lean a little light on the sweetness and more on the tangy. The tanginess comes from the mustard and apple cider vinegar (use Bragg's with the mother if you can and reap some health benefits amongst all the mayonnaise!). Feel free to use whatever mustard strikes your fancy, but if you want a Southern style potato salad, you'll want to use yellow mustard. Also worth noting, potato salad is leagues better and healthier with homemade avocado mayonnaise!
"The two most powerful warriors are patience and time" – Leo Tolstoy | Let the flavors meld: Taste the night you make it and again the next day–I find that 16-24 hours brings all the flavors together.
Optional: Garnish the top with ground paprika and freshly chopped dill before serving.
What to Eat with Potato Salad
This Southern Potato Salad recipe is great for any meal that would benefit from a cool, tangy side dish; especially those with some sort of meat or protein.
Sandwiches
Any roasted protein served with a Kale Salad
Slow cooked beans; especially pinto beans
Boiled, baked, or fried seafood
Fried Chicken
Cookout foods like baked beans, cole slaw, hushpuppies, hamburgers, hot dogs, etc.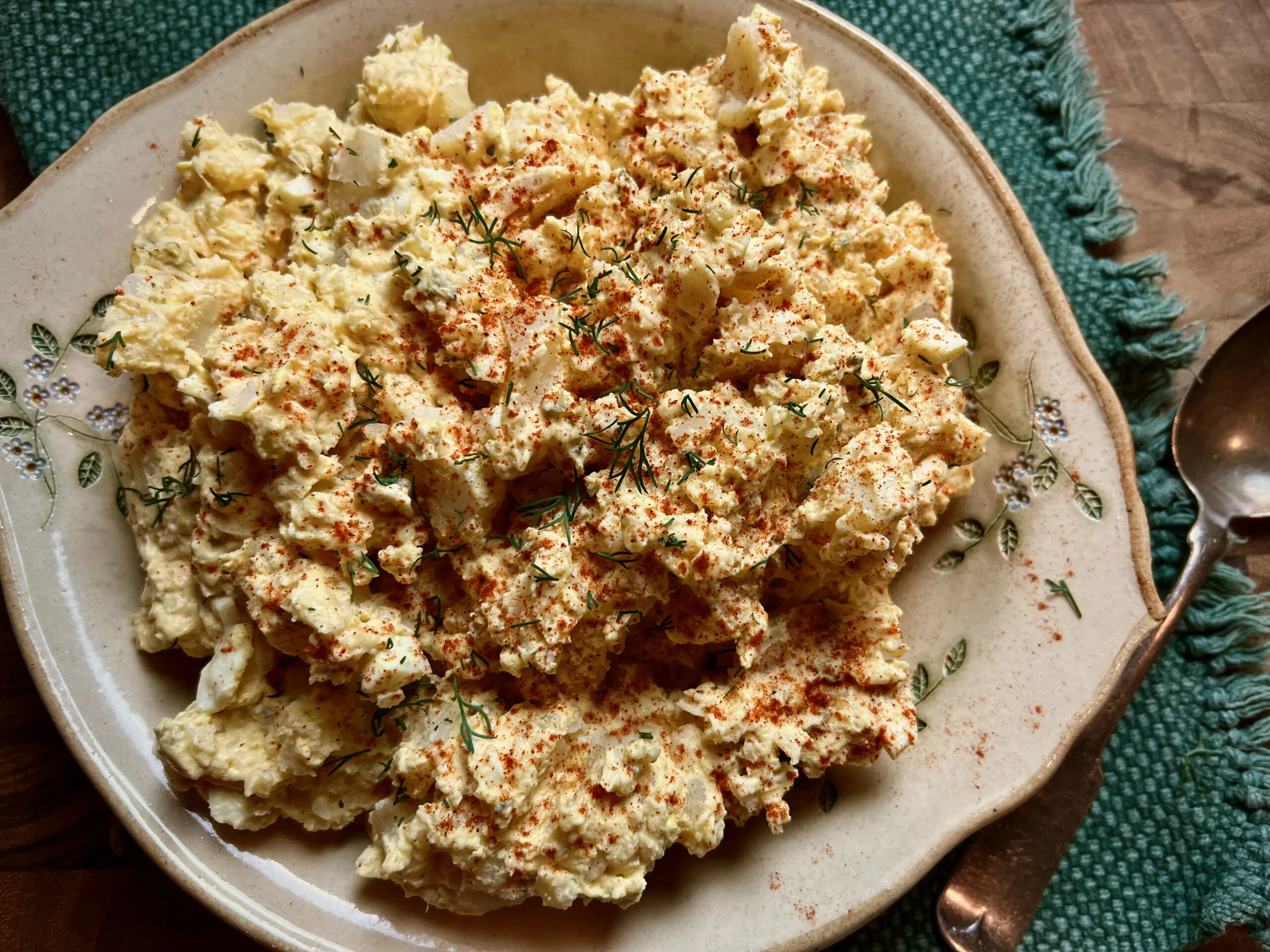 Print Recipe
Southern Potato Salad
This Southern Potato Salad recipe is delicious and tangy--and is even better when made the night before! The perfect dish for a sunny day picnic or cookout.
Ingredients
3 large Russet potatoes in 1" cubes
1/2 cup minced onion
1/3 cup minced pickles
3-4 boiled eggs
3/4 cup mayonnaise
1/3 cup sour cream
1 1/2 tablespoons yellow mustard
1/2 tablespoon apple cider vinegar, preferably Bragg's with the "mother"
1/2 teaspoon celery seeds
1/2 teaspoon paprika
dash of smoked paprika, optional
1/4 teaspoon freshly cracked pepper
1 1/2 teaspoons salt, or more to taste
Instructions
1

Wash and peel the potatoes (or you can leave the skin if you prefer). Cut into 1" cubes and place into a large pot.

2

Fill a the pot with enough water to cover the potatoes by at least 1-2 inches.

3

Bring the potatoes to a boil, salt, and bring to a simmer for 10 minutes, or until fork tender. (If you have vegetable or chicken stock, this would be a great flavor enhancer in place of water).

4

Strain the water from the potatoes and place in a bowl to cool.

5

While the potatoes cool, make the dressing by combining the minced onion, pickle, boiled eggs, mayonnaise, sour cream, yellow mustard, vinegar, celery seeds, paprika, salt, and pepper in a medium sized bowl. Stir until combined and place in the refrigerator.

6

Once the potatoes are at room temp, fold in the dressing until all the potatoes are covered. I will often mash a few of the potatoes for a creamier texture.

7

Taste for salt and pepper. And enjoy!
Nutrition
261 Calories

30.4g Carbohydrates

73mg Cholesterol

13.8g Fat

3.7g Fiber

5.2g Protein

3.2g Saturated fat

795mg Sodium

4g Sugar
Notes
You can use Red or Yukon gold potatoes, but know these varieties are more waxy than starchy, like Russets. This means they won't break down as easily.